Despite being Canadian born and raised, I'm still not very fond of winter. Hockey and snowboarding help, but the season always feels like a slog come late February.
Being a car enthusiast only makes winter that much harder to endure. My garage isn't heated so wrenching on my project is only done during milder months, and the salt slurry that's poured onto the roads leaves me wondering when the floor is going to fall out of my daily driver.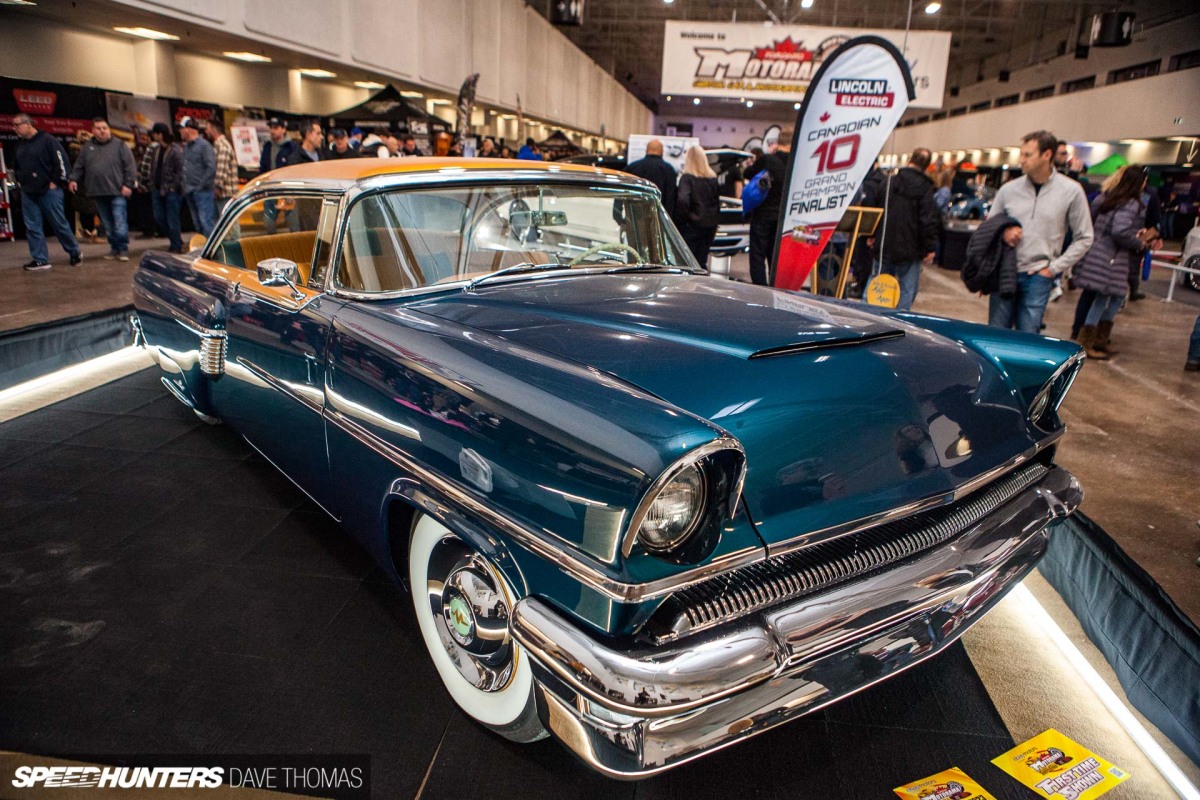 A large part of what makes Toronto's Motorama Custom Car & Motorsports Expo a fixed event on my calendar is that it's a temporary cure for the winter blues. A more than welcome reminder that yes, all the cool cars in the province didn't vanish with the warm weather.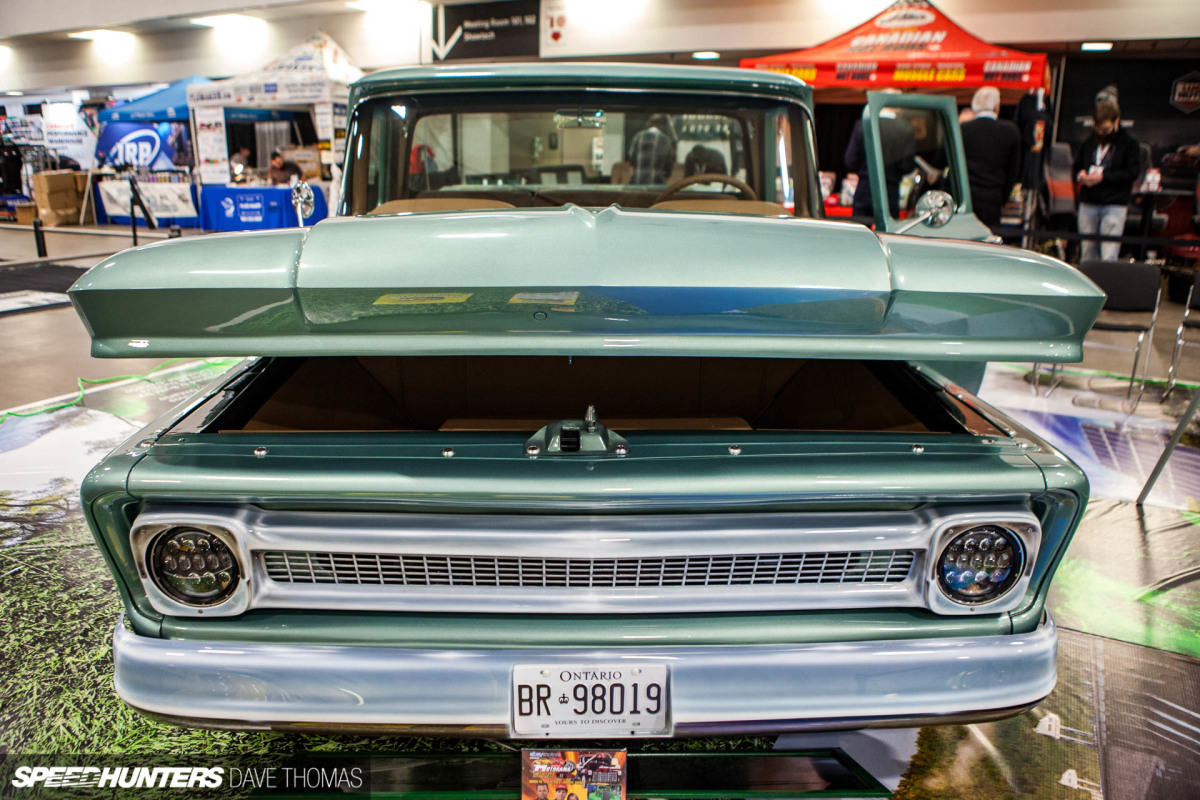 I've been covering Motorama since 2019, and each time I make sure to commend the event's variety. It's still fairly rare here in Ontario to come across an event that represents the local automotive community so thoroughly.
Interested in a bagged, diesel-powered Mini rat rod? Check. VIP-styled Lexus GS? Done. Custom pick-ups? You bet. Immaculate garage-built Porsche restorations? But of course, there's that too.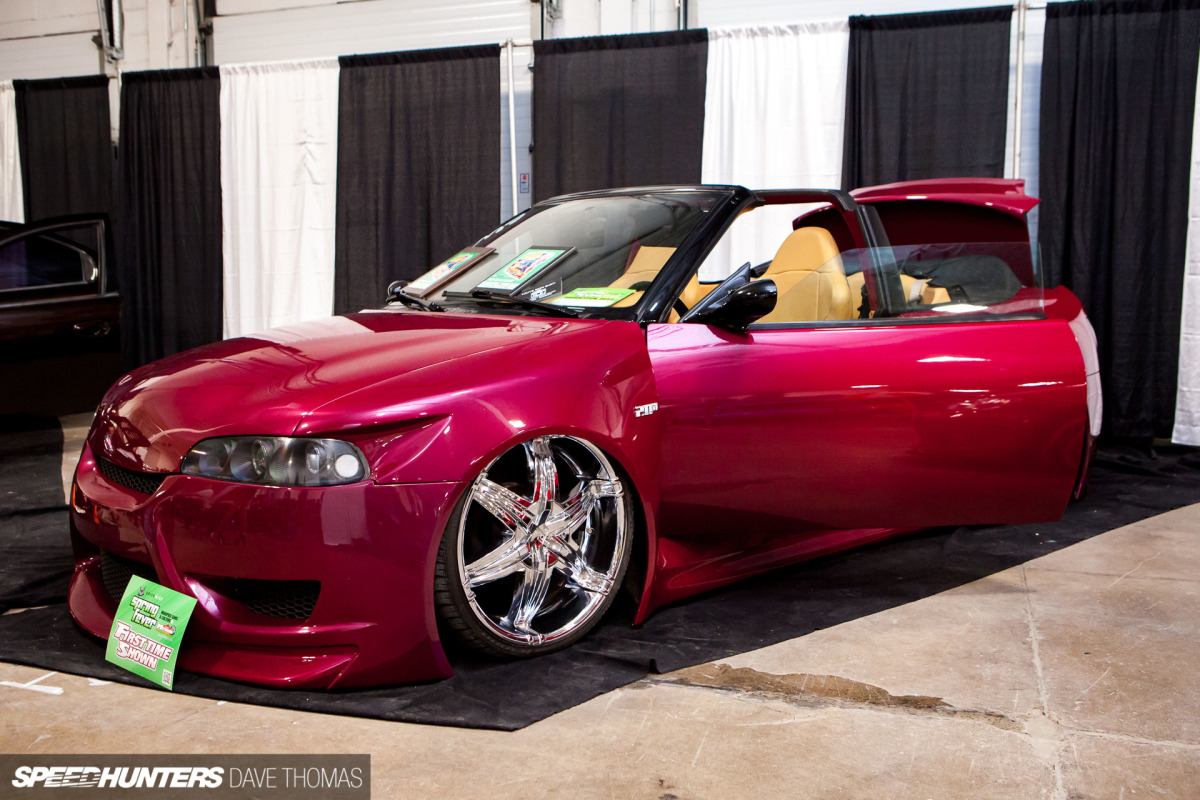 There are even a few cars so heavily modified that they're nearly impossible to identify from afar. I feel no shame in saying that when I read the show placard for the car above I was absolutely shocked.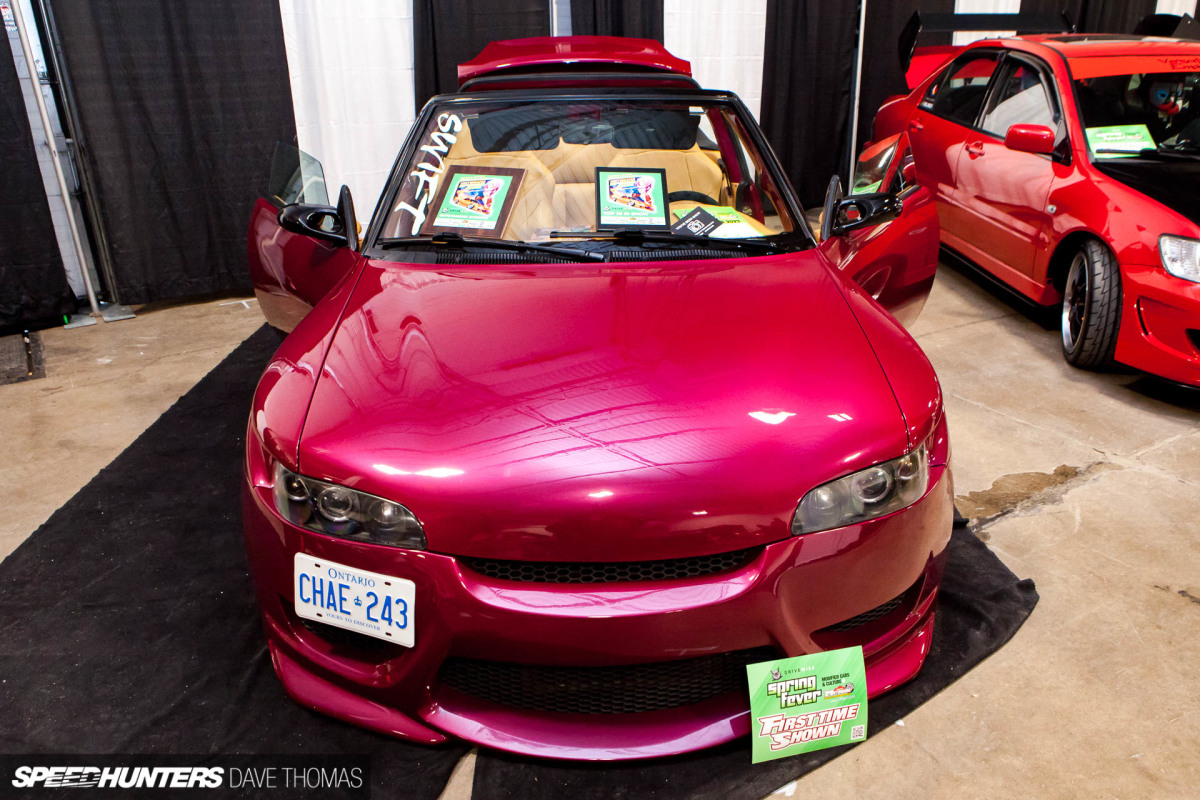 I'd love to hear what you think it is, and better still if you can identify any of the parts swapped onto it. I'm all ears in the comments…
From traditional hot rods to the early-'00-styled vehicles, no one is left out of the fun at the Motorama Custom Car & Motorsports Expo.
But the wide variety also makes the event a little difficult to cover. A single post is a disservice, and deciding exactly how to divvy things up is also a bit tricky. Inevitably I am going to miss something.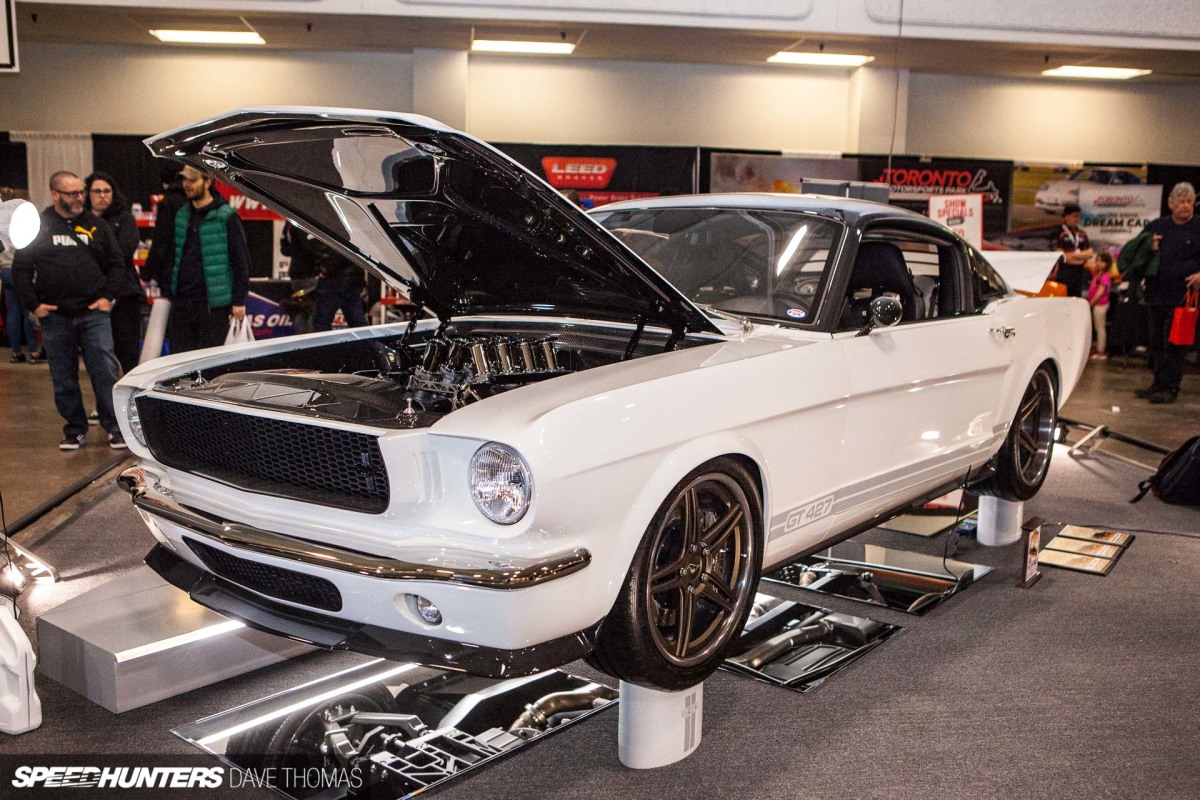 The easiest route would be to narrow my focus to the show's main hall, but that's unfair to the hidden gems scatted throughout the three other halls.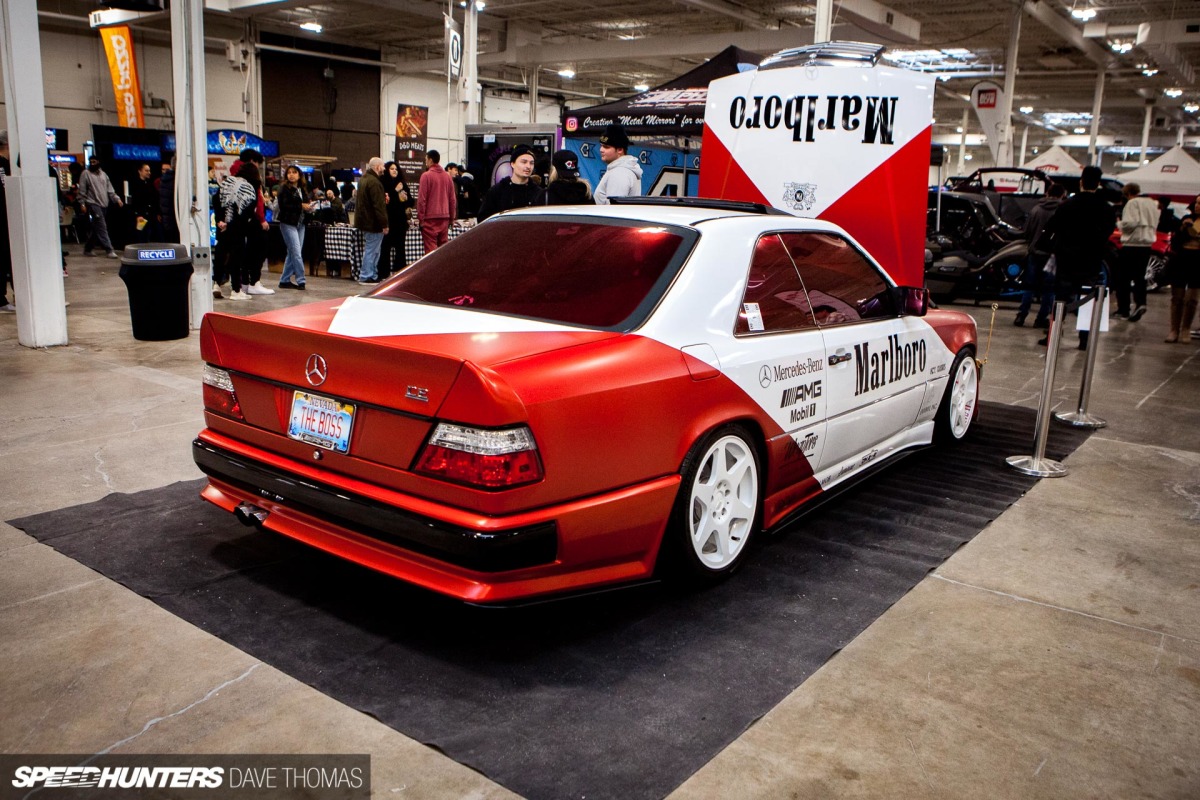 What I've found best is starting with a lengthy intro post – we're here now – and following it up with a few favourites of my own alongside the vehicles that people pick out in the comments.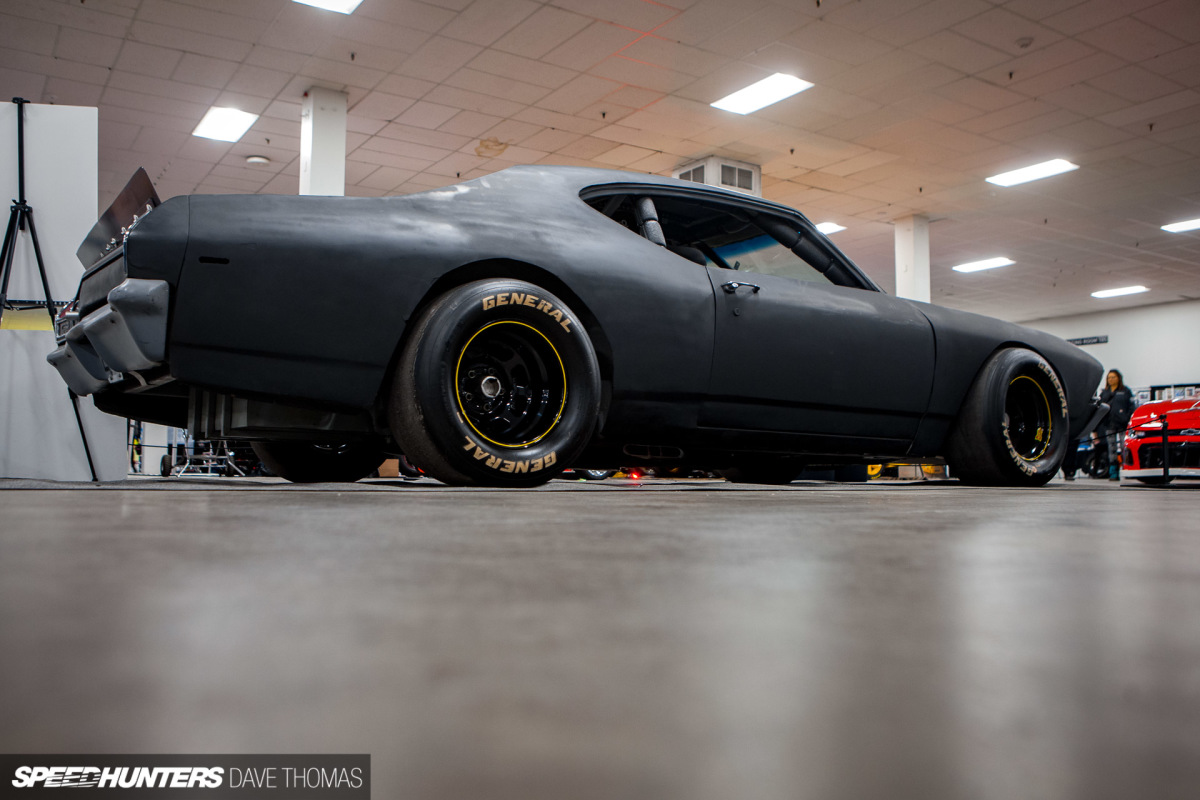 The 1969 Chevelle above is one of the cars I've earmarked for a more in-depth discussion. According to the owner, it spearheaded the re-bodied stock car chassis trend that's fairly popular today.
There's no need to keep burying the lede though, so let's take a look at a few of my initial standouts…
A Little Off The Top, Mr. Panther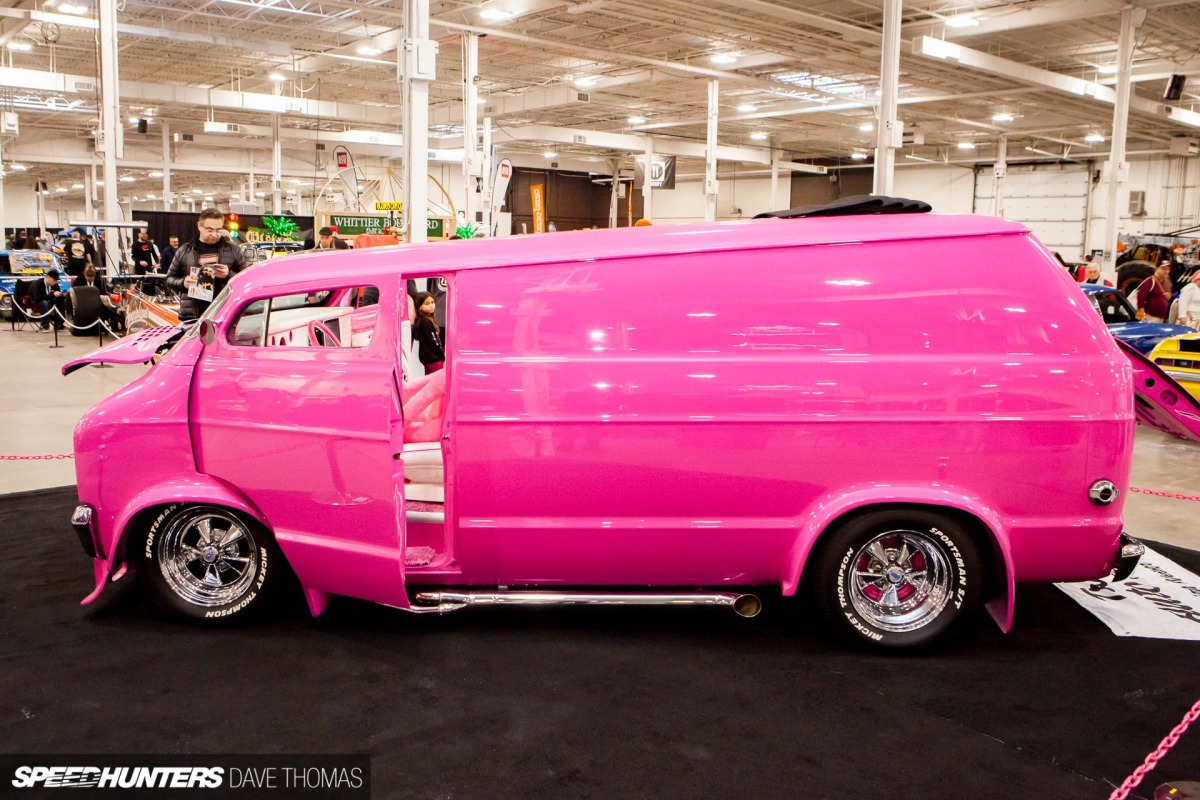 I'm a massive fan of custom van culture, as van enthusiasts are more often than not completely willing to go radically over the top with their projects. If there are any 'rules' to the niche none are immediately apparent.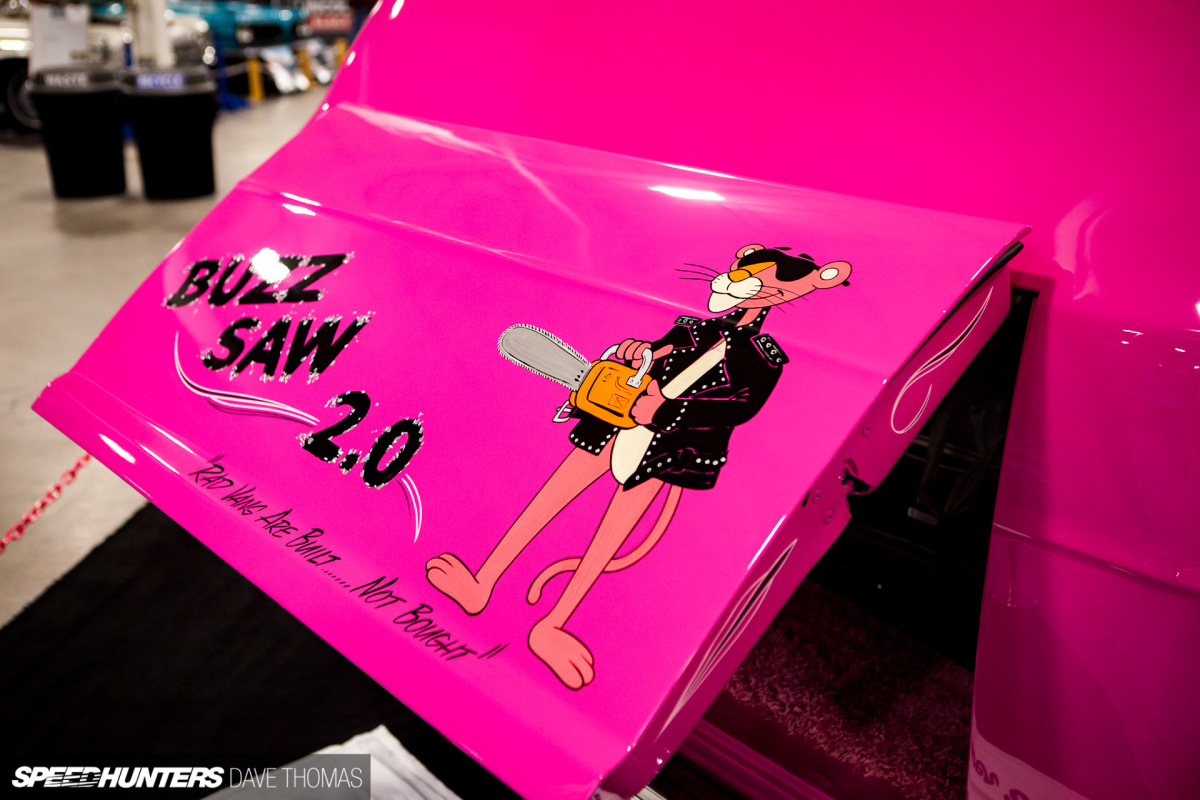 Of the small handful of vans present at Motorama 2023, 'Buzz Saw 2.0′ was the standout.
The mid-'70s Dodge belongs to Ken McCarl, who did the paint and body work himself. An impressive feat considering how drastically the roof line has been altered.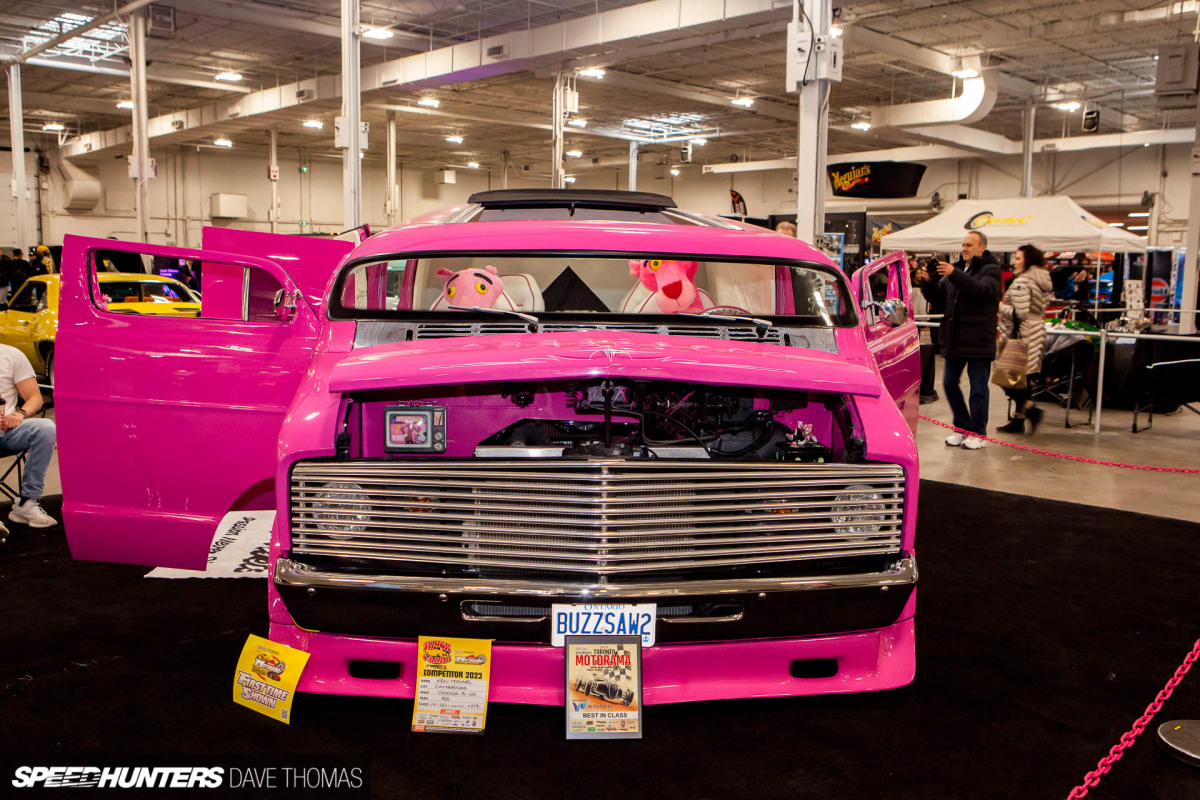 With a heavily raked stance, side pipes, deep Cragar wheels, Monte Carlo swivel buckets and a mural on the back gate, this Dodge certainly ticks all the custom van boxes. I didn't get a chance to ask the owner about the Pink Panther theme, though…
Breaking Boundaries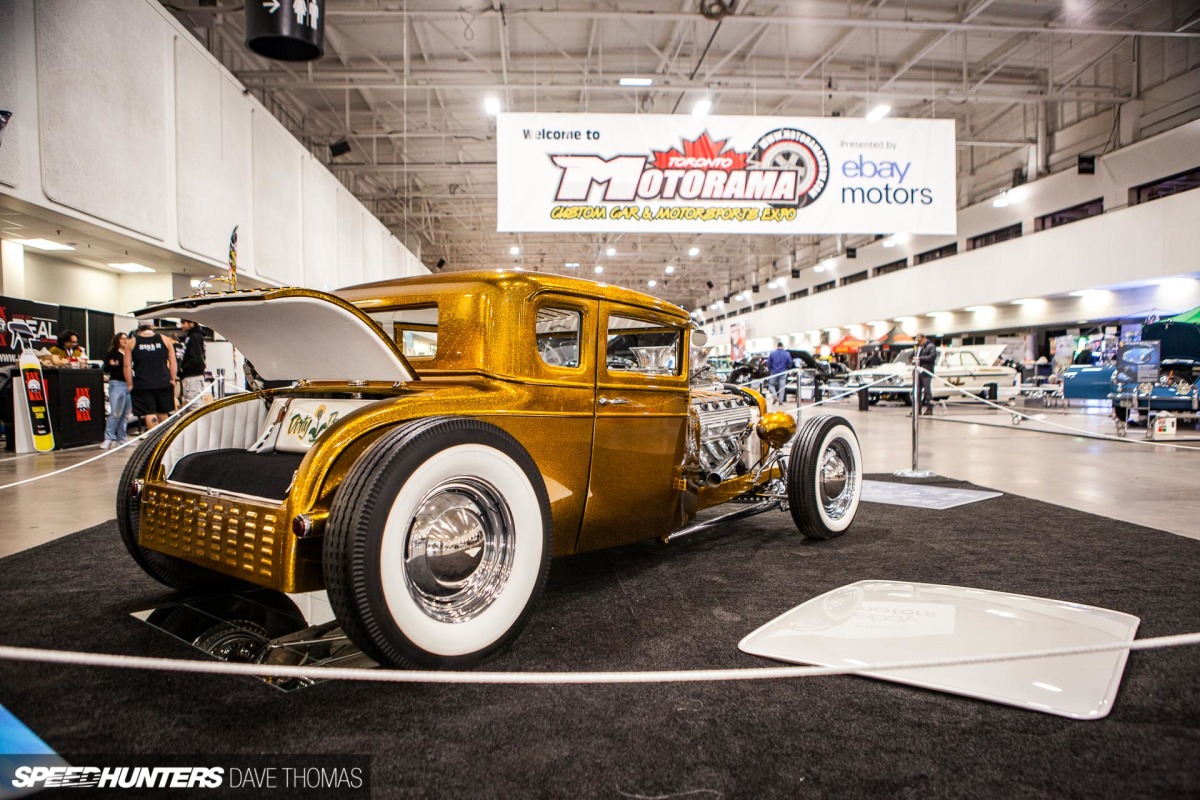 For years, Motorama's front hall was pretty much exclusively hot rods, street rods, muscle cars and drag cars. Late-model vehicles generally didn't make the cut, a few noteworthy exceptions aside.
In recent years though, the front hall has started to change considerably as the organizers extend invitations to anyone willing to uphold a certain level of build quality.
This adaptation helps keep younger crowds interested in Motorama. It's something all events of this size need to seriously consider if they want longevity.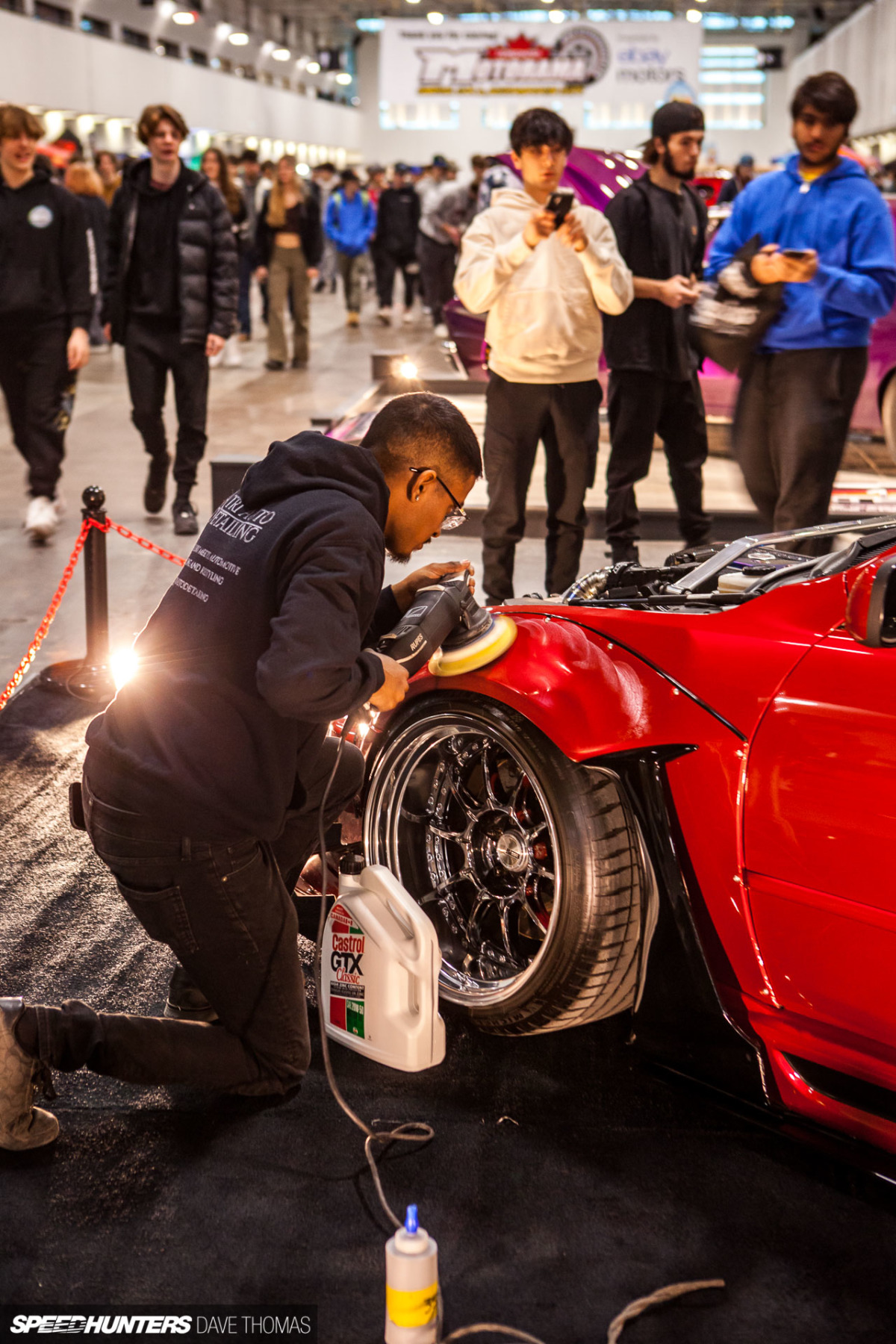 Getting a fresh polish down for its main hall debut was the 'Best of Show' winner from 2022's tuner section of the show.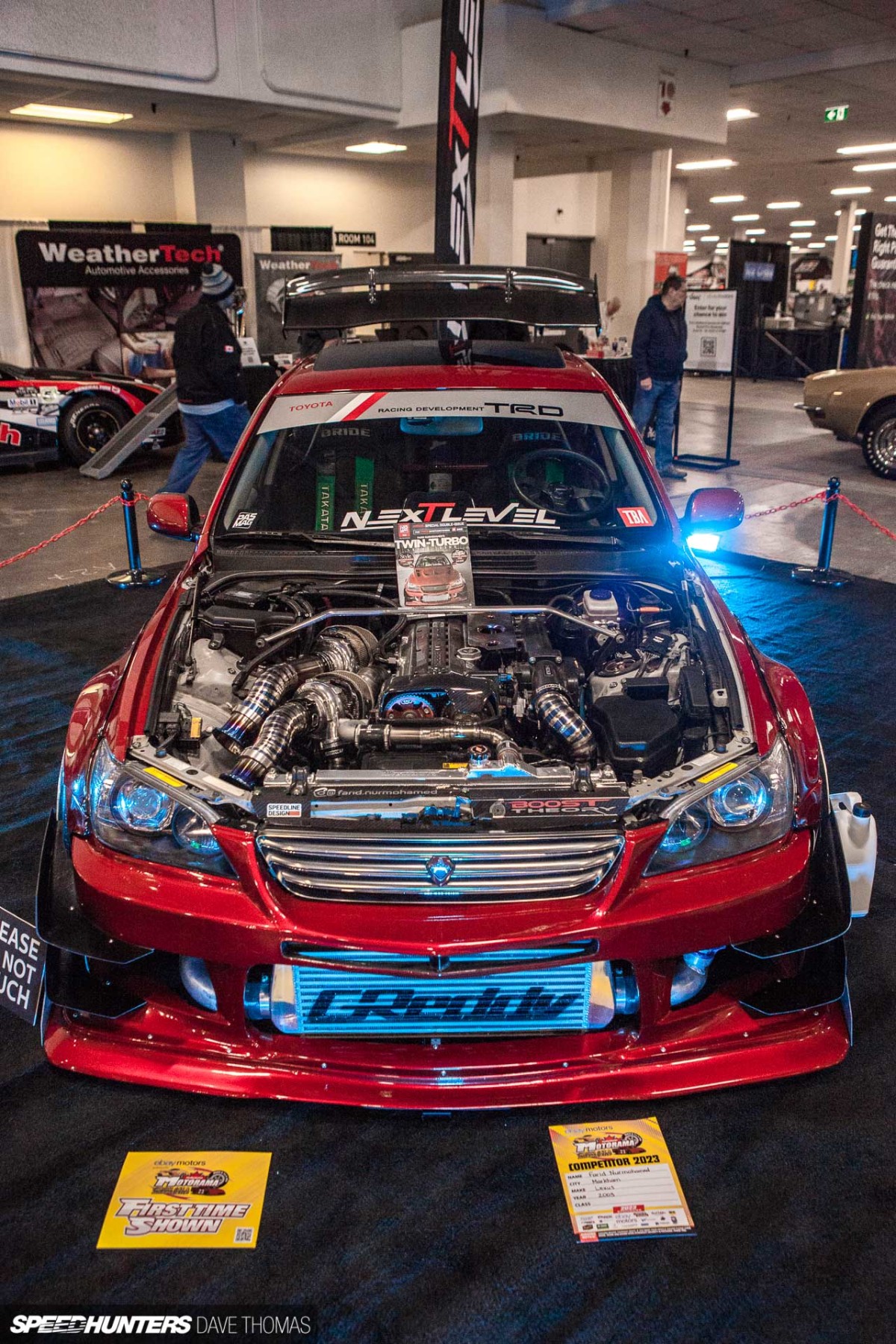 Owner Farid Nurmohamed hasn't left any area of his Lexus IS 300 untouched. The stance-related modifications are all fairly obvious, but the really clever trick is the front bumper. It's a modified aftermarket Mitsubishi Lancer Evo item that surprisingly looks right at home on the Lexus.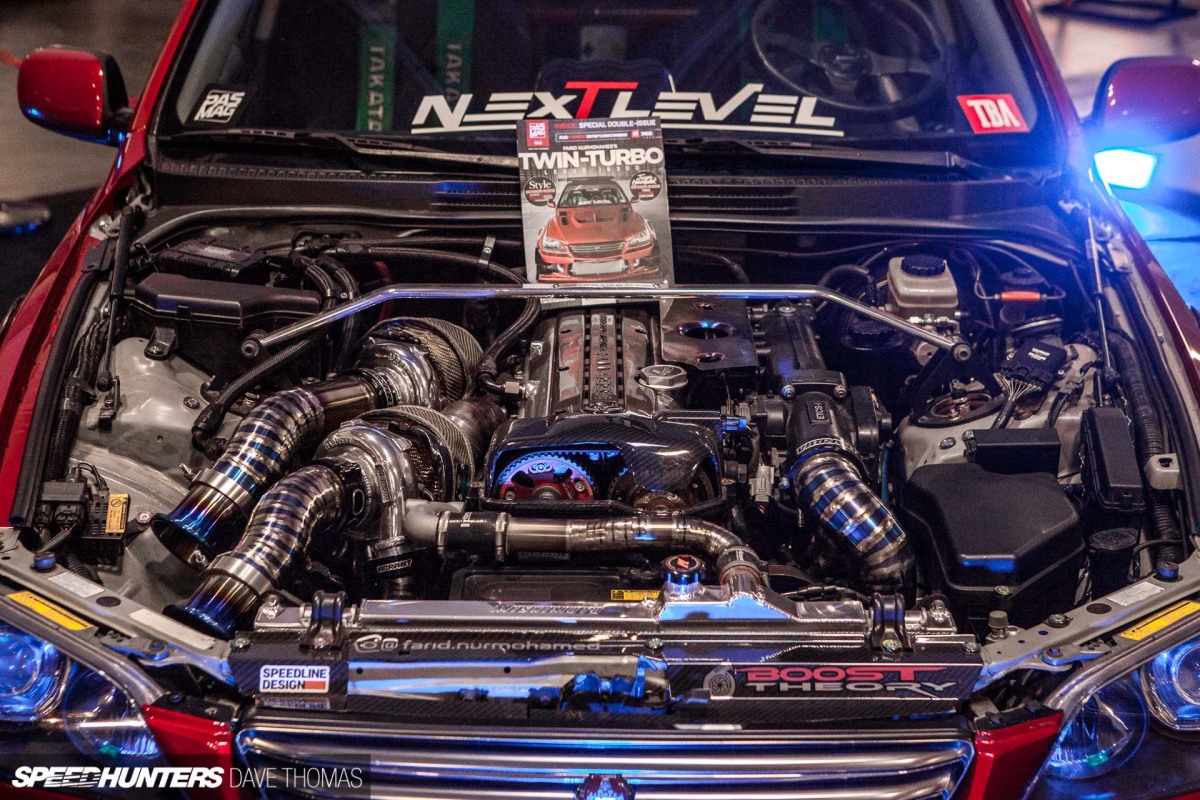 This car is not just an aesthetic endeavour, as the factory 2JZ-GE has been replaced with a 2JZ-GTE that's been upgraded with GT2860R turbos and now delivers 480whp. Much of the piping under-hood is titanium, care of Vibrant Performance.
Viva Italia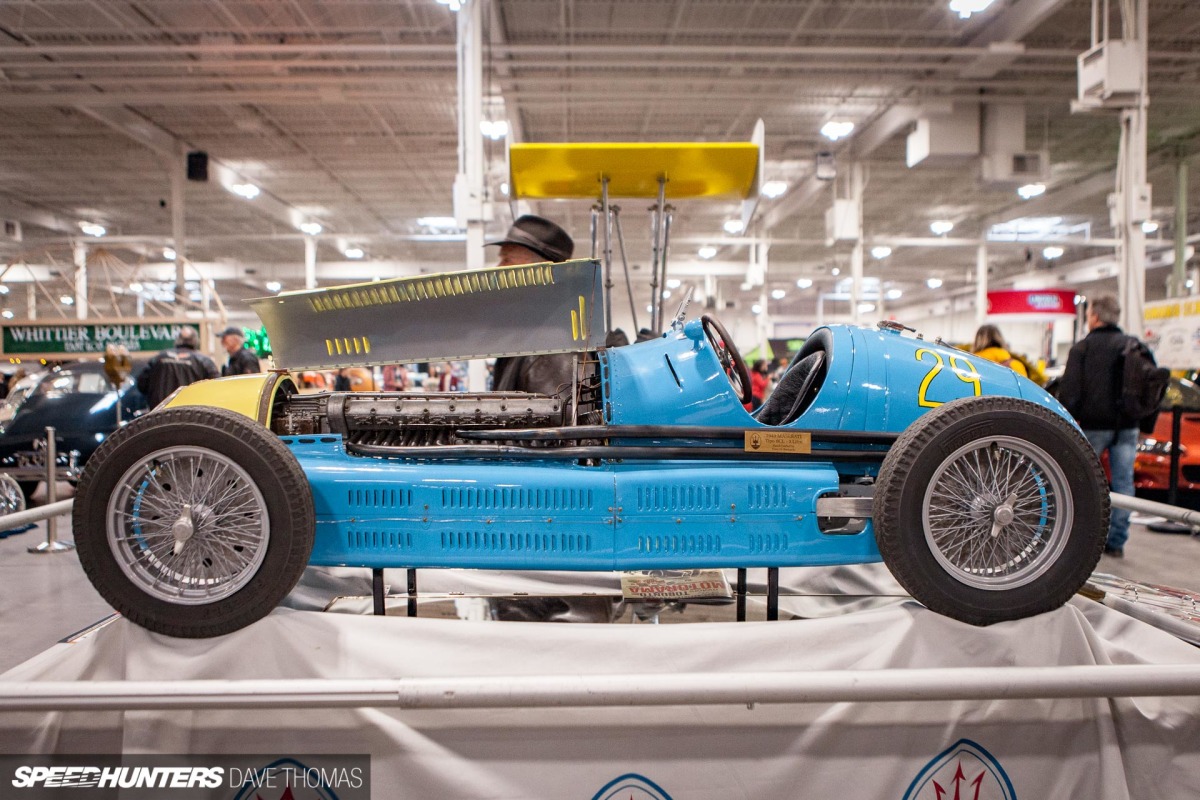 To close out this first post, we'll take a look at two very different builds based on Italian vehicles.
This first is a hand-crafted work of art by Fiore Di Bernardo.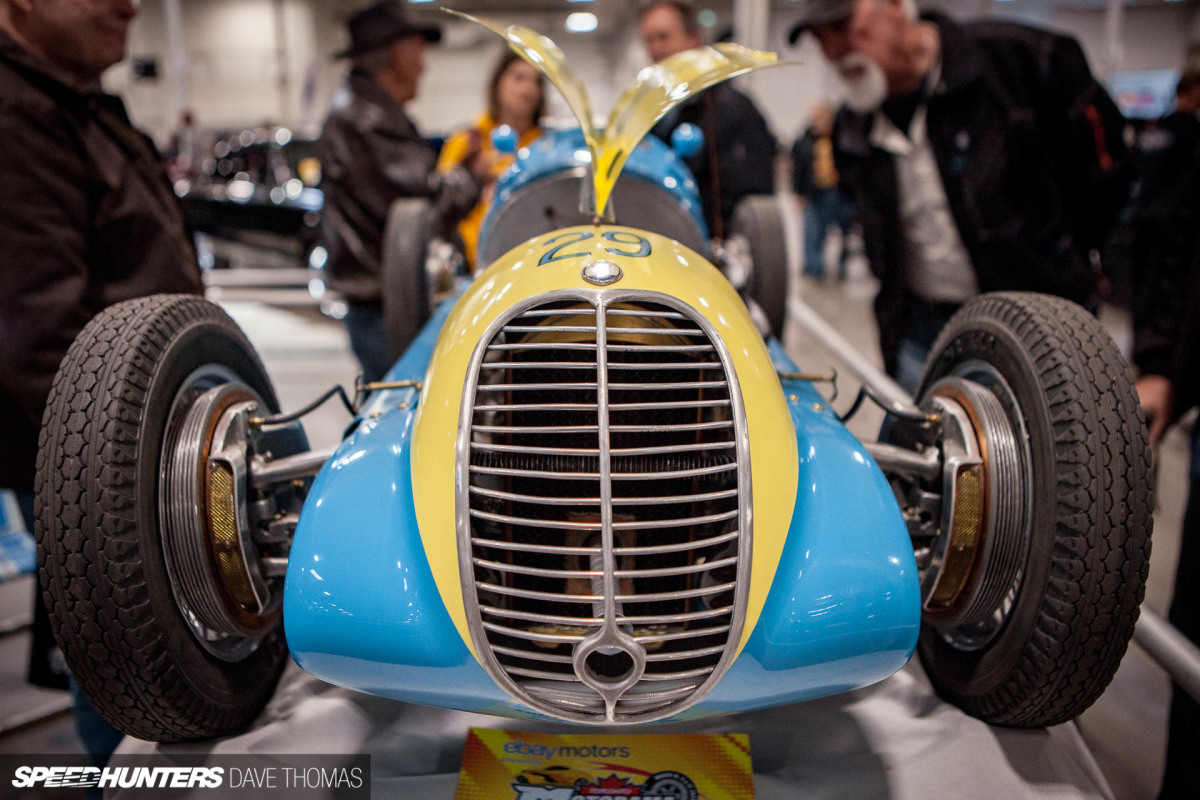 It's a non-running but otherwise insanely accurate replica of a 1940 Maserati Tipo 8CL. The 8CL is a rare car, but Fiore was able to spend a few days with an original to obtain all the critical measurements.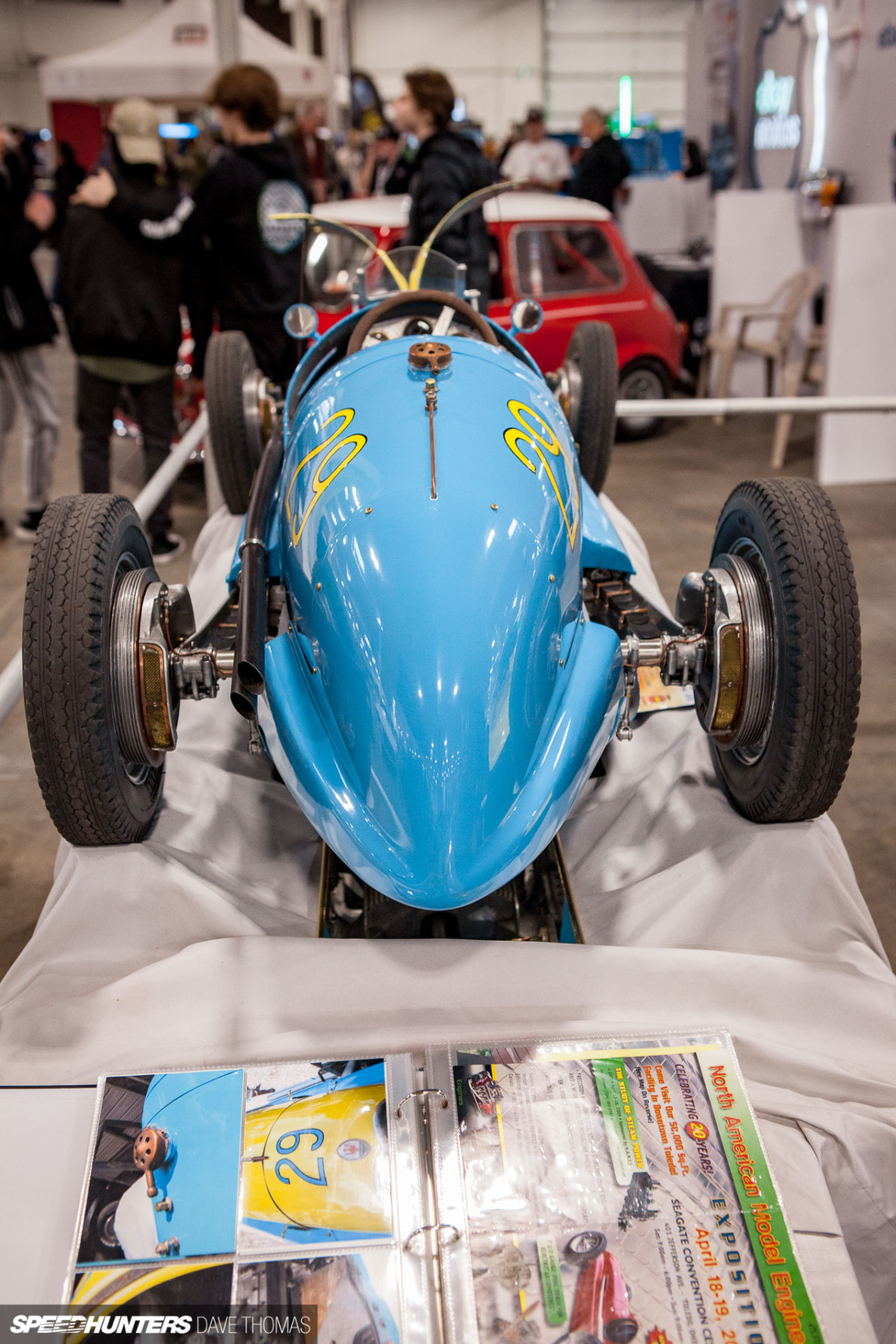 Better still, Fiore was also able to get photos of the restoration process of the same 8CL. From there he started with the one part he couldn't make by hand (the tires) and scaled everything appropriately. Fiore's replica is about 39% of the original vehicle's size.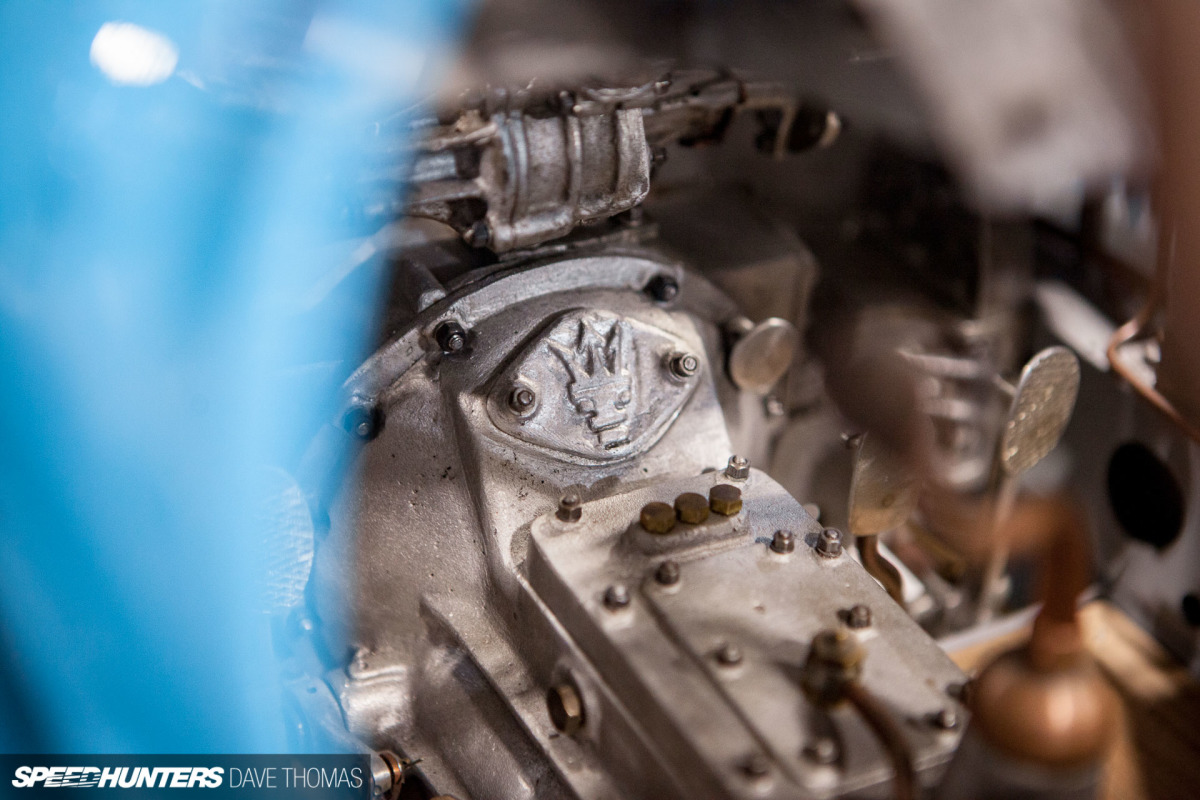 The project took Fiore 20 years to finish and is actually the second he's completed. This means he's spent the better part of 40 years dedicated to his craft.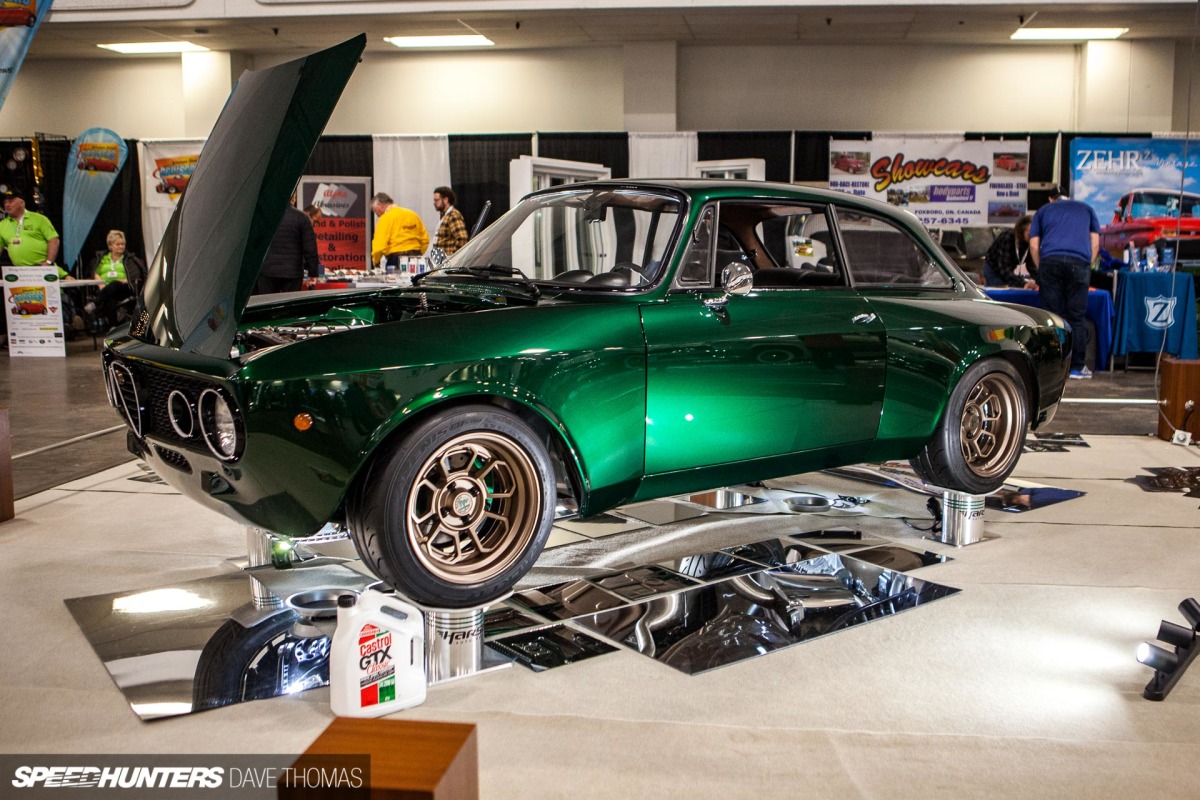 Back at 1:1 scale, Harse Autocraft debuted a 1970 Alfa Romeo GTV they are calling the 'Ampia', which in Italian means 'vast, wide, broad, or expansive'. A clever play on words considering the body of the car features widened front fenders and rear quarters.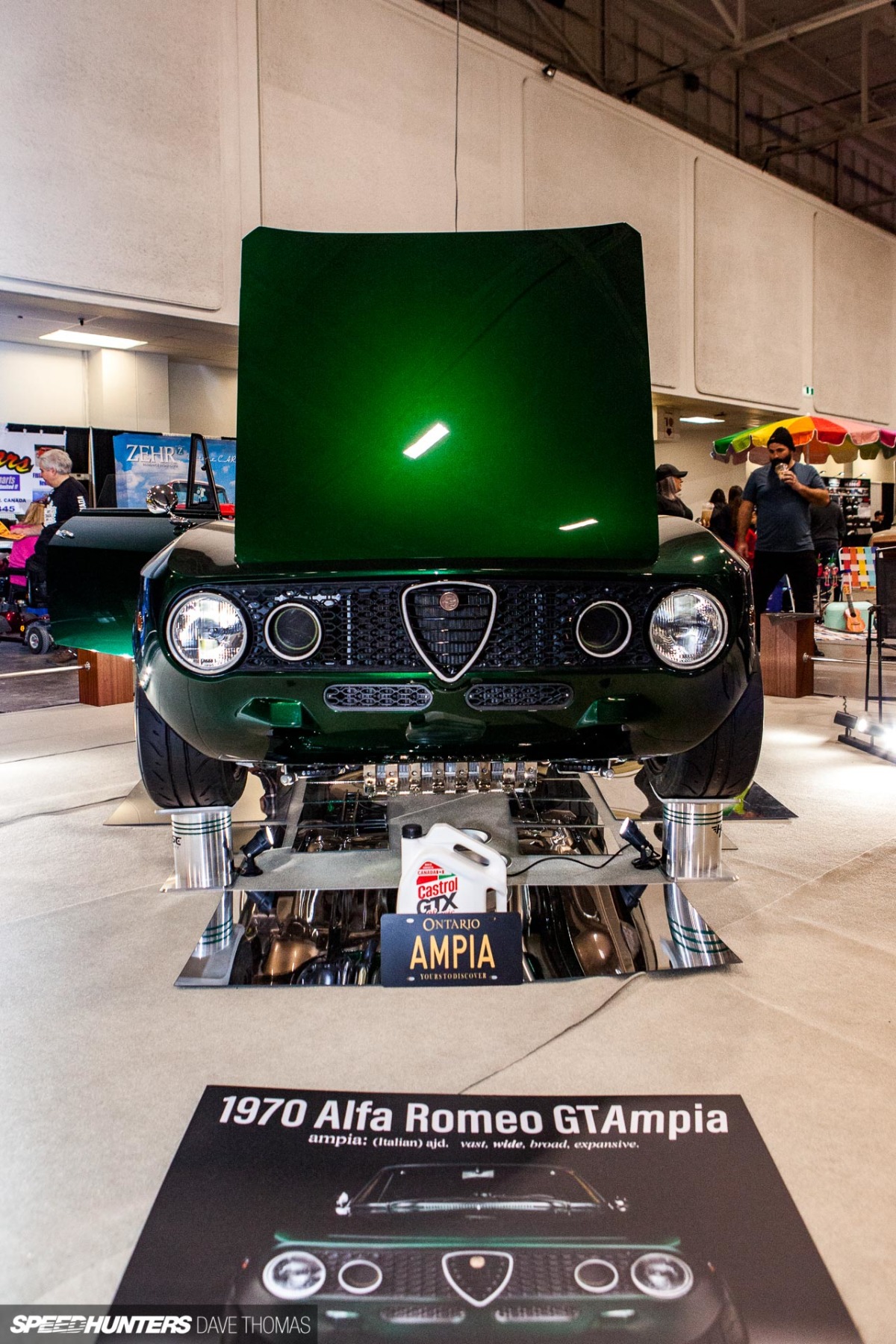 The car's underpinnings are care of Alfaholics and the complete underside has been painted, cut and polished just like the top.
A one-off custom set of bronze wheels fit the car perfectly aesthetically and physically. The motor is a twin cam 1,750cc 'Nord' with twin Weber 45DCOE carbs, backed by a 5-speed manual transmission.
For their efforts, Harse Autocraft were awarded a 'Canadian 10′ grand finalist award. Many people I talked to mentioned this car being their favourite build of the entire show.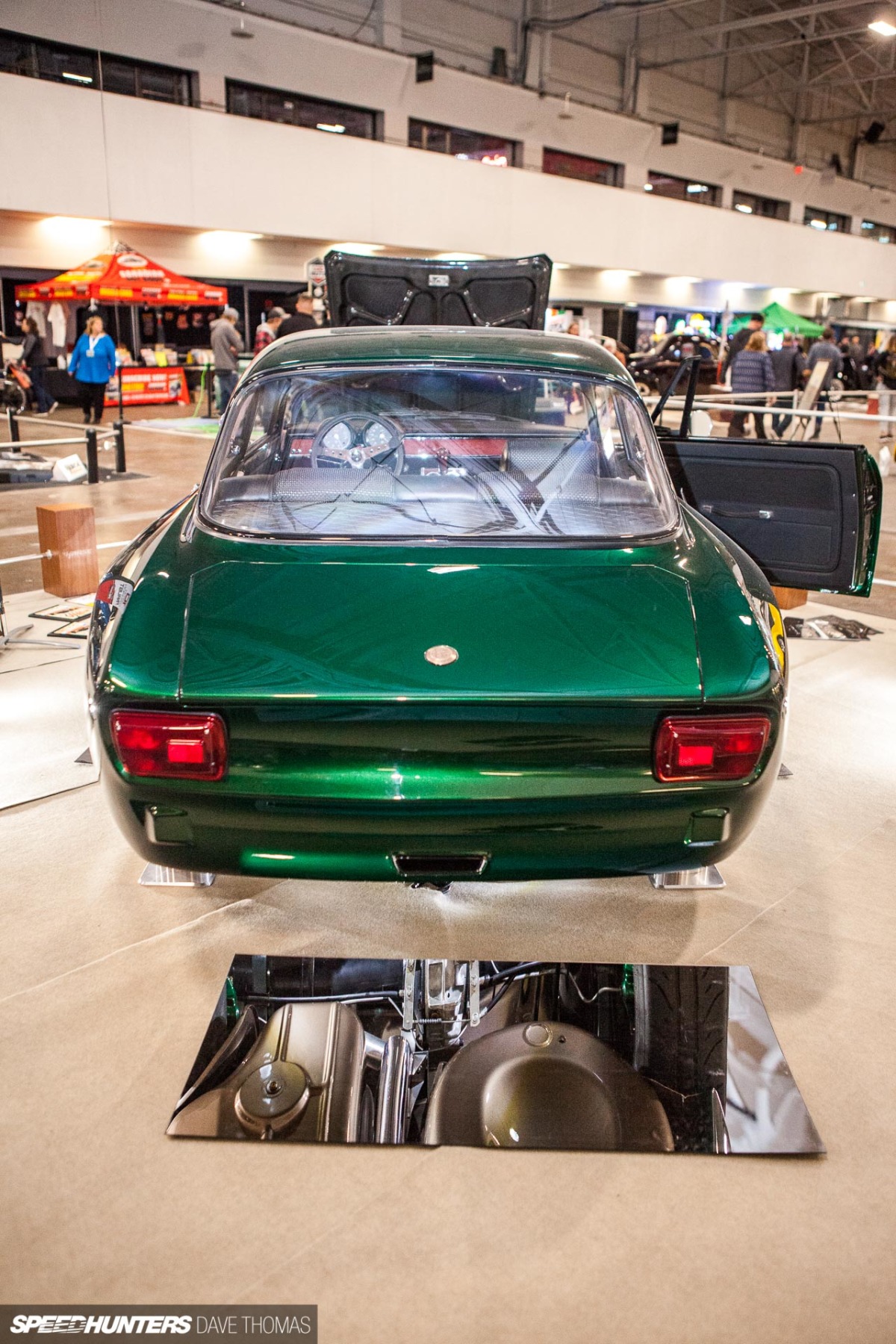 Ending on a high note, I'll wrap up part one here. But there's much more to come. Until then, be sure to check out the large bonus gallery below.
Dave Thomas
Instagram: stanceiseverythingcom
More Motorama