How to mix business and pleasure at Margaritaville
When you have the choice of giving up or going on, what do you choose? Luckily, enough meeting professionals chose perseverance that the industry came back from an unprecedented disruption stronger. Attendees at Smart Meetings Extraordinary Experience at Margaritaville Palm Springs this week learned from inspirational "model of diversity" and disability warrior Bean Gill how to reframe setbacks to be grateful for what you have.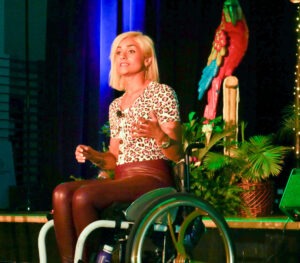 "I had to learn how to love myself disability and all," said the entrepreneur after explaining that a virus left her unable to walk at the age of 30. "I had to dismantle my biases and rebuild what disability means to me after growing up in a culture where differences were not valued," she said.
Gill has spent the last 10 years working on herself and having a lot of random conversations with family and strangers to instill basic etiquette. 1. Make eye contact and let people with visible disabilities feel heard and seen. 2. Don't use accessible bathroom stalls because they may be needed in a hurry, or, better yet, advocate for universal design so every body can have the room to do their business. 3. Never park in accessible parking spots, even just for a minute."
Meeting professionals can go beyond these basics by providing a voice to let people with different life experiences tell their stories. "You provide hope," she said.
Bean also advocated for meeting professionals to be kind to themselves, physically and mentally. "We only have one meat sack; we have to take care of it," she said.
Bean suggested thinking about what brought joy in the past (perhaps producing in-person events) and doing that again. "Fill yourself up. Without joy, we aren't living. We are just existing,' she warned.
License to Chill
Margaritaville Palm Springs redesigned the historic Riviera Hotel to bring joy, whether that means lounging in a cabana at one of the two pool decks with a drink by the firepit at the 5 o'Clock Somewhere Bar, relaxing on the patio in one of 398 light, bright, recently renovated guest rooms or taking a loaner cruiser bike into downtown Palm Springs for some shopping.
A dedicated conference center with 40,000 sq. ft. of meeting space surrounded by outdoor spots for meals, receptions and fun team-building options mixes business with pleasure seamlessly.
Beware Confirmation Bias
For those looking for certainty, ALHI CEO Mike Dominguez warned that there is a lot of conflicting news out there about everything from whether remote work is a passing fad or a permanent shift to a possible recession and continued inflation "My advice for overthinkers is to just focus on the next step," he said.
Smart tip from @M_Dominguez @SmartMeetings Extraordinary Experience in Palm Springs. "We aren't in digital society or physical society. We are in blended society." pic.twitter.com/ePIDhUq3xb

— JT Long (@SmartMtgsJT) March 6, 2023
Your reality may depend as much on what news media you pay attention to or your preconceived notions as it does on what is happening on the ground. "Affective forecasting says the way you see the future is affected by how you feel and the newspaper you read has an impact on that," he said.
For a lot of us, it is difficult to imagine any deviation from the status quo. When it is light for a long time, it is hard to prepare for darker days. When it is dark hard, it is difficult to adjust to the light. "The reality is that the challenge of performing while transforming has become the leadership test of our time," he said.
Dominguez' sources are predicting a recovery in luxury travel, continued inflation, a return to regular seasonal trends, continued mergers and acquisitions in the hotel space and "an aching desire to be around people."
He concluded, "We aren't living in a digital society or a physical society. We are living in blended society," he said.
Mix It Up
To help everyone adapt to the rapid pace of change, Smart Meetings National Southern California Extraordinary Experience brought together meeting planners and suppliers across the country to share news, explore the destination through the lens of local performances (including a surprise serenading from Modern Men, Coachella Valley Men's Chorus with excerpts from their production of MANILOW! Songs that Make the Whole World Sing.), Palm Springs Art Museum and an epic treasure hunt that tested their knowledge of mid-century pop and each other.
Everyone left challenged to do one thing to advance their professional and person career: make a new friend and move out of their comfort zone by considering a place beyond the usual suspects when sourcing the next event.
Some extended novel exercise to the abundant gifting. They could try a new snack in the gifting marketplace, opt for sustainable, wood sunglasses from Joycoast, the softest leisurewear from Essential Bodywear, a hip new timepiece from Citizen Watch or adopting a succulent to take home from Halo Branded Solutions.
"We want you to leave inspired and empowered," said Smart Meetings founder and CEO Marin Bright, the host for the occasion. That sense of awe even extended to the skies where at the opening reception, a light experience from Go Drone Shows had everyone ahhhing from the pool deck.