Largest F&B trade show showcases latest innovations and products
Pickled-flavored products, creature comforts from mac n' cheese to fried chicken and doughnuts to an incessant yearning for all things spicy thanks to heat-obsessed consumers—these topics and many others will be top-of-mind at the largest F&B trade show in the country next week. Exhibitors, industry professionals and other attendees will meet at the second annual SIAL America 2023, organized by Emerald X at Las Vegas Convention Center (LVCC) to showcase food and beverage categories that are key to retailers, wholesalers, food service companies and distributors.
"We monitor the latest trends across the food and beverage industry," says Colleen Truman, vice president of Global Food Group at Emerald X .
SIAL's overall event network includes 10 shows worldwide, including France, Canada, China, the Middle East, India and Jakarta, with a total of 700,000 attendees and 16,000 exhibitors annually.
Networking and Education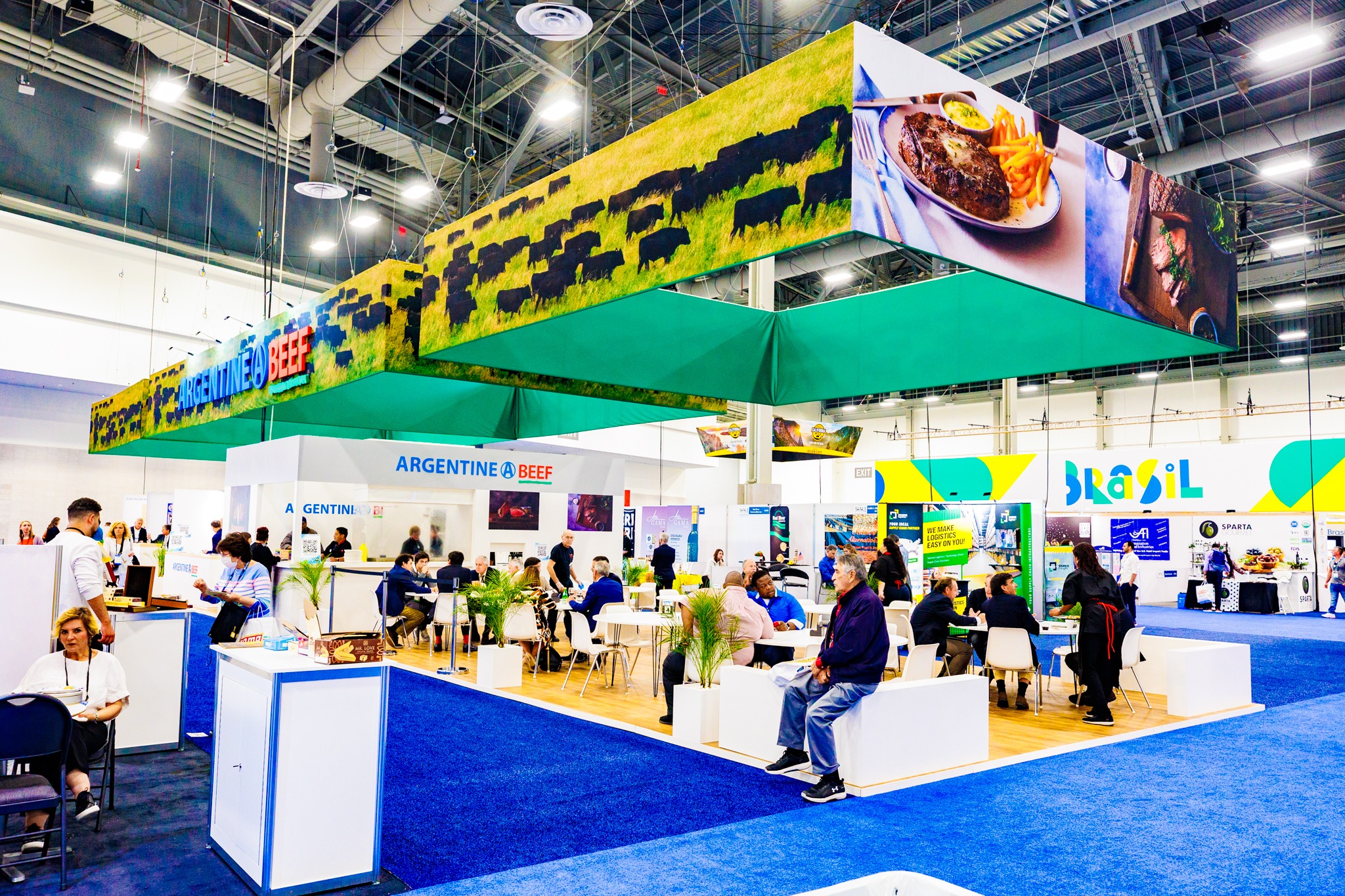 This year's B2B industry event will feature a hosted buyer program with the intention of connecting key decision-makers with exhibitors in attendance from around the world. The event's concierge team will curate a Matchmaking Lounge on the exhibit floor, pairing buyers with $10 million annual budgets or more with vendors based on recommendations.
Other attendees meet using LinkedIn-style appointments to pair with companies. "We feel that it elevates the experience and that's why people are going—they want to have good business meetings," says Truman. There are currently 1,300 pending meetings slated for the event.
Importers and exporters from the U.S., Canada, Colombia and Mexico will be participating in this year's hosted buyer program along with major retailers, including 7-Eleven, Blue Apron, Aldi and Harmon's. Distributors from the U.S., Canada, Mexico and Oman will also be participating. Over 250 exhibitors are scheduled to attend with participation from over 60 countries.
A new addition to SIAL America is the inclusion of the USDA-funded National Association of State Departments of Agriculture (NASDA) in a new pavilion. NASDA's goal is to recruit states and select companies. Truman called the funding of NASDA by the USDA a huge step forward. "It's really a testament to the need of SIAL in the U.S. market," she says.
Guest speakers from top industry organizations, including Tyson Foods, Aria Resort & Casino and MGM Resorts International will be hosting sessions during this year's show. "We really tried to elevate our programming this year around the seminar sessions to have key individuals," Truman says.
Inclusive Food
SIAL America 2023 intends to boost culinary inclusivity by featuring foodstuffs that cater to those with dietary restrictions. Many of the products expected to be introduced include condiments with no sugar added—some gluten-free—as well as products made with ingredients that were naturally or locally sourced. An international pavilion will also be hosted during the event to showcase progressive food products from countries such as Italy, Tukey, Canada, Greece, Poland, Brazil and Argentina.
Read More: How a Storied F&B Kitchen Went Halal to Accommodate Allies
"All lot of [the products] are focused on alternative sources," Truman says, adding, "there's been a big shift over the last couple of years for diverse menus and catering options." Inclusion of gluten-free, allergen-free, vegan and vegetarian options is visible in the list of vendors and menus of what is available during the event.
"Obviously, allergens have been an issue for some time, starting with peanuts," she says, adding that the need for inclusive menus has resulted in an increase in marketing efforts to ensure that the industry at large, along with consumers, "understand where menu items are coming from."
Defining Green
Defining a green catering operation is a slippery slope, but one of the event's goals. "Sustainability is not only what we do in terms of recycling, but so much more than that," Truman says. Content will address what sustainability means from the ground up. That means addressing the issue of packaging along with sourcing.
Read More: Year of the Sustainable RFP
Like so many other organizations, SIAL has also taken up the mission of curbing food waste by partnering with local charities to ensure that leftover food gets to those in need. "We encourage our exhibitors to work with local charities," she says. "So, any food left over from a show, we do donate to a local charity." SIAL America has partnered with the Las Vegas-based Be a Voice. "They are really focused on making families stronger."
A Slice of Innovation
The International Pizza Expo & Conference—the industry's largest trade show event—will run concurrently with SIAL America 2023 at LVCC and will mirror most of SIAL's aspects and features.
"One we're seeing across the industry—and we'll see this at both SIAL and International Pizza Expo—is the use of technology in the kitchen," Truman says. That includes a noticeable push in implementing automation and robotics. "One thing [the technology] improves is consistency in food production," she says, noting that the added efficiency will ultimately lead to an elevated experience for guests. "These trends will definitely continue to influence the food and beverage industry."
An example of innovations in tech finding a path to the kitchen can be seen through the work of Benson Tsai, CEO and founder of Stellar Pizza. Benson and two co-founders previously worked for Space X. "It's a robotic pizza truck," Truman says, adding that the mobile prototype is being introduced on college campuses, including UCLA. It can make hundreds of pizzas in a matter of hours and the team has partnered with companies such as Grande Cheese—a high-end cheese producer and restaurant supplier.
As kitchens around the country struggle with waning staffing levels, Truman says that replacing staff with automated processes is yet to be seen, but the new technology definitely has a place in the kitchen. "The technology can shape the dough with consistency and use the right amount of ingredients," she says.
Truman noted that the technology at this point is more supplemental and geared toward enhancing the guest experience. "I don't think it will replace the whole kitchen staff—you'll still need people there for the human interaction."
Stellar Pizza is funded by Mercy Venture Partners, a venture capital firm co-founded by Jay-Z. Benson will be the keynote speaker on day two of the Pizza Expo. "I'm really overall excited about the future of the industry and the possibilities that are coming along with technology and different innovations that will be showcased at SIAL," Truman says.
The SIAL Awards will celebrate the best innovations submitted by participating attendees. "We will have judging onsite to look at the 10 finalist products and determine the winner," Truman says.
The winning product of last year's SIAL Gold Award came from New Mexico-based Fresh Chile Company, which submitted a freeze-dried Hatch Chile product. The winning product will be featured at every SIAL show over the course of the following year. "A small company won last year at SIAL and it really changed their business," she reported.