Meeting with folk music and corned beef!
Let the green beer flow! If you're into that kind of thing. For many Irish, and non-Irish a-like. March 17th is the official day to celebrate all things Irish—whether that includes taking a selfie with a cup of foaming green beer, watching the local Irish Parade, or chowing down on some potatoes and corned beef.
For those looking to partake in the festivities, WalletHub created a helpful list of best cities to celebrate St. Patrick's Day in. For meeting planners hosting events during this holiday, it may provide a fun side-treat for attendees whether that's a quick pub visit or a fun concert.
Boston: Home of America's Biggest St. Patrick's Day Party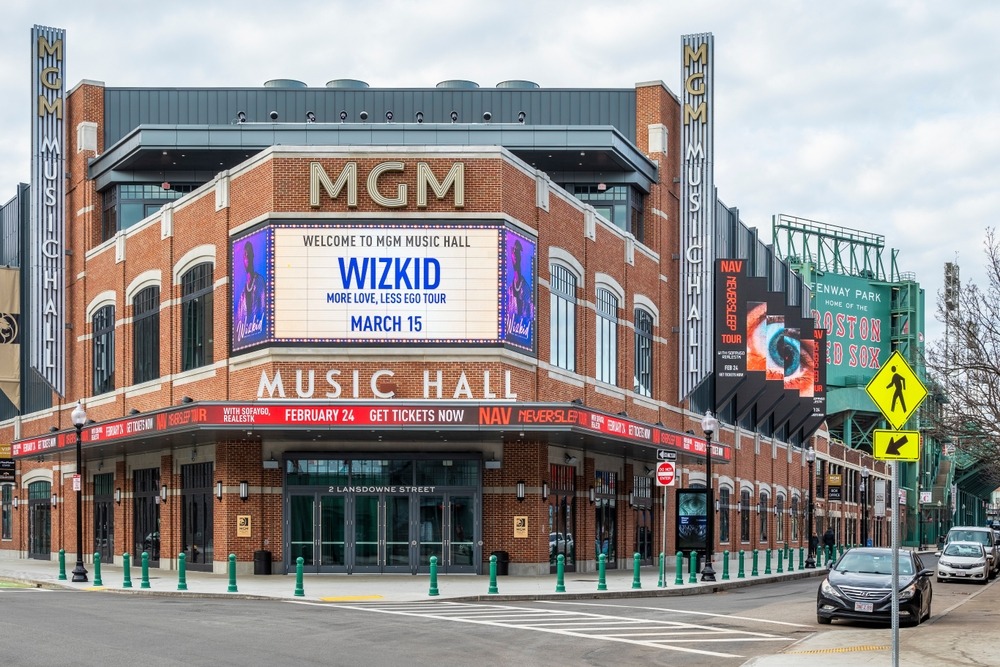 If you're looking to be in the eye of a proverbial storm, Boston is top of the list. Attendees will be able to check out the many local Irish pubs and get a front row seat to the South Boston St. Patrick Day parade happening on March 19th. Music fans looking for live entertainment can checkout The Dropkick Murphy's at MGM Music Hall at Fenway on March 17th with a follow-up livestreaming event on 18th. You can also find them at the House of Blues Boston on March 19th.
MGM Music Hall at Fenway is a multipurpose, state of the art, performing arts center with 85,000 sq. ft. of space within the scope of four levels and can accommodate up to 5,000 attendees. The space can be customized for large or small groups, including a roof terrace for a swanky cocktail evening event.
Family-friendly St. Paddy's in Philly
If you happen to find yourself in Philadelphia on St. Patrick's Day, there will be no shortage of options for pub crawls to choose from. If you're looking for a more family friendly event Peddler's Village will be hosting local restaurants themed for the occasion with Irish soda bread, as well as a leprechaun hunt!
The Fillmore Philadelphia, an off shoot of the original Fillmore founded in San Francisco in 1965, offers up 25,000 sq. ft. of event space and is located 2 miles from the Pennsylvania Convention Center. For meeting planners looking to create an event within an event experience, The Fillmore has a "club within a club" including a bar, stage and production equipment located on the second floor.
New York: Whiskey and Catacombs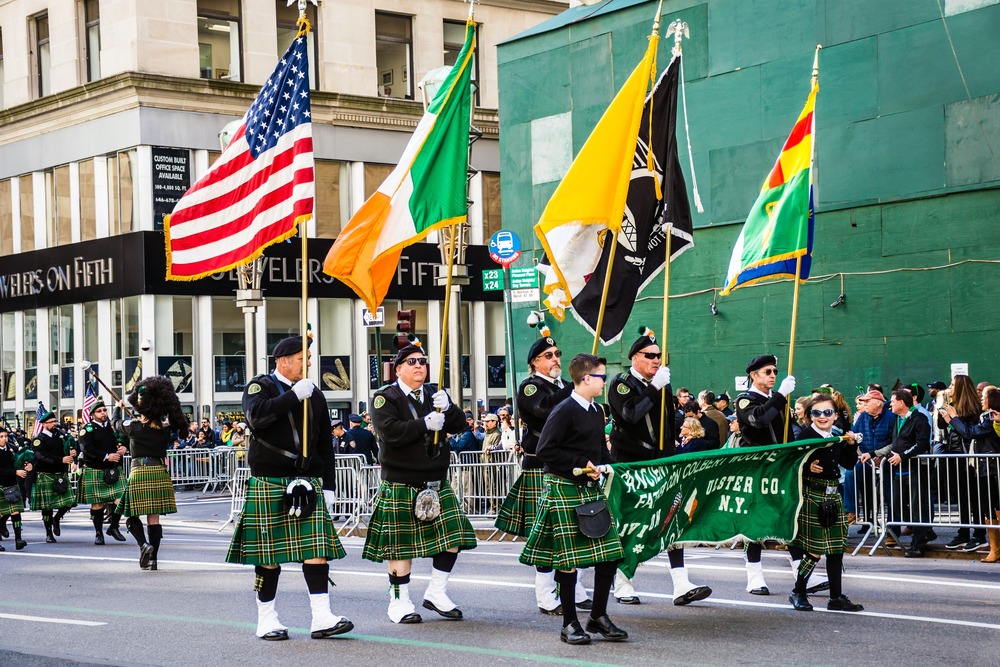 If you're in New York City, the St. Patrick's Day Parade is a full-day event kicking off on March 17th at 11 am and ending at 5 pm. The parade starts at 44th Street moving up Fifth Ave. and ending at the American Irish Society at East 80th Street. If pints aren't your thing but whiskey is, the Parlour Room in Midtown Manhattan will be offering a special whiskey tasting experience. If you're feeling particularly exploratory, guests can tour the catacombs under the Basilica of St. Patrick's Old Cathedral in Nolita.
If you're looking for a location to host an intimate but holding a theme consistent with the holiday, event planners may want to investigate the Loreley Restaurant & Biergarten. Loreley will be featuring some St. Patrick's Day specials on their menu, but they also have an indoor beer hall that has a capacity of 60 attendees and an outdoor beer garden that has a capacity of 65. A spot to investigate for smaller groups with an interest in German beer and dyed green drinks!
St. Patrick's Day in Reno, NV at THE ROW
If your event is taking place in the mountains this week, have no fear! Eldorado, Circus Circus and Silver Legacy have you covered. Restaurants in all three hotels from The Brew Brothers, Millie and more will be offering special St. Patrick's Day food and drinks. There will also be a Shamrock Shindig on March 17th at Novi, Brothers, Rum Bullions and El Jefe's from 9 p.m. till closing.
Read More: Las Vegas Visitors Trending Younger: Highlights from LVCVA Board of Directors Meeting
Between Eldorado, Circus Circus and Silver Legacy, THE ROW offers up 180,000 sq. ft. of meeting space. Whether you're a planner seeking panoramic boardrooms, state-of-the-art production equipment, or a place to let off some steam with a round of golf, there are a wide variety of choices to pick from.
An Irish Delight in Sonoma County, CA
If you happen to be near Santa Rosa, CA this coming weekend, be sure to check out the Healdsburg St. Patrick Day festivities that include parade that begins 7 a.m. on Sanderson Street along with Celtic music and Irish dancing on March 17th from noon to 2 p.m.
If you're looking for a restaurant and an event space, take a stroll over to Murphy's Irish Pub and Restaurant. They will be serving Irish dishes all day, along with a lineup of musicians scheduled to perform. The restaurant offers event planners an intimate indoor space that allows for 40 attendees and 60 attendees outside and features a seasonal private menu and a full bar.
St. Paddy's Weekend in the San Francisco
It may be hard to miss an Irish bar on the streets of San Francisco during this holiday, but there are plenty of other events to check out in San Francisco this weekend. The Irish Bank on 10 Mark Lane in the Financial District is hosting a block party from 1:30 p.m. to 11:30 p.m. on March 17th. There will also be several concerts this weekend including John Mellencamp for a two-night stint at The Golden Gate Theatre, Parokya ni Edgar at the Warfield, The Bets at The Fillmore and Andy Frasco & the U.N. at the Chapel.
The Warfield Theatre is the definition of historic elegance for nearly 100 years. The Warfield has 25,000 sq. ft. of space, which depending on the event, can host between 200 and 1,200 for a reception, 1,780 in a theatre setting, 450 in the seated balcony and 2,450 in the general admission area.
Paint N' Sip in Fresno, CA
Heading away from The City by the Bay, you may want to consider taking a drive to Fresno to check-out the St. Patrick's Day offerings. For those interested in getting a little creative a St. Patty's Brunch: Paint N' Sip on March 18th features a professional artist Mads Labbe' who will work with attendees to create their own work of art. Attendees will get their choice of specialty mimosas, mocktails and Decadent Hor D'oeuvres.
Fresno Convention Center has 66,000 sq. ft. of flexible meeting space and a full-service kitchen. The second floor of the center holds 20 meeting rooms and an exhibitor's lounge.
Two Weekends of St. Patrick's Day in Cedar Rapids, IA
Some cities love St. Patrick's Day so much it becomes a two-week affair! Cedar Rapids, Iowa, St. Patrick's Day weekend. The Olympic South Side Theater is hosting a St. Patrick's Day Bash that includes raffles, prizes, games and a photo booth. For individuals hoping to be a little active the Millstream Brewing Co. is hosting a Beer & Pretzel 5K run on March 17th. The Olympic South Side Theater sits at the heart of Newbo. The event space capacity can hold over 200 attendees. It also features a projector, boutique rooms, a kitchenette, onsite event staff and a full bar.
St. Patrick's Day at the Happiest Place on Earth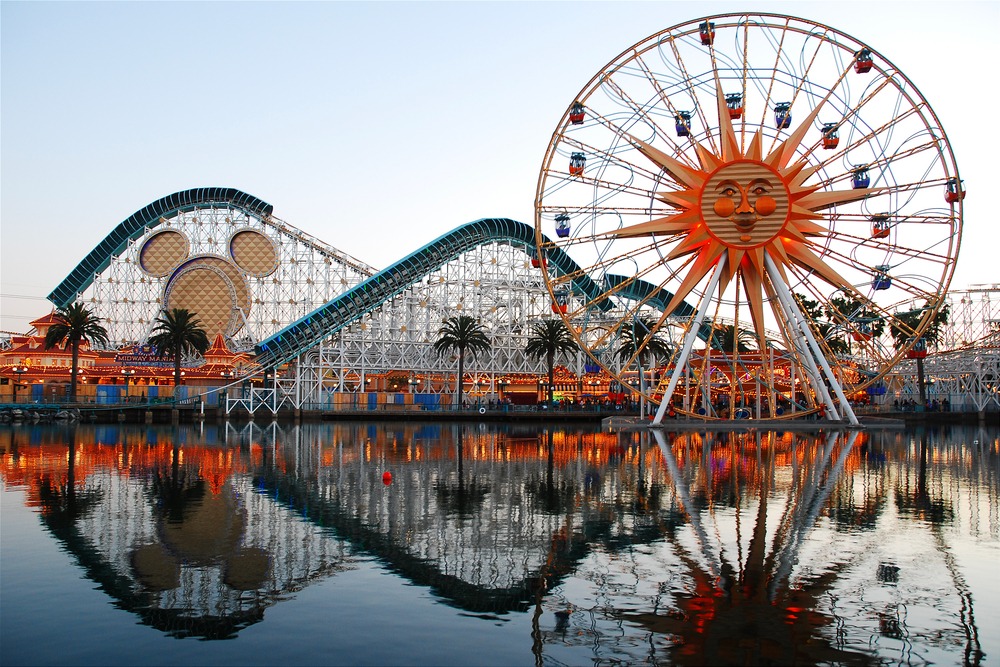 If you find yourself close to Orange, California, head over to The Biergarten in Old World Huntington Beach to grab a plate of corned beef and cabbage or Irish stew. You can also take a night hike at the Santiago Oak Regional Park. Attendees can also venture over to Tantaka Farms for a tractor-pulled wagon ride up to their buffet lunch and outdoor games. If you're looking to treat attendees to the 'Happiest Place on Earth' Disneyland will be offering a wide range of St. Patrick's Day themed drinks and treats throughout their property.
Read More: Lessons from a Harmonious Return to Meeting in Anaheim
About a nine-minute drive from Disneyland, Anaheim Convention Center quarters over 1 million sq. ft. of exhibit space as well as 99 meeting rooms. Within a half a mile of the Anaheim Convention Center are 42 properties and 9,109 rooms. If attendees want to unwind, Orange County offers 42 miles of coastline and beaches that includes whale watching, sport fishing and more!
Irish Rock in Dayton, Ohio
If you happen to find yourself in Dayton, Ohio, there will be a lot of options to choose from celebration-wise. On March 17th, WTUE will be hosting a party in Fairborn with live music and local food trucks. On March 18th, Lost Celts (Irish Rock and Folk) and Dulahan will be performing at the post-St. Patrick's Day survivor's party at The Dublin Pub. On March 19th, the Celtic Academy of Dance will be performing a traditional Irish dance at the 2nd Street Market.
Located in the central business district of downtown Dayton and mere minutes from the Dayton International Airport (DAY), Dayton Convention Center has 150,000 sq. ft. of meeting space with three levels of contiguous space and an atrium. The facility also offers a full-service theater that can seat up to 672 guests, it also has 22 meeting rooms and 3 ballrooms with a combined 20,000 sq. ft.