Every bride-to-be deserves a magical engagement ring! In this blog, we're breaking down different ring types to help you find yours!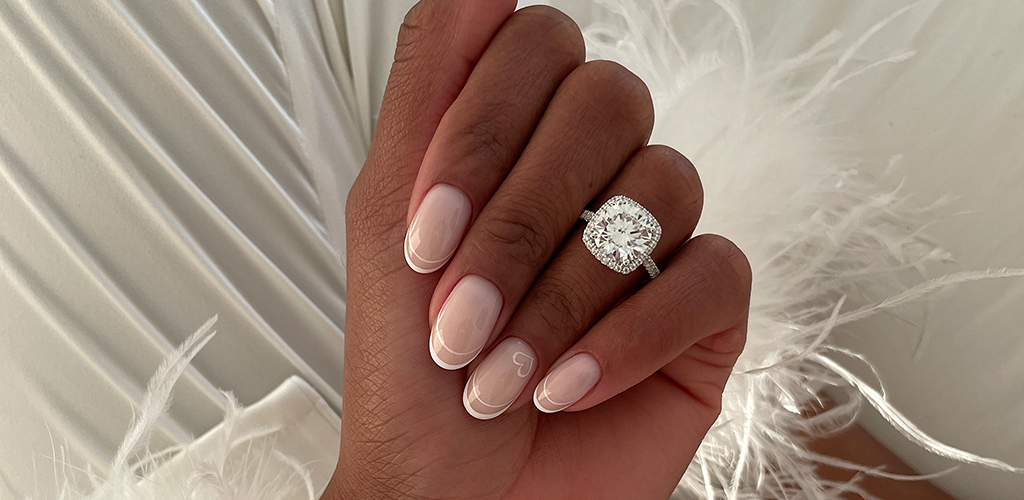 Introduction
Congratulations are in order; you're engaged! This is a beautiful time of your life, filled with excitement and planning for the big day. One of the most personal and important decisions you will make during this process (apart from who you're marrying, of course!) is choosing the perfect engagement ring. There are countless types of engagement rings, each with its own unique style and design.
Keep reading to explore the different styles to get one step closer to finding your forever ring!
Solitaire Engagement Rings
Classic and timeless solitaire engagement rings are the ubiquitous style we know and love! They feature a single diamond, usually mounted in a prong setting. This allows for maximum light to enter the stone a create brilliant shine!
Solitaire rings can come in several shapes, including round, princess, and emerald. Because they can be paired with just about any wedding band, they are versatile and simple- in the most beautiful way!
Halo Engagement Rings
Looking for a touch of glamor? A halo engagement ring may be the style for you! They are dazzling and eye-catching, featuring a center diamond or gemstone with a halo of smaller diamonds. This is the type of ring that will turn heads wherever you go. With options for both modern and vintage styles, halo rings make an excellent choice for those who want a unique and stunning engagement ring.
Three Stone Engagement Rings
Three stone engagement rings, or trinity rings, feature three diamonds or gemstones mounted on a single band. How gorgeous! While you can attach any significance to them, it is said that the three stones represent the past, present, and future of the couple's relationship.
Attaching meaning and symbolism to your ring can only strengthen the bond you have with your partner. And even better- three stone engagement rings come in various shapes and designs, from simple and classic to ornate and intricate.
Pavé Engagement Rings
Pavé engagement rings are one of the most popular styles- and for good reason! In French, "pavé" means "paved," and the intricate design of the ring mimics the appearance of a paved road with its closely set small stones. This design maximizes the brilliance of each stone, creating a stunning ring that is ideal for anyone looking for a bit of extra sparkle. Pavé rings are sleek, simple, and effortlessly versatile- what more could you ask for?
Bezel Engagement Rings
Bezel engagement rings feature a center diamond surrounded by a metal rim that holds it securely in place. This setting offers durability and protection, without compromising on style or shine! If you prefer a low-profile ring that won't snag on clothing, this would make a practical choice.
And best of all, this ring can be customized to fit your personal style; there are both minimalist and intricate options out there!
Vintage Engagement Rings
What is more unique and timeless than a vintage-inspired engagement ring? The art deco movement or styles from the Victorian or Edwardian eras often inspire vintage engagement rings.
These rings feature intricate detailing, filigree work, and colored gemstones. Vintage rings can be found in a variety of styles and designs, from simple and elegant to ornate and intricate.
Colored Gemstone Engagement Rings
Who says engagement rings can't have a pop of color? If you're looking for a dash of brightness, this may be your ring style. Gemstones come in endless colors with various symbolism.
You can opt for sapphire, emerald, ruby, and more. Colored stones can also be paired with diamonds or used as the center stone in a halo or three-stone design. The possibilities are truly endless.
Alternative Engagement Rings
The modern bride-to-be always looks for new ways to stand out and honor her individuality. Alternative engagement rings are the perfect way to do that! Such rings are typically made from alternative metals or simply have unconventional designs.
Any ring can be an engagement ring if you want it to be! You're all set as long as it reflects your personality, taste, and growing relationship!
FAQs
1. What is the most popular type of engagement ring?
Solitaire engagement rings are the most popular type of engagement ring, followed closely by halo rings and three-stone rings.
2. What should I consider when choosing an engagement ring?
When choosing an engagement ring, it's important to consider your personal style, your partner's style, your budget, and the quality of the diamond or gemstone.
3. How much should I spend on an engagement ring?
There is no set amount you should spend on an engagement ring. Choosing a ring that fits your budget and that you and your partner both love is important.
Conclusion
Have questions about picking the right diamond engagement ring? Contact one of our experts at JamesAllen.com anytime, and we'll be happy to offer you expert advice or a free diamond consultation. 
Subscribe to our email list for access to secret sales, practical ring-buying tips, and $100 off your first purchase!
The author generated this text in part with GPT-3. The author reviewed, edited, and revised the language and takes ultimate responsibility for the content.