Doctor-approved and finance-advisor-endorsed, packed lunches are the key to sticking to that diet whilst cutting daily costs. The only thing standing in your way? A functionally fashionable lunch bag. 
Let's be honest, schools and peer pressure put us off the necessary accessory for a good period of time. And "uncool" lunch boxes became the brunt of many embarrassing jokes. Thankfully, these adult iterations are here to redeem the quintessential work staple through contemporary cuts, chic prints, and the potential to hold more than just stale sandwiches. 
Whether you're packing last night's gourmet leftovers or a fresh falafel salad, your colleagues burn with envy as they watch you crunch into your box's unspoiled contents. The secret to getting your boss on board a new idea—pack extra and use it as leverage. If apples got you A's at school, fresh banana bread is bound to earn you a few brownie points at the office. 
Strap your sleek black silhouette over your shoulder and pass it off as a contemporary tote. Pop your bento box into a backpack for compact, leak-proof convenience. Or keep last night's pizza warm with superlative insulation. 
Whatever your lunch, these effortlessly cool lunch bags won't make you work for it. 
The 15 best lunch boxes and lunch bags for women
Dagne Dover Axel: Overall best lunch box for women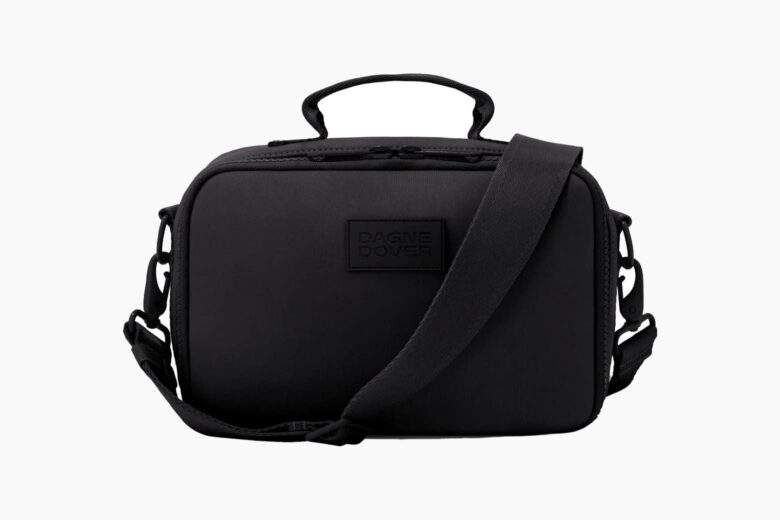 As one of our favorite lifestyle brands, Dagne Dover makes most of our lists—from the best designer work bags to the best weekender bags and now the best lunch bags for women. The sustainable brand's Axel lunch box is made from vegan, recycled reprieve materials. And the chic modern minimalist silhouette is complemented by a practical wipeable lining and superlative insulation.
Learn more about the story behind Dagne Dover and check our hands-on review of Dagne Dover's bags.
Best for: Adulthood meet your lunch break companion. 
| | |
| --- | --- |
| Material:  | Premium neoprene |
| Insulated: | Yes |
| Leakproof: | Yes |
Alexander Wang: Best designer lunch bag for women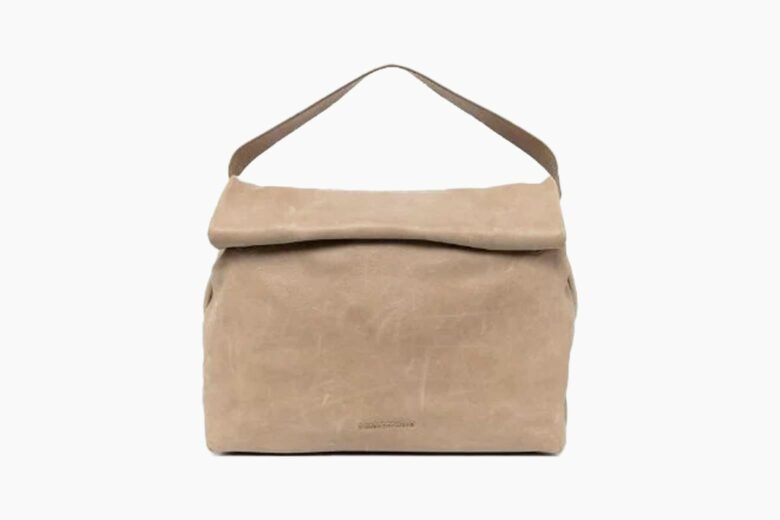 Playing with the old-school brown paper bag look, this leather lunch bag is far more practical. And although the Alexander Wang designer iteration is no small purchase, you can consider it an investment in your health, daily expenditure, and style. Toting this stylish accessory around the office is the perfect motivation to have you lunch prepping in no time. 
Best for: Feeding your fashion cravings. 
| | |
| --- | --- |
| Material:  | Leather |
| Insulated: | No |
| Leakproof: | No |
Buringa: Best value lunch bag for women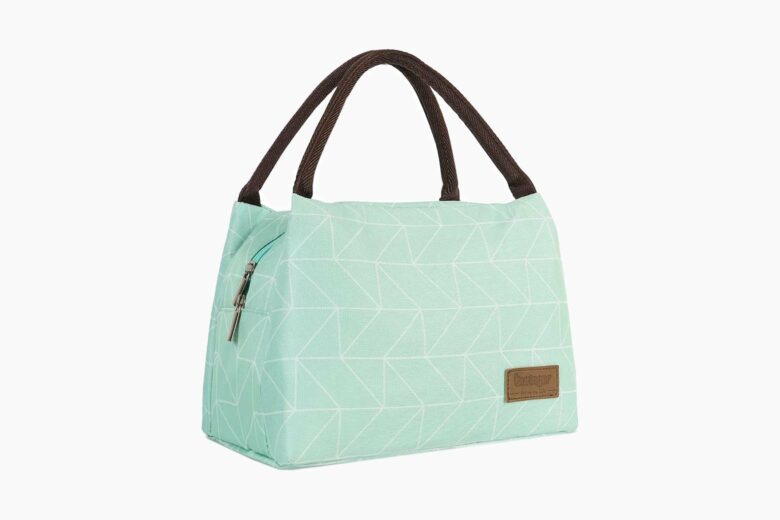 As if saving you the cost of overpriced premade sandwiches wasn't enough, Buringa's insulated lunch bag is practically a steal. The practical tote silhouette is made from durable cloth with an insulated aluminum lining. And it also runs the gamut in funky prints and patterns. So if you're struggling to decide between contemporary cow or geometric green, we recommend getting a few to match your mood (and OOTD, of course).
Best for: Saying goodbye to overprice sandwiches. 
| | |
| --- | --- |
| Material:  | Oxford cloth |
| Insulated: | Yes |
| Leakproof: | Yes |
S'well Grape Grove Food Container: Best stainless steel lunch box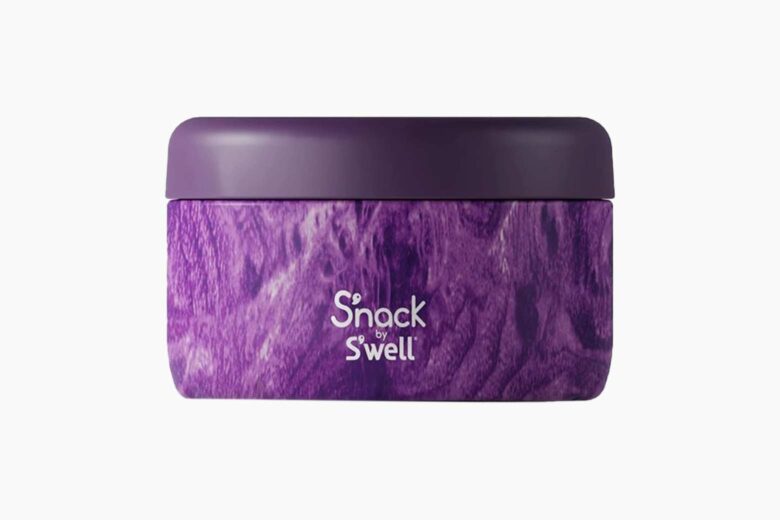 The only thing bad about this S'Well lunch box is how much your burrito guy will miss seeing you. The S'nack by S'well food container flaunts unparalleled performance, whether you are toting a cold pasta salad or a hot soup. The stainless steel silhouette is vacuum insulated, BPA-free, and dishwasher safe. Pair it with a matching S'Well water bottle, and you're all set for a productive day. 
Plus, we heard through the grapevine that the vibrant purple spin on classical wood has a habit of making people smile.
Best for: A full day.
| | |
| --- | --- |
| Material:  | Stainless steel |
| Insulated: | Yes |
| Leakproof: | Yes |
Calpak: Best insulated lunch bag for women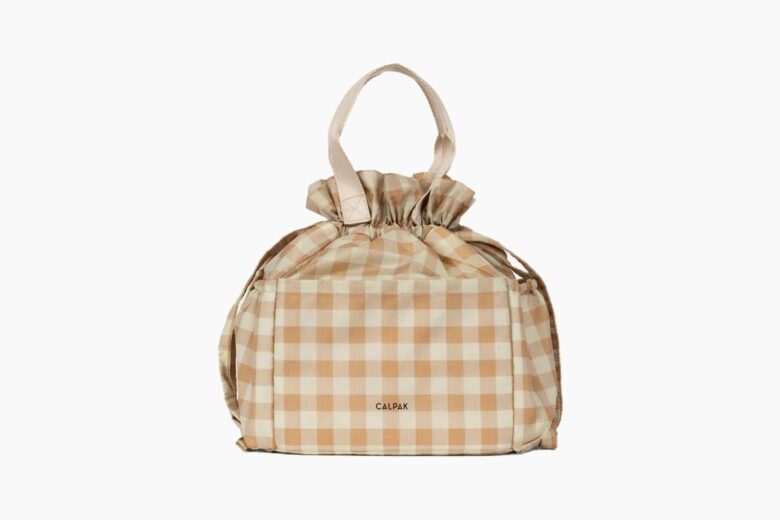 Keeping things as fresh on the inside as the outside, Calpak's iteration has everything we look for in a lunch companion. The interior features insulated lining and water-resistant fabrics. While the exterior flaunts a plethora of pockets and multiple prints. We love the gingham to finish off the classical drawstring silhouette. But daisies, animal print, or polka dots are equally alluring (hint hint: get more than one).
Best for: As fresh as a daisy, as glam as gingham.
| | |
| --- | --- |
| Material:  | Nylon |
| Insulated: | Yes |
| Leakproof: | Yes |
Minimal Bento Box: Best work lunch box for women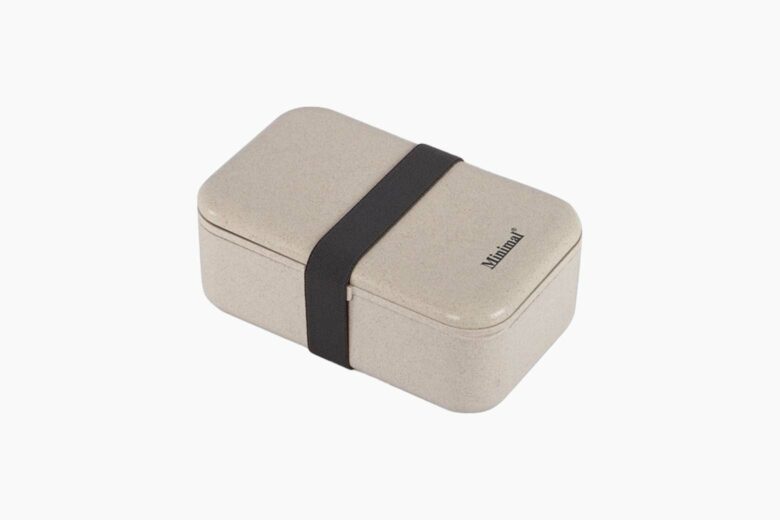 Stylish and sustainable—the natural fiber Bento container ticks all our boxes (not just the lunch one). The award-winning eco choice is made from discarded rice husks. So it reduces waste whilst simultaneously nailing a minimalist chic exterior. Plus it's chip- and crack-resistant, microwave approved, and it comes with a cutlery set and two dividers. 
Pop it into your favorite everyday tote, and we expect it to protect your falafel wraps and hummus dips for decades to come. 
Best for: Making your vegan colleagues' good books. 
| | |
| --- | --- |
| Material:  | Natural Fiber |
| Insulated: | Yes |
| Leakproof: | Yes |
Beis: Best women's lunch bag with shoulder strap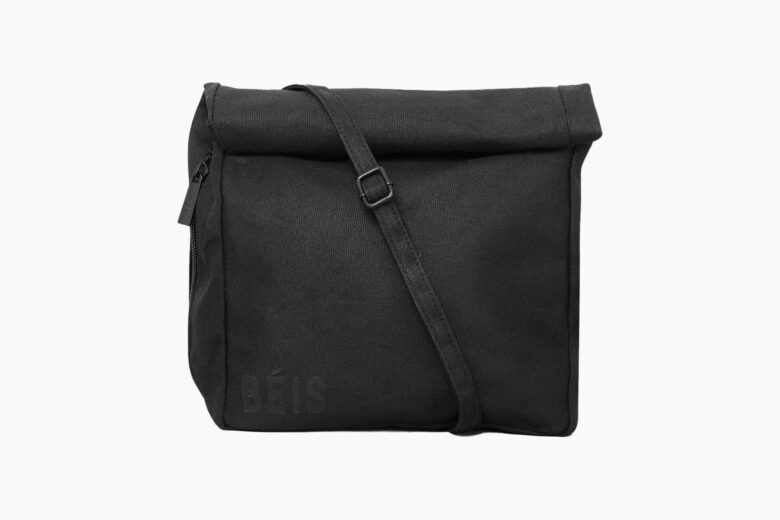 It's your childhood recess consort all grown up. Returning with a practical attitude and effortless aesthetics, the Beis lunch bag screams adulthood. Designed to provide meals and snacks on the run, the minimalist black canvas silhouette features a shoulder strap to carry it all. While insulated lining keeps your salads cool. And an expandable interior makes room for more snacks (a bag after our own hearts).
Best for: On-the-go adulting. 
| | |
| --- | --- |
| Material:  | Cotton with EVA lining |
| Insulated: | Yes |
| Leakproof: | Yes |
Kate Spade: Best lunch tote for women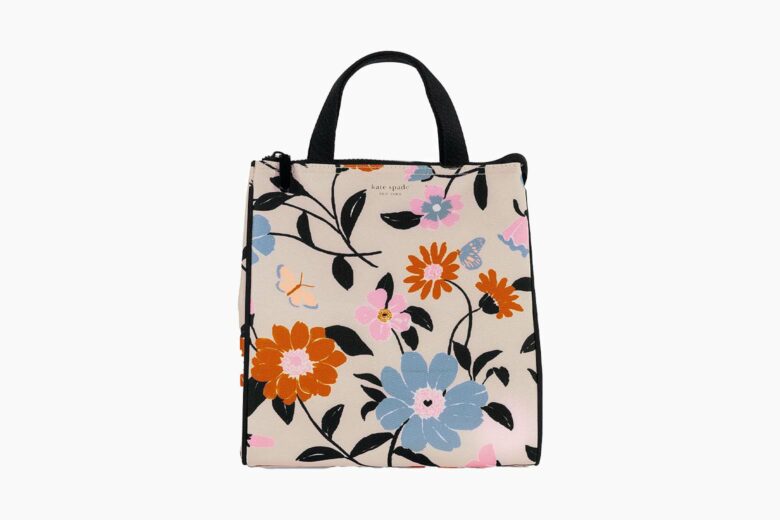 Trust the New York brand to promote fashionable efficiency in the workplace. This Kate Spade lunch tote bag is one of our best lunch totes for women for a number of reasons. The first is the interior mesh pockets to keep things tidy. The second is the wipeable thermal insulation. And last but not least is their iconic prints—the floral being a personal favorite.
Best for: Vibrant prints promote productivity.
| | |
| --- | --- |
| Material:  | Canvas |
| Insulated: | Yes |
| Leakproof: | Yes |
Matein: Best lunch backpack for women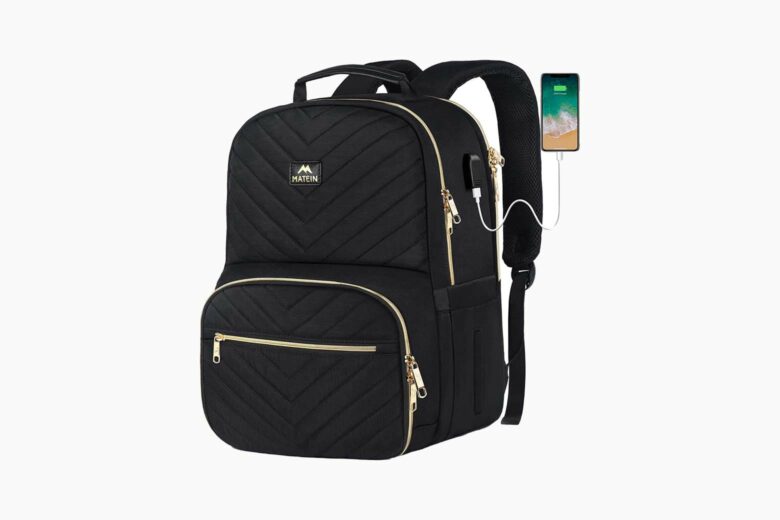 Merge the two quintessential school staples into one sleek accessory—but make it mature and office-ready. This black lunch backpack features a built in lunch box and everything else you need for a productive day at work. The front food compartment is made with insulated lining to keep salads cool and soups warm. While the main compartment includes a USB charging port and space for a laptop, books, and all the other essentials.
Best for: A fusion of flavor.  
| | |
| --- | --- |
| Material:  | Nylon |
| Insulated: | Yes, features an insulated lunch box compartment |
| Leakproof: | Yes |
Business & Pleasure Co: Best large lunch bag for women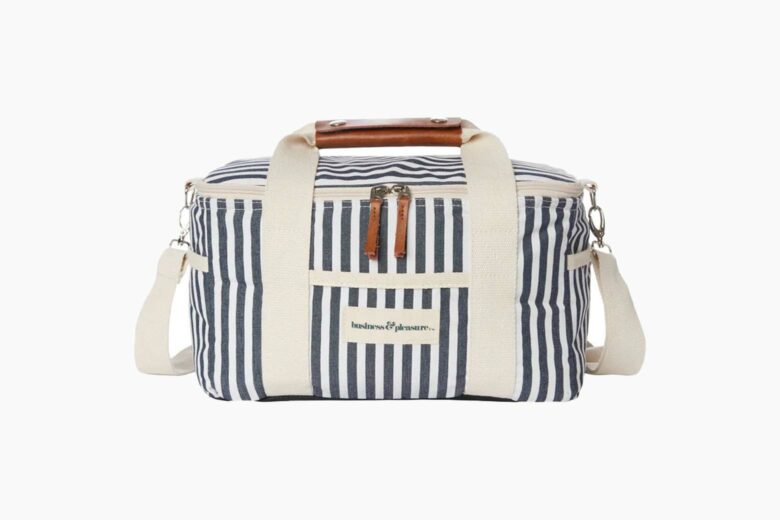 Snacks, snacks—and more snacks. This luxury brand lives up to its name by mixing business with pleasure. The spacious adult lunch bag eliminates all hangry excuses and promises to keep blood sugar levels steady throughout the day. While the recycled plastic lining is sustainable and spill-proof. Plus, the Californian aesthetic is reminiscent of the Summer holidays and what's to come.
Best for: Bringing your holiday mood to the office. 
| | |
| --- | --- |
| Material:  | Cotton canvas |
| Insulated: | No |
| Leakproof: | Yes |
Baloray: Best small lunch bag for women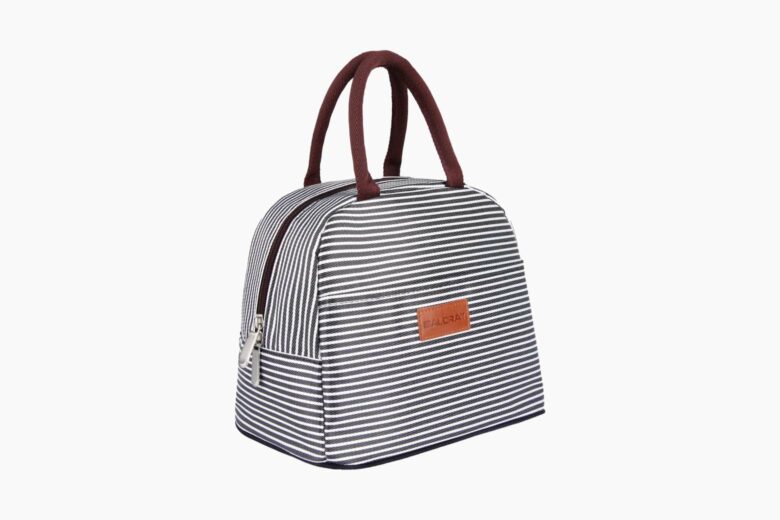 Pop this Baloray lunch bag into your best backpack for the ultimate work-ready ensemble. This small lunch bag is the perfect size for portion control and compact convenience. It is made from high-quality oxford cloth to outlast endless snack breaks. It features an insulated lining to keep your lunch fresh. And it comes in a range of chic prints—from leaves and leopard to hearts and daisies. 
Best for: Great things (snacks) come in small packages. 
| | |
| --- | --- |
| Material:  | Oxford cloth |
| Insulated: | Yes |
| Leakproof: | Yes |
Fjallraven Kanken: Best cooler bag lunch box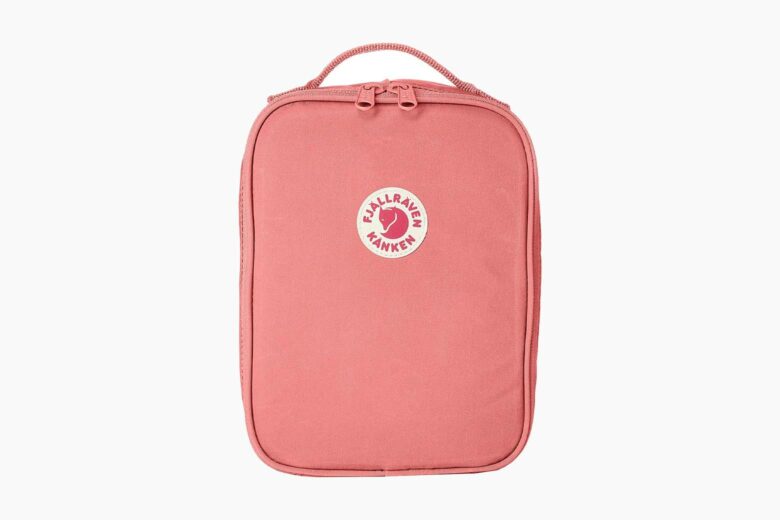 Born to help Swedish school children cope with heavy loads, Fjallraven Kanken accessories are as stylish as they are practical. And this mini cooler lunch box is case in point. The clean contemporary design features the brand's signature red logo. While a zip pocket is designed to keep a soft ice pack. 
Opt for forest green for a style as fresh as your food. Or choose a warm yellow to brighten up your lunch breaks. Either way, you can kiss sad desk sandwiches goodbye.
Best for: Coping with heavy workloads. 
| | |
| --- | --- |
| Material:  | Polyester |
| Insulated: | No |
| Leakproof: | No |
Built Gourmet Getaway: Best lightweight lunch tote for women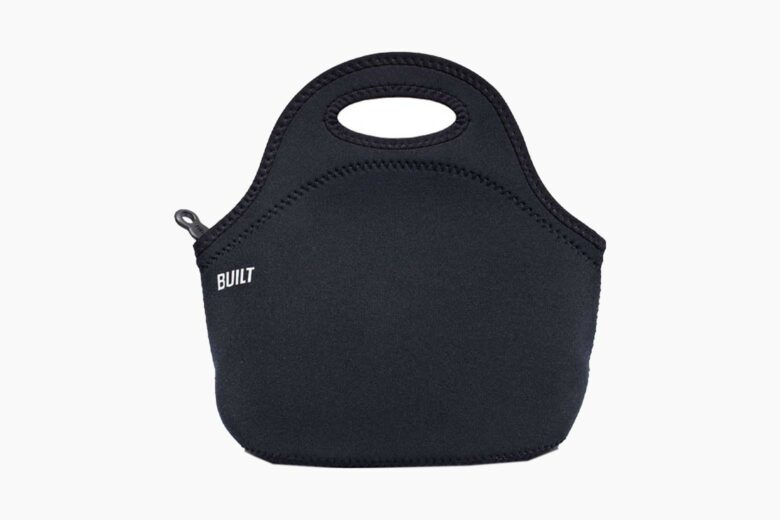 This sleek lunch tote embodies a modern minimalist attitude with clean lines and contemporary curves. While the black colorway is effortlessly versatile and spillproof. The neoprene fabric is perfect for everyday use. Not only is it durable, but also machine washable, stretchy, and insulated. 
And just like that, packed lunches become healthier, easier, and cheaper than running down to the local cafe.
Best for: Taking your culinary skills to work. 
| | |
| --- | --- |
| Material:  | Neoprene |
| Insulated: | Yes |
| Leakproof: | Yes |
Bambaw: Best stainless steel bento box for adults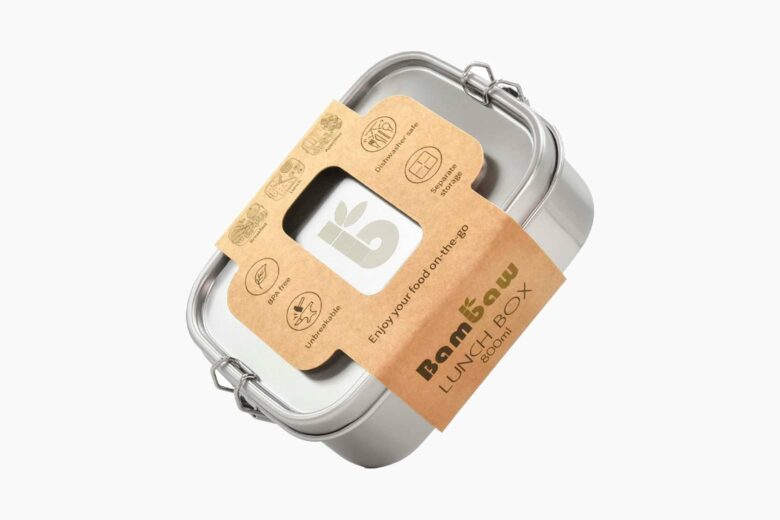 Leakproof and easy to clean—bento boxes for adults are designed to show off your culinary skills to the rest of the office. Whether it's last-nights ramen, pad thai, or poke, this fellow foodie bento lunch box by Bambaw promises to keep its contents fresh and contained with a stainless steel exterior and strong cling clips. So you can shove it into your best EDC backpack without fearing umami-flavored pages or stains.
Best for: Making colleagues jealous. 
| | |
| --- | --- |
| Material:  | Stainless steel |
| Insulated: | No |
| Leakproof: | Yes |
Hydro Flask Tote: Best waterproof lunch bag for women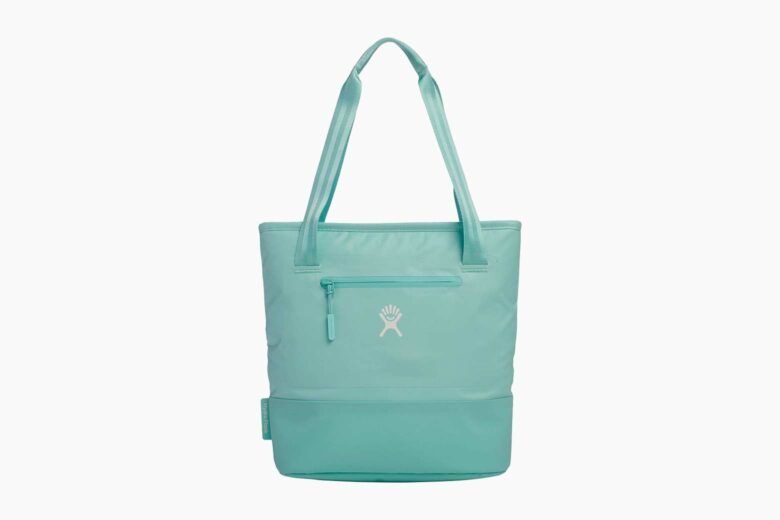 Renowned for their reusable water bottles, Hydro Flask has brought their superlative insulation to lunch bags. And we couldn't be more pleased. This lightweight, waterproof rendition speaks to the brand's impeccable attention to detail. And their signature hues carry an air of adventure. 
Pair this Hydro Flask lunch bag with your best travel mug, and your workday just got a whole lot better.
Best for: Instant insulation.
| | |
| --- | --- |
| Material:  | Polyester |
| Insulated: | Yes |
| Leakproof: | Yes |
How to choose your lunch bag or lunch box
Granted, packed lunches are healthier, both financially and nutrition-wise. But with so many options out there, choosing the right lunch container can seem like a daunting task. Let's break it down. 
Insulation
Lunch boxes or bags can be insulated or non-insulated. We usually recommend insulated kinds as they regulate the temperature of your food. If you're hoping to keep your oats warm over the commute, the chances are it'll do the trick. And if you're planning to pack salads regularly, you can rely on an insulated rendition to keep them fresh without a refrigerator. However, if you do have the luxury of a (non-overcrowded) fridge at the office, an insulated lunch box may not be a priority. 
Leakage
Another important feature to look for in a lunch box is whether it is leakproof or not. If you plan to pack saucy leftovers, nutritious soups or salad dressings, a leakproof container is imperative. However, if you're more of a sandwich and wrap person, we give you the nod to prioritize fashion over function—as long as it gets the job done. 
Size
When it comes to sizing, it'll come down to the length of your (office) day and what you plan to pack. If you're packing breakfast and lunch, you'll want a bigger bag. And if you just plan to snack, you don't want a bulkier bag than necessary. The bottom line—think carefully about what you plan to pack before making a purchase. 
Material
The same could be said for the material of your lunch bag. If you're worried about squished sandwiches (we all know how unappealing those can be), a stainless steel iteration is squish-proof. 
Types
If you plan to pack a couple of mini containers, a bag is usually a good idea. If you've got a couple of snacks, dividers keep your fruits from your nuts. And if you're packing one hearty meal (last night's leftovers), a bento box is all you need.
Last but not least, you'll want to think about the design of your bag. But that's really up to personal preference. Get one or two vibrant prints to keep things as fresh as your lunch will be. Or stay cool, calm, and collected with minimalist blacks and neutrals. Either way, you'll never have to rely on mayo-drenched, overpriced, premade sandwiches again.
Frequently asked questions about lunch boxes and lunch bags
Which brand of lunch box is best?
The best brand for lunch boxes for adults ultimately comes down to purpose. S'well has some of the best stainless steel lunch boxes. Dagne Dover's eco chic lunch box is fantastic for work. And Minimal has some of the best bento boxes for adults. But for all the best brands, we recommend reading our full review of the top lunch bags and boxes out there. 
Which lunch bag is the best insulated?
Calpak has the best insulated lunch bag with fully lined insulation and waterproof fabrics. We also love Dagne Dover for its superior insulation and strive towards sustainability. And you can only expect Hydro Flask and S'Well to take the quality of insulation in their lunch bags and containers as seriously as they do their flasks. For more insulated options, read our full review. 
What is the best material for a lunchbox?
If you're haunted by squashed sandwiches as a child, a stainless steel lunch box is your squish-proof solution. If you want your lunch bag to pass as an everyday tote, a cotton, nylon or leather iteration is a timeless classic.  If you're looking for an easy wipe down, aluminum foil interiors get the job done. And neoprene is usually machine washable.