Prep 15 mins
Cook 15 mins
Total 30 mins
These homemade chicken taquitos are golden and crunchy on the outside, but soft and creamy on the inside. Loaded with cream cheese, chicken, and some seasonings, they're the perfect Tex-Mex appetizer.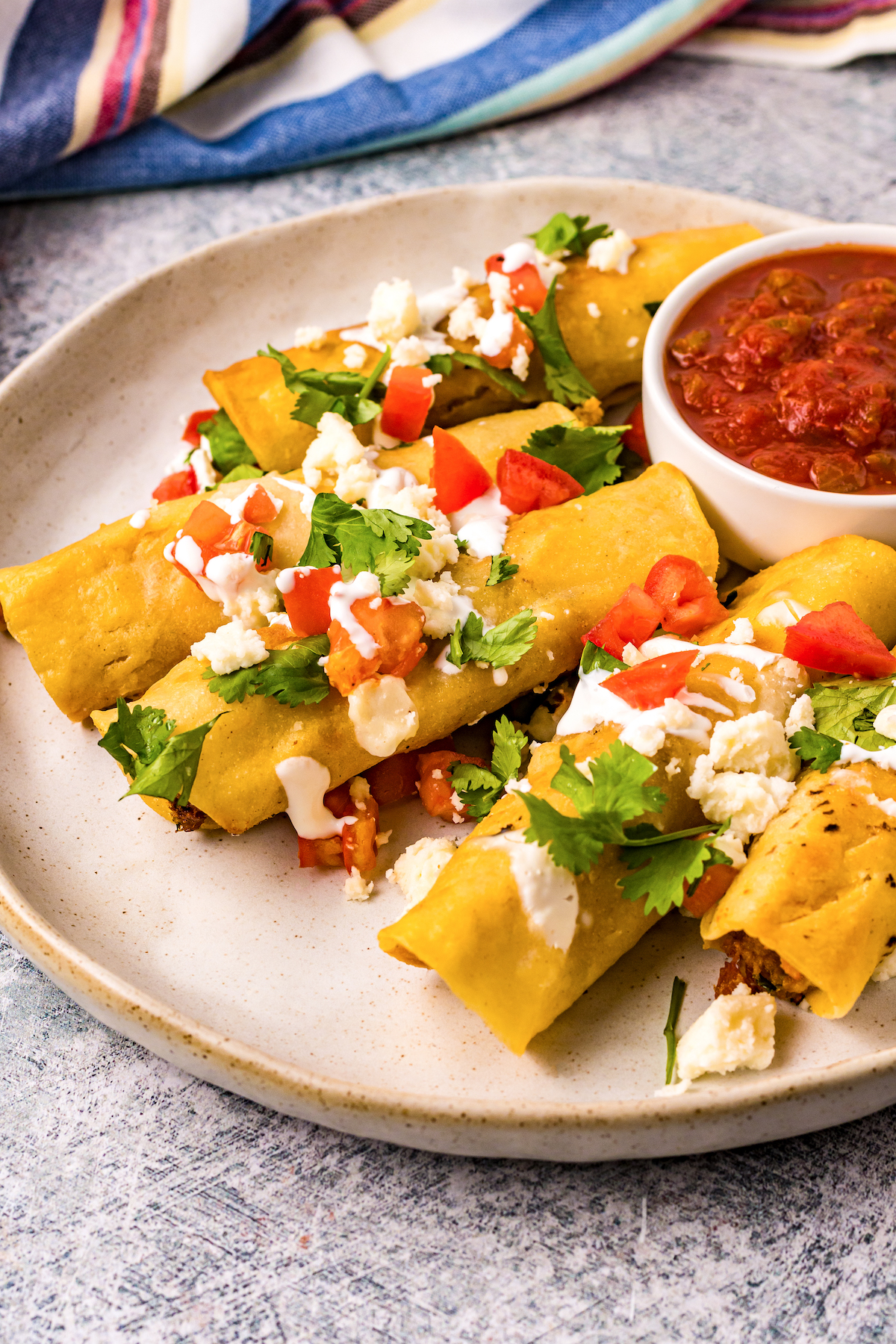 Easy Crispy Chicken Taquitos
Loaded with colorful toppings, these homemade taquitos are a flavorful Tex-Mex fiesta. Filled with a cream cheese chicken filling, you'll love their outer crunch against the soft, cheesy interior.
Ready in just 30 minutes, they're the perfect appetizer for hectic weeknights and even your Cinco de Mayo celebration. Don't worry if you're out of chicken, though. These taquitos are so easy you can switch it for pork, turkey, or beef— they'll be just as good.
Dip them into salsa or pile on the pico de gallo, it's up to you! Once they hit the table, they'll disappear before you know it. The only trace of their existence will be the cheesy smiles on everyone's faces.
Love taquitos! Try out these Cheesy Beef Taquitos or these easy Air Fryer Chicken Taquitos!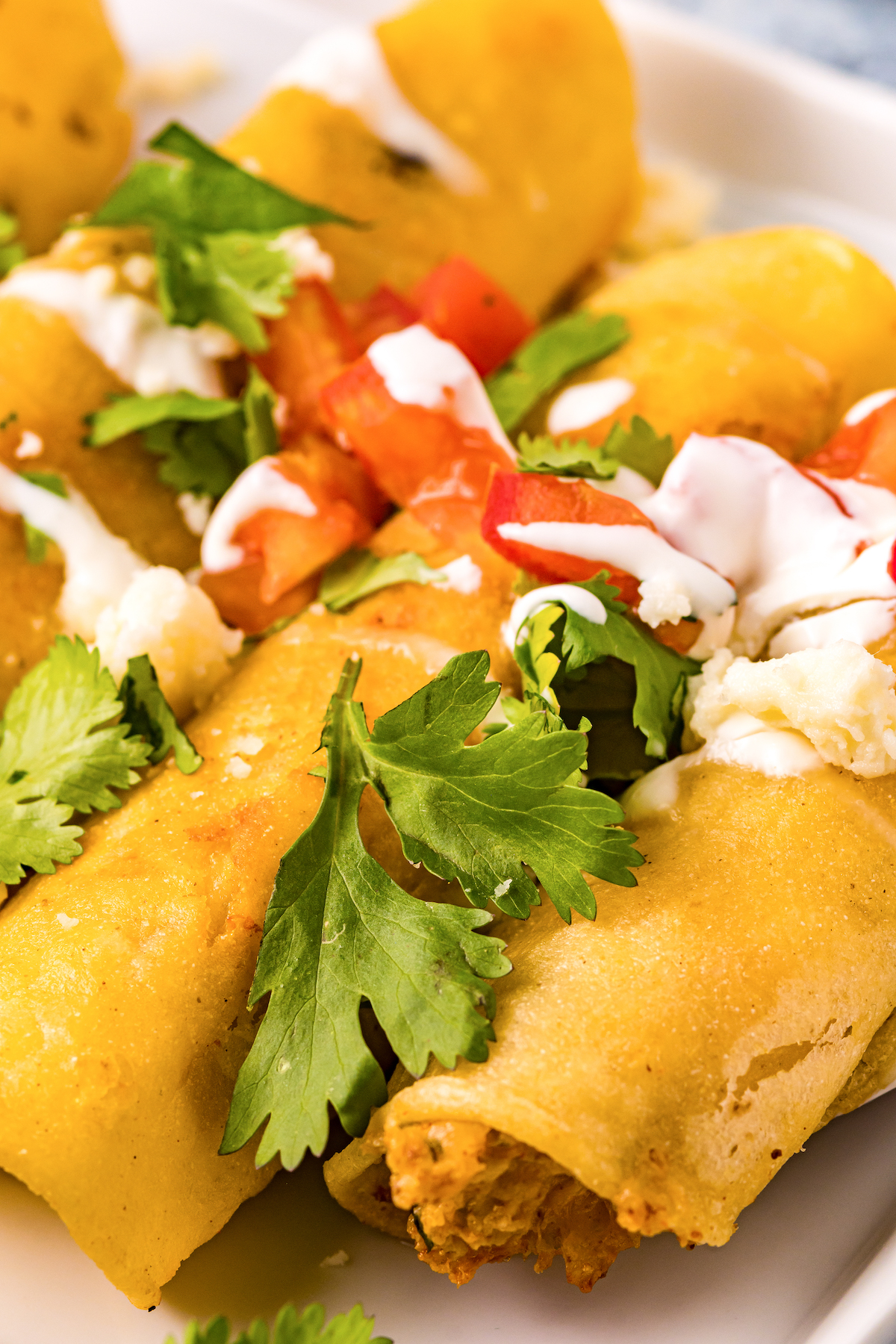 What's The Difference Between Taquitos and Tacos?
Taquitos and tacos are very similar because they're basically tortillas with a meat or veggie filling. However, taquitos are usually deep-fried until golden and crispy, whereas tacos don't have to be. Additionally, taquitos are rolled up while tacos are only folded in half.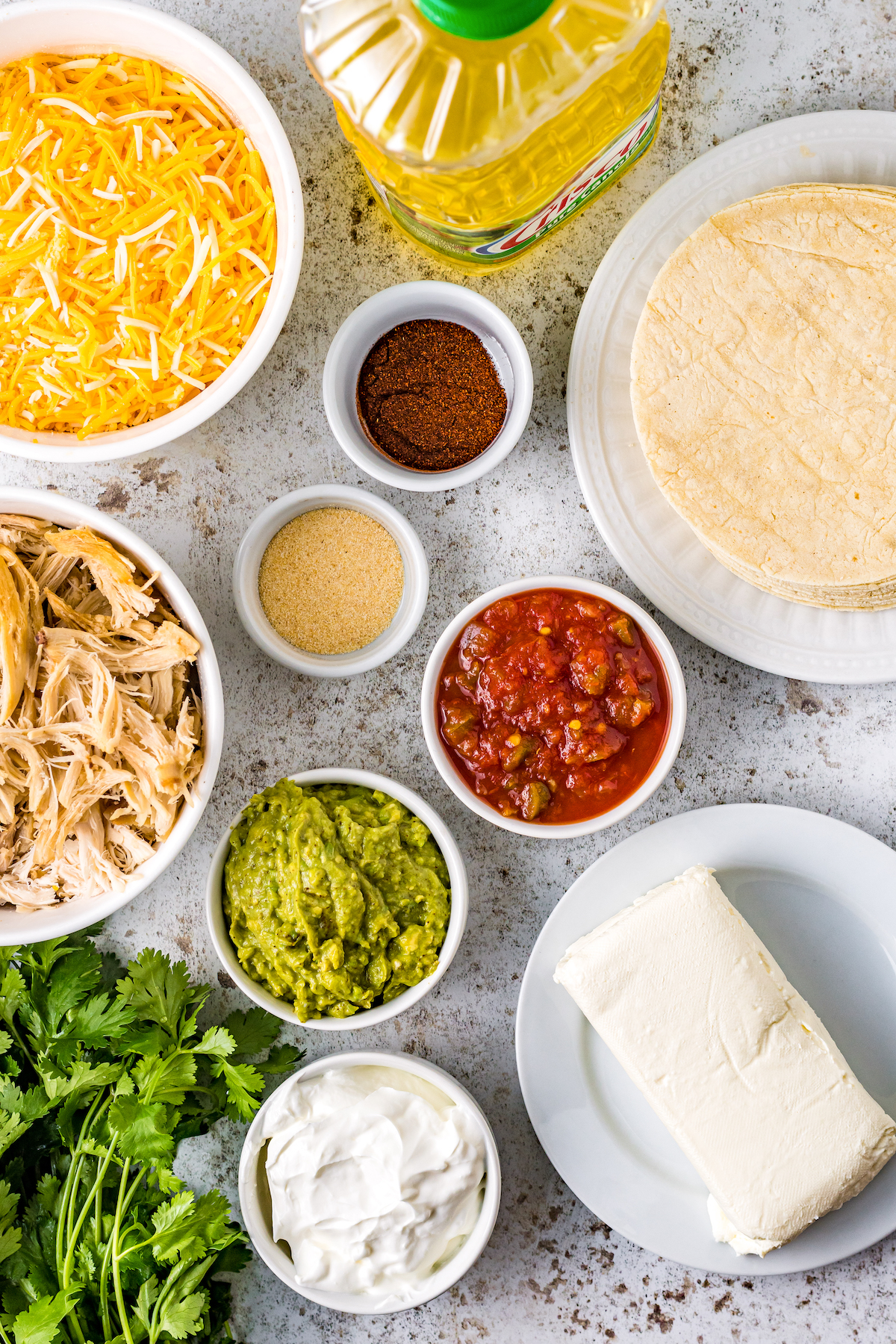 Recipe Ingredients
These homemade taquitos are packed with Tex-Mex flavors. Check the recipe card for full ingredient amounts.
Cream cheese – I love full-fat cream cheese, but low-fat works too.
Chili powder – Omit this if you're not a fan of heat.
Garlic powder – You can substitute it for half the amount of onion powder.
Shredded chicken – You can use a store bought rotisserie chicken or make instant pot shredded chicken, or my favorite, stove top shredded chicken.
Mexican cheese blend – Shredded mozzarella, Chihuahua, Oaxaca, Muenster, or melty cheese work too.
Fresh cilantro
Corn tortillas – You can use store bought tortillas or go for the win with these Homemade Corn Tortillas. Don't use flour tortillas, flour tortillas are for flautas!
Oil – Vegetable, corn, and canola oil are perfect for this. Avoid olive oil because its smoke point isn't high enough for frying. If you want a healthier frying oil, try avocado oil!
Topping Ideas
Add your favorite!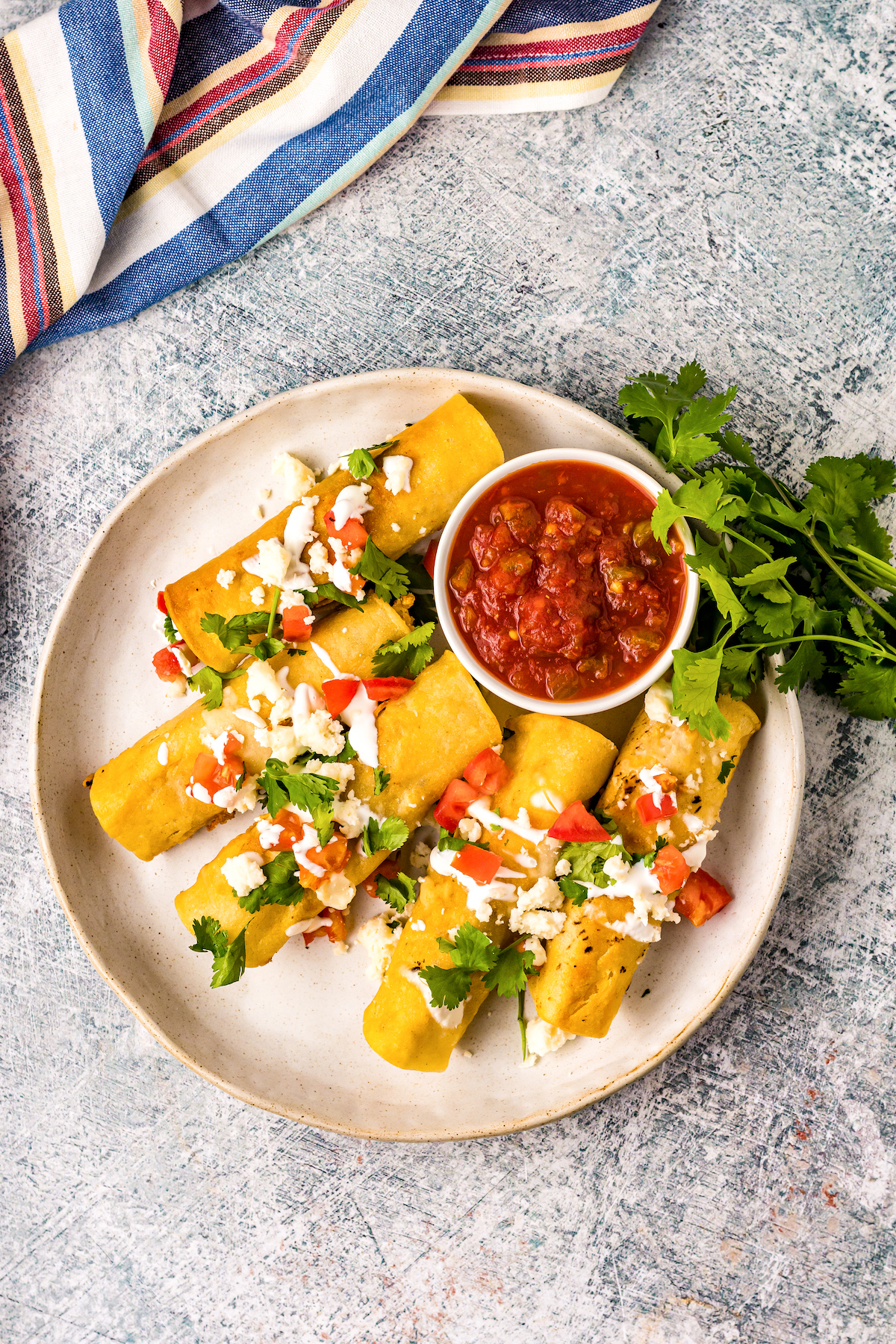 How to Make Cream Cheese Chicken Taquitos
Ready in only 6 steps, it's extremely easy to make homemade taquitos.
Make the filling. Mix the cream cheese, chili powder, garlic powder, chicken, cheese, and cilantro in a large bowl until well combined. You can adjust the seasoning with more chili powder or garlic powder to taste. I don't recommend adding salt because the cheese is already quite salty.
Heat the tortillas. Place the tortillas on a plate and cover them with a damp paper towel. Heat in the microwave for 30 seconds. You can also heat them on a griddle or comal over low heat for 1-2 minutes on each side. Remove them from the heat and keep them covered with a clean kitchen towel.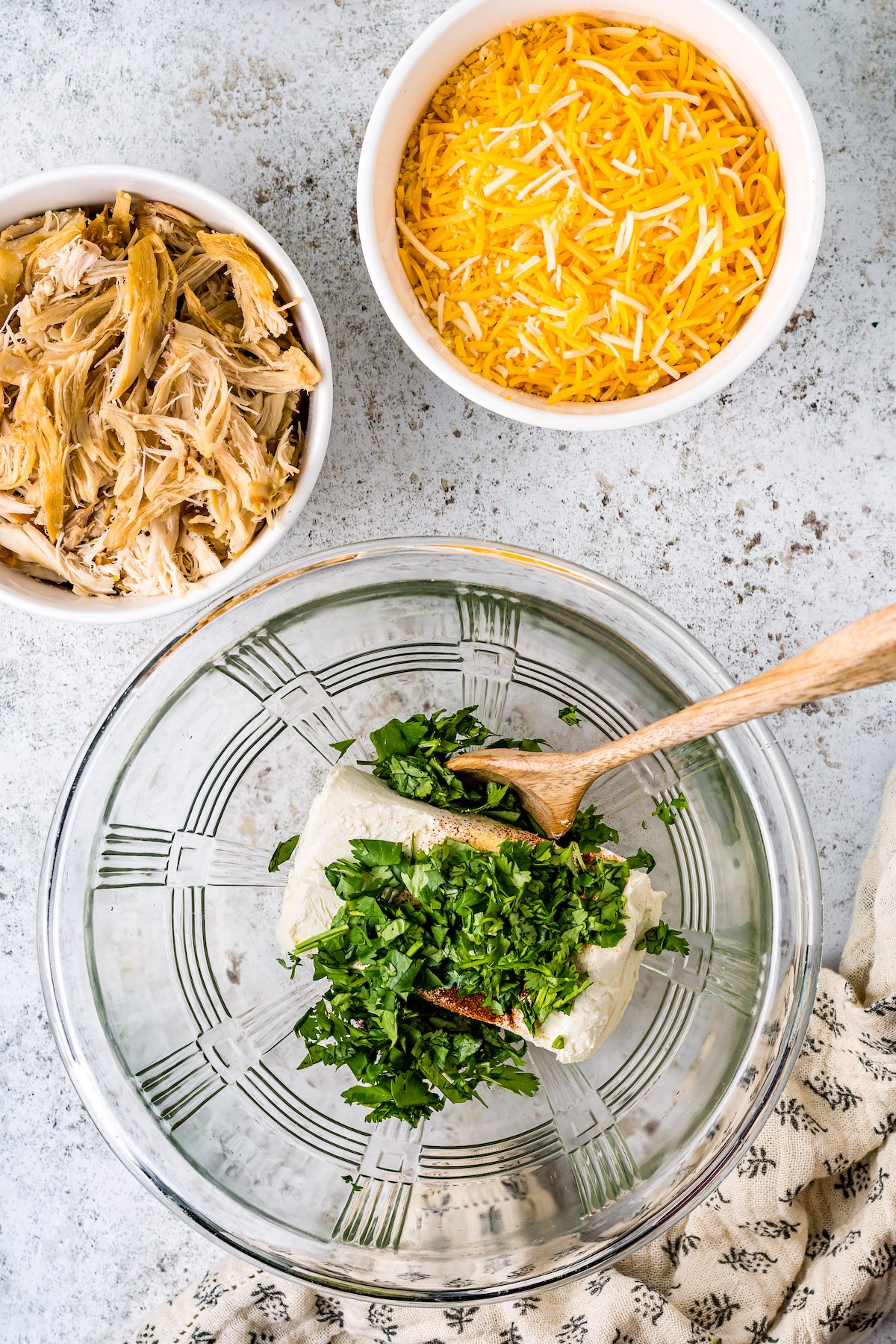 Roll them. Grab one tortilla at a time and fill it with 2-3 tablespoons of chicken filling. Roll the tortilla up tight. Repeat for all the tortillas and filling. Set the taquitos aside.
Fry them. Add the oil to a deep skillet over medium-high heat. Use kitchen tongs to carefully lower 4-5 taquitos into the oil with the seam side down. Cook until golden brown on all sides. Flip them over once golden and crunchy. Repeat for all the taquitos.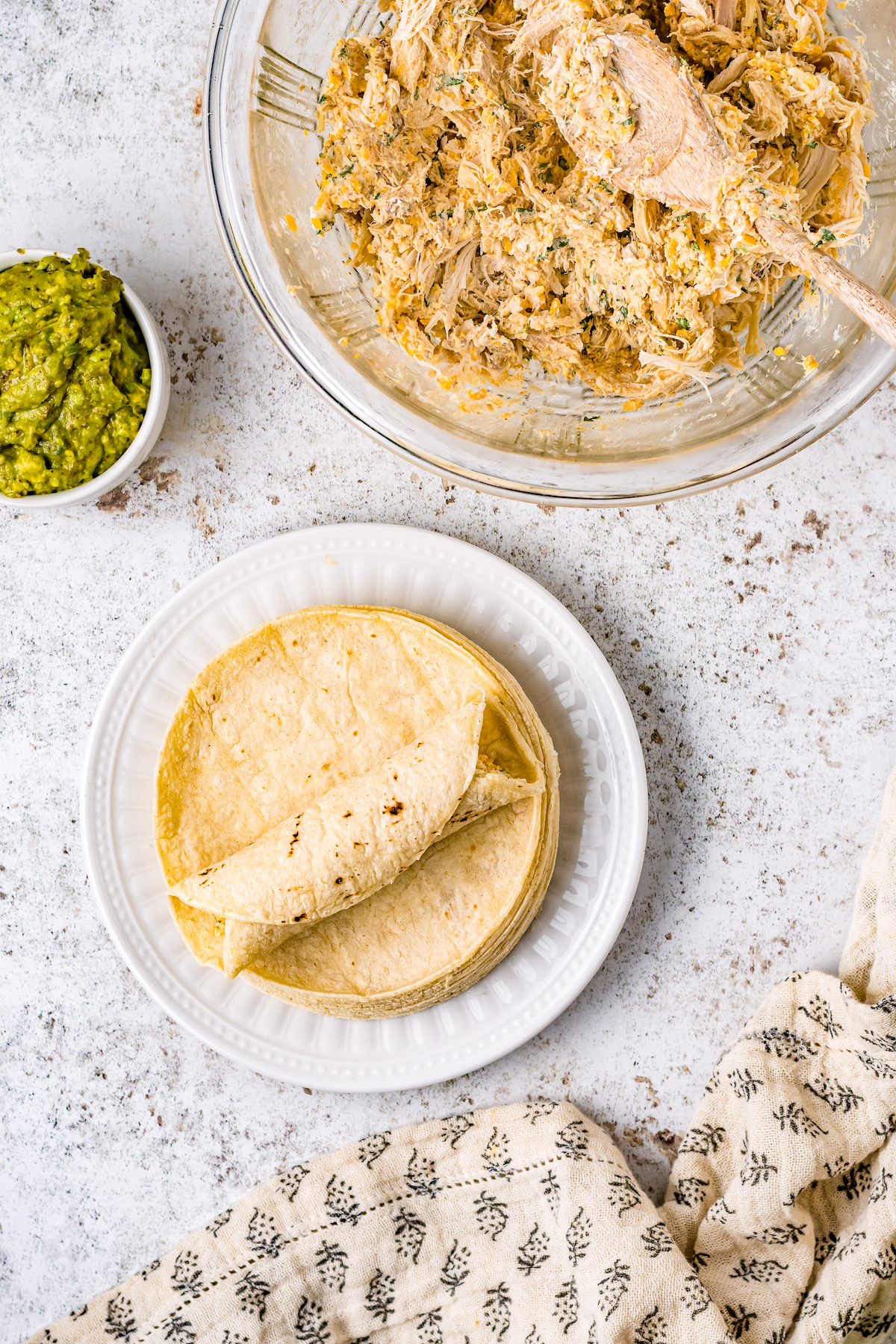 Remove from the heat. Remove the taquitos from the heat and set them on a paper towel-lined plate to drain excess oil.
Serve. Add your favorite toppings and serve.
Tips for Success
These tips will have you making batches of homemade taquitos much faster!
Watch the temperature. Don't set the heat too high because your taquitos will burn. Burnt tortillas taste very bitter.
Use beef. Replacing the chicken with shredded beef, pulled pork, or turkey is a yummy variation of these taquitos. You could also stuff them with Birria to make Birria Taquitos!
Use rotisserie chicken. Leftover rotisserie chicken is a great way to reduce your time in the kitchen throughout the week because the chicken is already cooked.
Add a toothpick. If your taquitos won't stay rolled, pinch them closed with a toothpick through the center or on both sides. Remove them after you fry them.
Heat the tortillas. If your tortillas break every time you bend or roll them, they're not hot or moist enough. Sprinkle them with 1/4 teaspoon of water and let them heat for 1-3 minutes on each side over low heat until soft and bendy.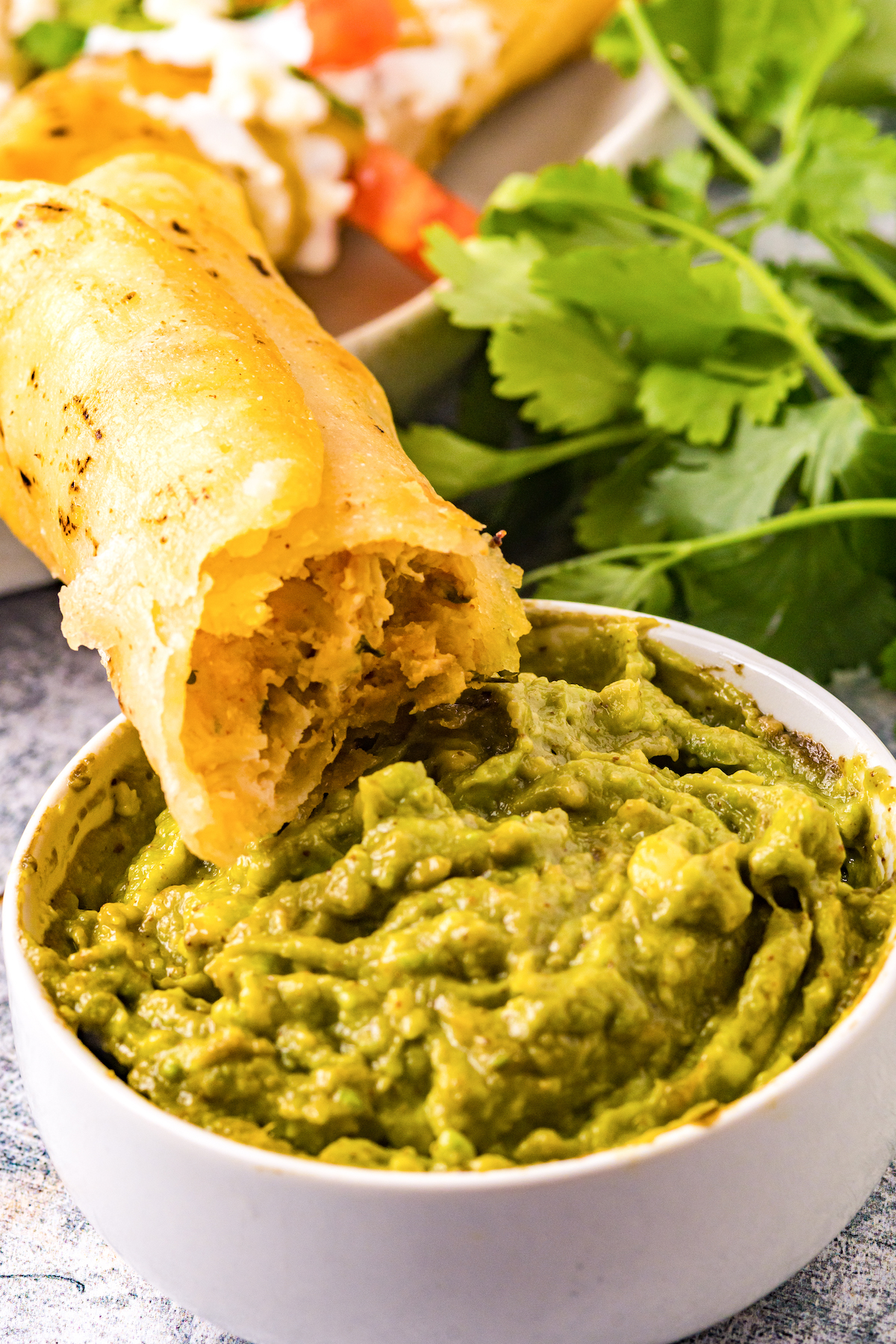 What to Serve with Chicken and Cheese Taquitos
Aside from your favorite toppings, these homemade taquitos are great with other Mexican or Tex-Mex appetizers and mains. Try them with my Frijoles Charros (Charro Beans), The Best Texas Caviar, and Authentic Mexican Rice.
You can also dip them into my Frijoles Puercos (Mexican Bean Dip)! Other topping ideas include shredded lettuce, diced onion, and chopped cilantro.
How to Store & Reheat Leftovers
These homemade taquitos are definitely best when eaten fresh so that they don't lose any of their crispiness. In case there are any leftovers, though, let them cool fully. Then you can refrigerate them in an airtight container for up to 5 days.
To reheat them, pop them in the air fryer at 400°F for 2-3 minutes or until crispy again. If you don't mind them not being crispy, you can microwave them for up to a minute or until warm.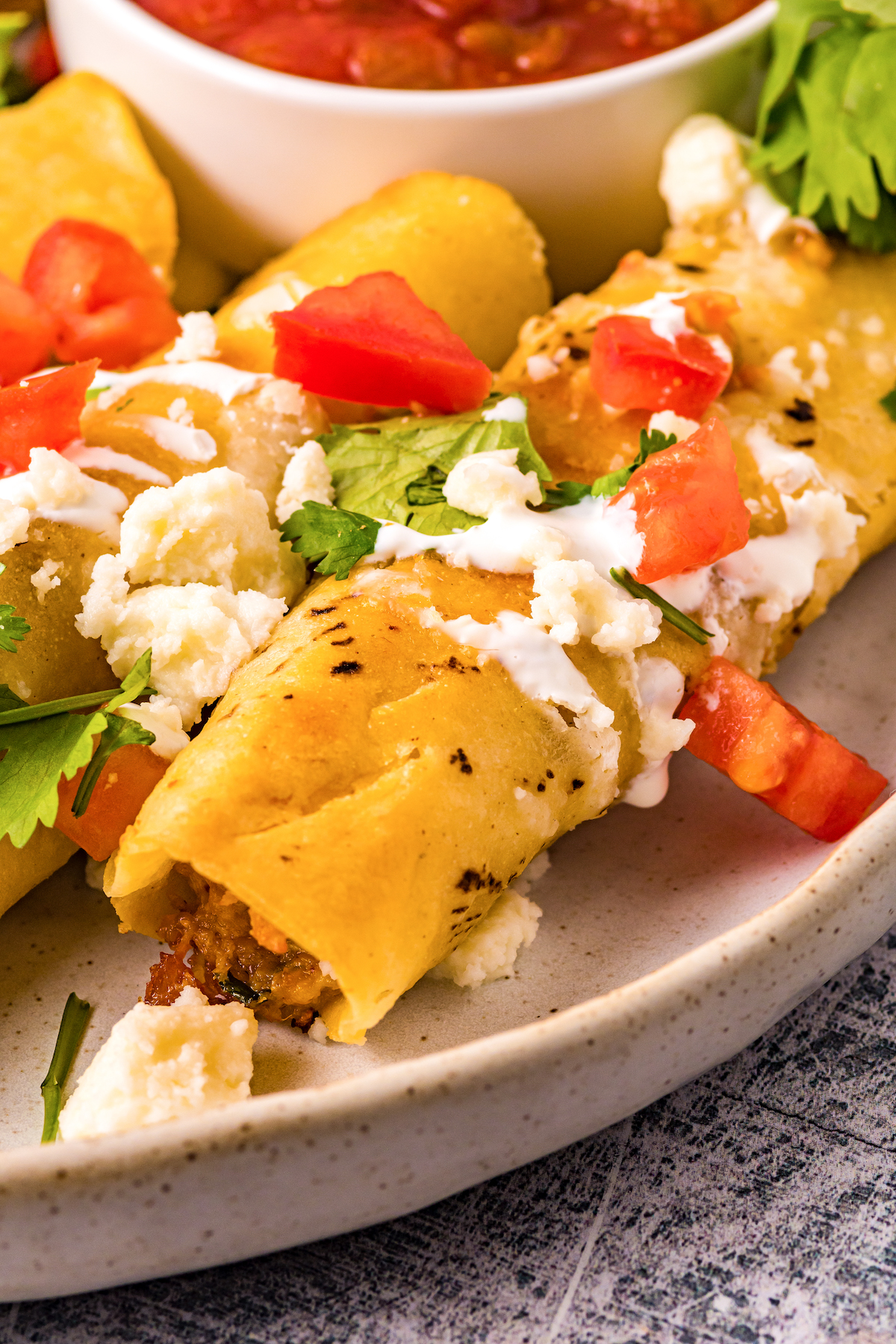 Can I Freeze Homemade Taquitos?
Yes! Assemble them as usual but don't cook them. Place them on a parchment-lined tray and freeze them for 1-2 hours. Then transfer them to freezer-friendly bags or containers and freeze them for up to 3 months.
You can cook them straight from frozen, adding 1-2 minutes of cooking time. You can also let them thaw overnight in the fridge and then cook them as usual.
More Mexican-Inspired Recipes
Yield: 20 taquitos
Cream Cheese Chicken Taquitos
Crunchy on the outside but creamy on the inside, these homemade taquitos are the perfect Tex-Mex bite with your favorite toppings. 
Prep Time
15 minutes
Cook Time
15 minutes
Total Time
30 minutes
Ingredients
For the Taquitos
1 (8 oz) block cream cheese, room temp
1 teaspoon chili powder
1 teaspoon garlic powder
3 cups cooked and shredded chicken
2 cups shredded Mexican blend cheese
1 large bunch cilantro, chopped
Oil for frying – an inch deep in the pan
For the Toppings
Instructions
In a medium sized bowl, stir to combine the cream cheese, chili powder, garlic powder, chicken, cheese, and cilantro, until well combined.
Place the tortillas on a plate and cover with a damp paper towel. Heat in the microwave for 30 seconds.
Keep the tortillas covered and warm and remove one, then fill with 2 to 3 tablespoons of chicken filling. Roll the tortilla up tight. Repeat until all the tortillas are filled.
In a large deep sided skillet, heat the oil over medium high heat. Using tongs, hold the tortilla together and place in the hot pan. Place seam side down. Cook until golden brown on all sides. Repeat until all are cooked.
Remove and place on a paper towel lined plate or a rack. Continue until all taquitos have been fried.
Serve immediately with desired toppings!
Notes
Storage: Taquitos are best freshly fried. However, leftovers can be stored in an airtight container, in the fridge, for up to 5 days. I recommend reheating them in an air fryer to get them crispy again. More information for storage, reheating and freezing is located in the post.
Nutrition Information:
Yield:
20

Serving Size:
1

Amount Per Serving:
Calories: 151Total Fat: 7gSaturated Fat: 3gTrans Fat: 0gUnsaturated Fat: 3gCholesterol: 30mgSodium: 123mgCarbohydrates: 12gFiber: 2gSugar: 1gProtein: 10g
This post may contain affiliate links. Read my disclosure policy.