This classic Mint Julep recipe is fragrant and delicious made with bourbon, muddled mint leaves, and simple syrup for the perfect Kentucky Derby drink,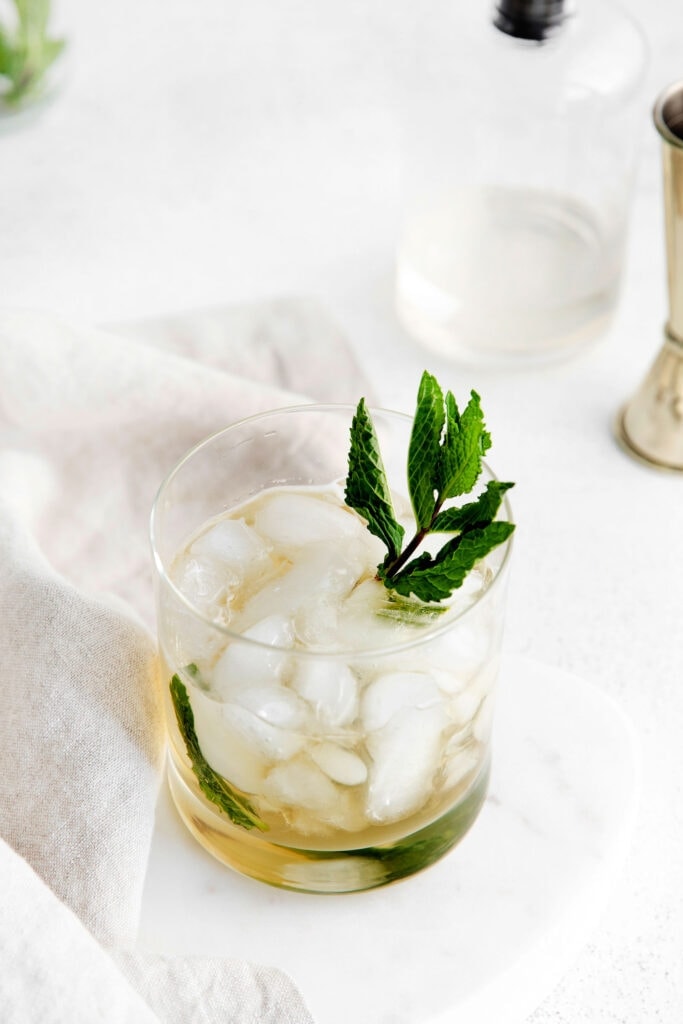 Mint Julep Season!
Tis the season, friends! Spring has sprung here in Minneapolis, and the Kentucky Derby is right around corner, which has us craving a mint julep cocktail. Our take on a mint julep is made with a simple syrup, bourbon, and muddled mint — and it's oh so easy to make. We'll walk you through it!
What is a Mint Julep?
A mint julep is a cocktail made primarily of bourbon, with sugar and mint, served over ice. It's commonly associated with the Kentucky Derby, and is often served at the event as well as viewing parties around the world.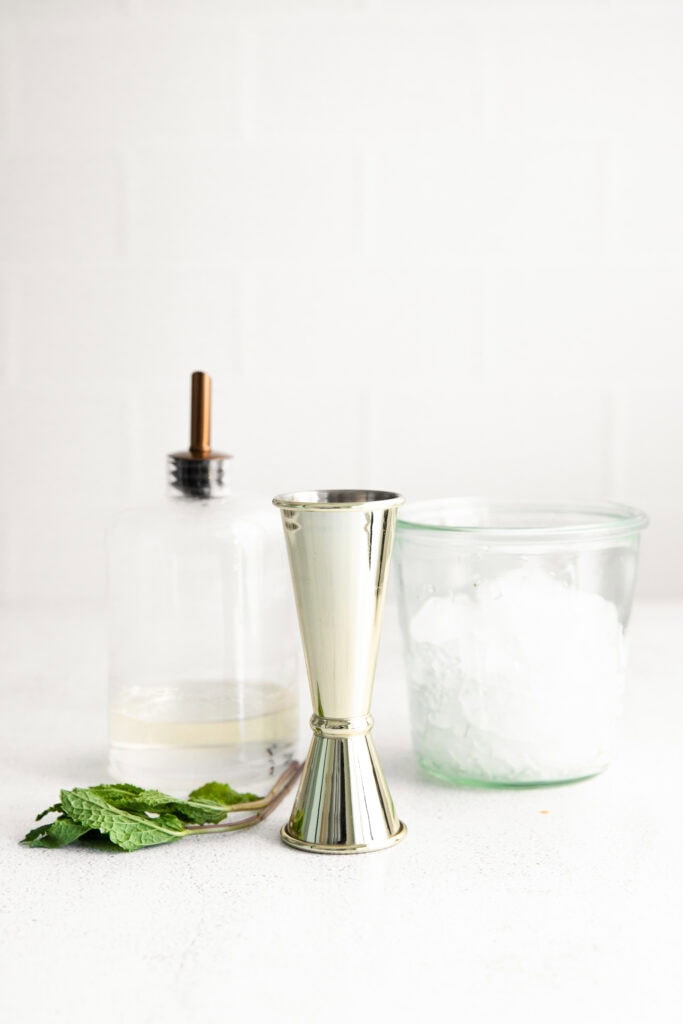 What You Need
Fresh mint leaves
Simple syrup
Bourbon
Ice
Easy Swaps
Honey simple syrup –> granulated sugar simple syrup: we LOVE our honey simple syrup recipe, but if you prefer to make a traditional granulated simple syrup for this mint julep, go right ahead!
Bourbon –> rye whiskey: a traditional mint julep calls for bourbon, which has a sweeter flavor profile than rye whiskey. If you use rye whiskey instead, know that the cocktail will have a more earthy flavor, making it less sweet. You may need to increase the simple sugar used to compensate for this.
How to Make a Mint Julep
This mint julep recipe is as easy as 1-2-3. Especially if you already have a simple syrup on hand. Don't have simple syrup? Learn how to make one below!
Add mint leaves and simple syrup to a lowball glass and muddle until the mint is fragrant and broken up a bit. If you don't have a muddler, the back of a wooden spoon works as well. This will help to not only sweeten your mint julep, but to infuse the entire cocktail with flavorful mint.
Add bourbon.
Finally, fill the glass with crushed ice and stir to combine. Feel free to garnish with a mint leaf or two when serving.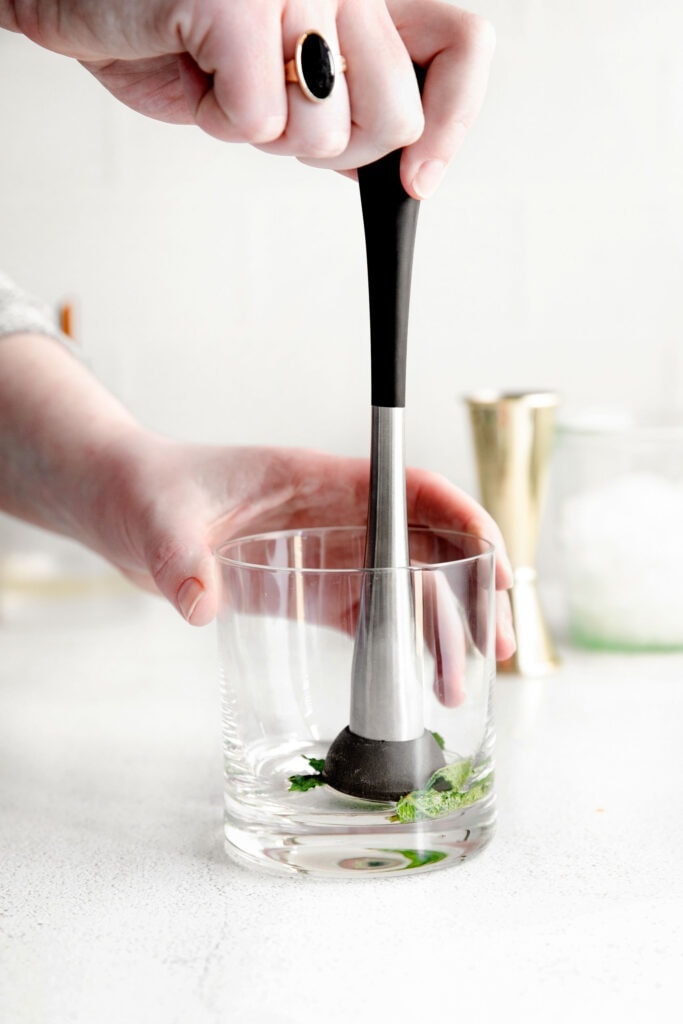 How to Make a Simple Syrup
Simple syrup is such an easy thing to make at home. It sounds intimidating, but let me tell you, it's not! We'll walk you through it:
Place water and sugar in a saucepan.
Bring to a boil and then turn to low and let simmer for 10 minutes to dissolve the sugar.
Turn heat off and let cool for 10 minutes. Once cool, transfer to an airtight container and chill.
Storage: Store simple syrup in an air-tight container in the fridge for up to 10 days.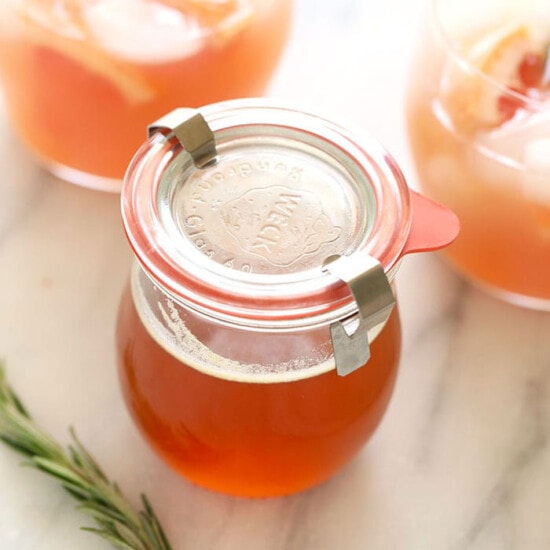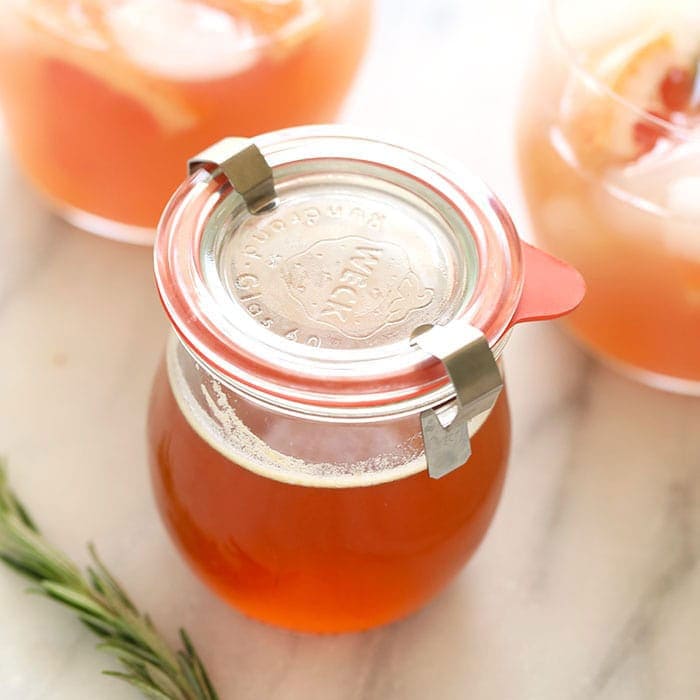 Try it!
Honey Simple Syrup
Our go-to honey simple syrup recipe is an excellent all-natural simple syrup and so easy to make. It's delicious in cocktails, lemonade, and even in some baking recipes!
Best Bourbon for Mint Juleps
Maker's Mark
Basil Hayden's
Woodford Reserve
A rye whiskey would also work, but will give these mint juleps a more earthy flavor that is less sweet
Can I batch-make this cocktail?
To turn this single-serve cocktail into a pitcher, simply use our ingredient multiplier in the recipe card. Follow the recipe as is and then garnish each mint julep cocktail with a mint leaf or two.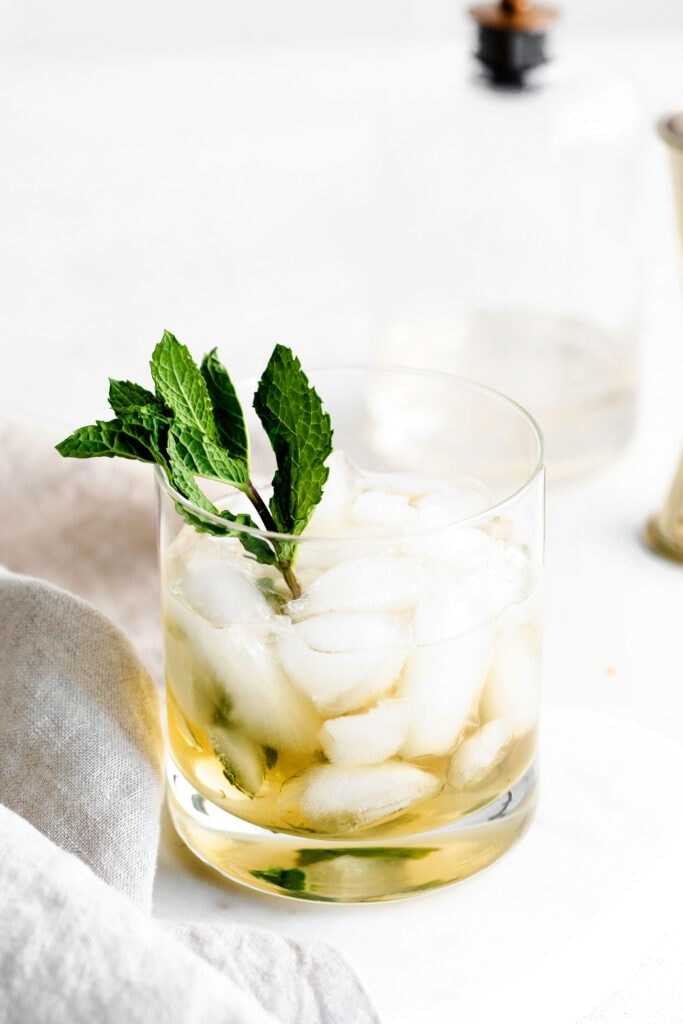 Serving Tips
Use fresh mint leaves: The mint should be the star of the show, so make sure you use fresh, flavorful mint leaves.
Make simple syrup: Simple syrup is a 1:1 ratio of sugar and water that can be used to sweeten cocktails. It's easy to make and can be stored in the fridge for up to a month.
Use a good bourbon: A good bourbon is essential for a great mint julep. I recommend using a bourbon that's at least 90 proof.
Use crushed ice: Crushed ice helps to cool the drink and add a refreshing texture. It also slightly dilutes the bourbon to make it nice and smooth.
Garnish with mint: A mint sprig is the classic garnish for a mint julep. It adds a touch of freshness and beauty to the drink.
Don't over-muddle the mint: Over-muddling the mint will release too much of its oils and make the drink bitter.
Serve the mint julep in a julep cup: A julep cup is a traditional glass for serving mint juleps. It has a long stem and a wide opening that helps to cool the drink.