For over a century, Aston Martin cars have enticed the world with elegance and beauty. Whether taking to the silver screen as Agent 007's favorite ride or hitting the circuit under Aston Martin Formula 1, the stunning models are infallibly ready for action.
The British icon now stretches into hypercar territory, getting dangerously close to taking the world by storm with the first electric Aston Martin. 
At a glance
| | |
| --- | --- |
| | |
| Name: Aston Martin | Industry: Automotive |
| Founded: 1913 | Founders: Lionel Martin and Robert Bamford |
| Headquarters: United Kingdom | Parent organization: Aston Martin Lagonda Global Holdings PLC |
| Revenue: ~$1.3 billion USD (£1.1 billion) | Website: astonmartin.com |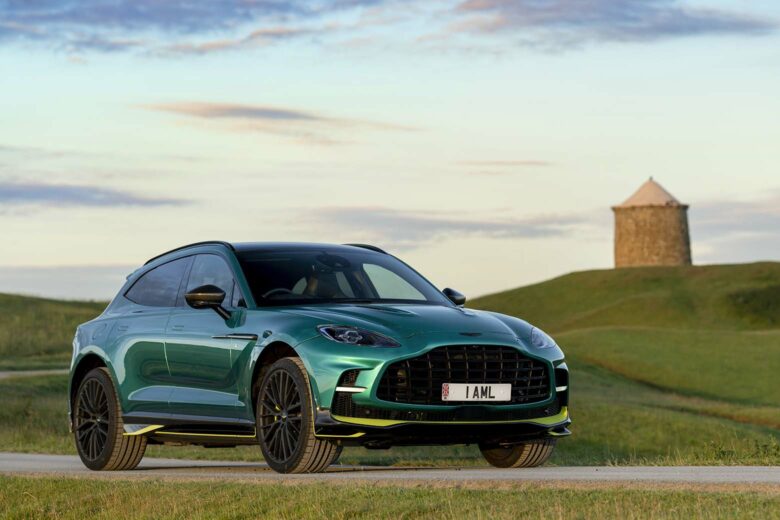 Aston Martin price
How much does an Aston Martin cost?
Produced with premium materials and elegant details throughout, Aston Martin car prices reflect these high-quality standards. The flagship two-door grand tourer Aston Martin DBS price is $333,700 before options.
But other models have more affordable price tags. The Aston Martin Vantage price is the lowest, starting at $147,000, and the new Aston Martin SUV DBX is also relatively low, with a starting price of $188,900.
If you're wondering how much is a brand-new Aston Martin, people dish over somewhere between $200,000 to $450,000 to get behind the wheel of these elegant, driver-focused machines.
What is the most expensive Aston Martin?
If you walk into most Aston Martin dealerships, the captivating DBS is the most expensive Aston Martin for sale. It closely adheres to the brand's ethos as a beautiful and thrilling grand tourer and starts at $333,700.
Although only produced in limited quantities, there are more expensive Aston Martins around. The 150 units of the 2022 Aston Martin Valkyrie, the brand's first hypercar with over 1,000 horsepower, originally sold for an estimated $3 million.
Yet the 2020 reproduction of the iconic Aston Martin DB5 was priced even higher, at an astonishing $3.4 million for each of the 25 units.
How much is the cheapest Aston Martin?
The most affordable Aston Martin car price is $147,000 for the stunning Aston Martin Vantage. It comes with a powerful twin-turbo V-8 on most models, including the Vantage F1 edition.
The Aston Martin DB11 price starts at $217,000 for the mid-range two-door model. And the first ever Aston Martin SUV, the DBX, starts at $188,900, giving you driver-focused fun but with additional cargo space and ground clearance.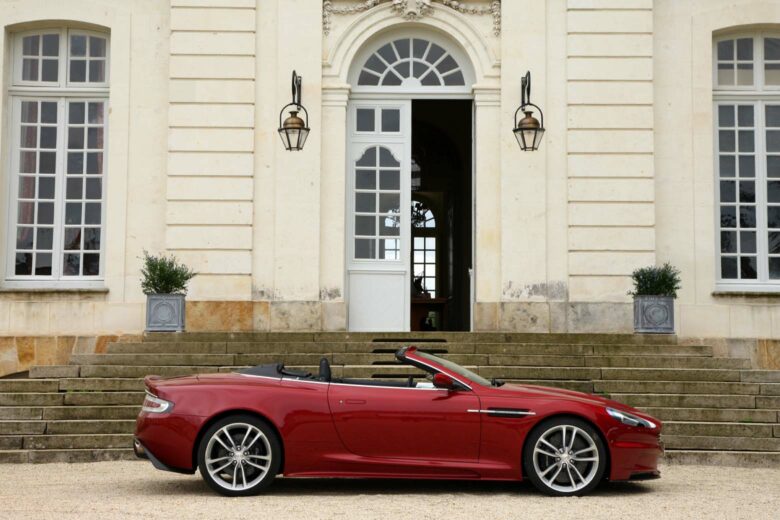 About Aston Martin
History of Aston Martin
English businessman Lionel Martin and English engineer Robert Bamford joined forces to create vehicles in 1913. The two pioneers produced their first car, the Aston Martin, in 1915.
Both founders dropped everything to join the World War I efforts, before returning to automotive production to create record-breaking open-top race cars, then turning to road cars as World War II interrupted business with more pressing matters.
In 1947, manufacturing mogul David Brown took control of Aston Martin and Lagonda. This change brought in the well-known Aston Martin DB series vehicles, including the 1950 Le Mans prototype DB2, the DB Mark III in 1957, and the famous Aston Martin DB5 in 1963.
These grand tourer models served as the foundation of success, creating a reputation as some of the best-looking, high-performance vehicles around. Ones that were perfectly at home in the garages of the world's elites, as well as speeding around race circuits to take the checkered flag.
Following this incredible era of motor vehicle excellence, the brand continued forward but faced some financial hardship. It still produced the iconic Vantage in 1977 before Ford Motor Company took the helm in 1987, showering the world with the DB7 and Aston Martin DB9.
Aston Martin is now a publicly-traded company, Aston Martin Lagonda Global Holdings PLC, and continues to produce elegant, thrilling vehicles that find the ideal balance between refined comfort and spirited performance.
Understanding Aston Martin car range
Many Aston Martin cars are free from any particular naming convention, but there are two significant exceptions.
Most models created under David Brown, the main owner of Aston Martin from 1947 to 1972 use his initials, DB, to start the model name. The highlight of the DB era is the gorgeous Aston Martin DB5. But DB models also came decades after David Brown's involvement, including the Aston Martin DB9.
The letter V is the other shared naming convention. The first usage came during the DB era as the 1965 Volante, then later as the V8 Vantage, Virage, Vanquish, and Vulcan. All three Aston Martin hypercars follow this trend, including the 2022 Valkyrie, 2024 Valhalla, and 2025 Vanquish.
Interesting facts about Aston Martin
No discussion about James Bond cars is complete without Aston Martin. The DB5 used in the 1965 classic Goldfinger is so revered, 25 units were faithfully reproduced starting in 2020 for No Time To Die, with eight units dedicated to the movie's use.
The DB5 has also taken form as an Aston Martin lego, an excellent gift idea, although we're partial to the drivable electric cars for kids.
Another place you're likely to see the luxury brand is Aston Martin Formula 1. From 2018 to 2020, the Aston Martin Red Bull team took to the pavement. Starting in 2021, Sebastian Vettel spent his final years before retirement behind the wheel for the newly-independent Aston Martin F1 team, which is still pursuing the checkered flag.
Where are Aston Martin cars made?
For more than a century, every Aston Martin car has been painstakingly produced in England.
Most models are now built at the Gaydon headquarters in Warwickshire, but the new DBX Aston Martin SUV is produced in St Athan, Wales, stretching the boundaries out to another part of the United Kingdom.
Aston Martin electric cars
Like many car and motorcycle producers, Aston Martin has big plans to electrify its fleet, with a goal of every model having at least some type of electrical propulsion by 2030. The brand has been using renewable energy to power its facilities since 2019 and sees a greener future ahead.
The Aston Martin Rapide E was once set to be released as the first fully-electric Aston Martin car in 2019, but the production was scrapped for unknown reasons. The only bit of spark we've seen so far is the Aston Martin Valkyrie and Valhalla hybrid systems on the exclusive hypercars.
The world can expect the first Aston Martin electric car in 2025, but the company has released few details on how this will play out.
Aston Martin models
Let's go over the details of the new Aston Martin cars and SUVs for sale, followed by a three-part list of hypercars, and wrapping up with the best Aston Martins of the past.
Aston Martin DBX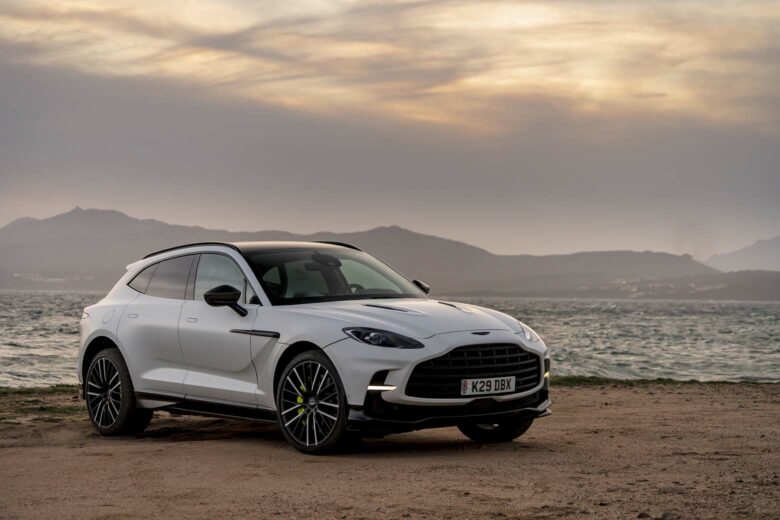 It's hard to anticipate the driving experience when a performance-focused carmaker unleashes an SUV. While the Porsche Cayenne now tops our list\ of the best luxury SUVs, the reviews of the first iteration were a mixed bag.
The Aston Martin DBX, on the other hand, took its time coming to market. Through this patience, it incorporates the thrilling experience of every Aston Martin sports car, now with more ground clearance and cargo capacity.
The base model has over 500 ponies tucked under the hood and enough options to make your head spin through the Aston Martin configurator, including ventilated seats and specially-tuned exhaust. Power-hungry enthusiasts should opt for the DBX707 variant with 707 PS, equal to 697 horsepower.
| | |
| --- | --- |
| Price: | Starting at $188,900 |
| Release year: | 2021 |
| Engine: | 4.0L twin-turbo V-8 |
| Top speed: | 193 mph – 310 km/h |
| 0-60 mph: | 3.1 to 4.3 sec |
| Power: | 697 to 542 hp |
| Torque: | 663 to 516 lb-ft |
Aston Martin DBS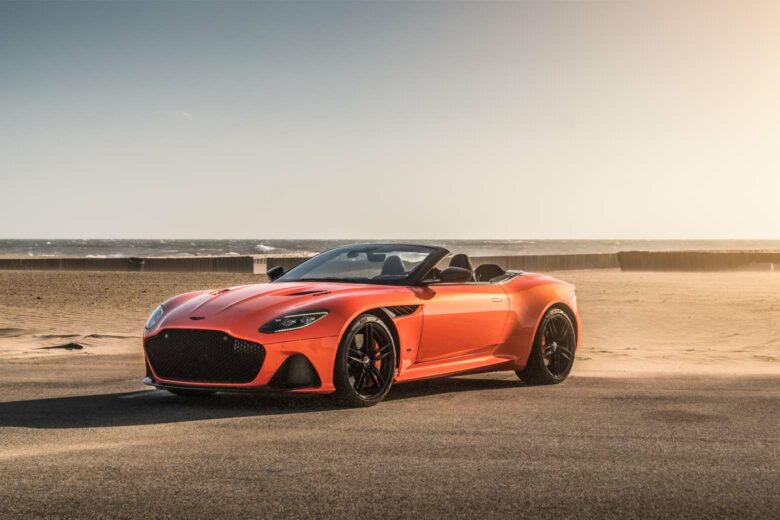 Striking the flawless balance between refined elegance and voracious power is deeply embedded into Aston Martin's DNA. And the DBS model repeatedly hits the mark, starting as James Bond's car of choice in the 1969 film On Her Majesty's Secret Service, then returning for a second generation run in 2008.
Today's third generation began in 2018 as the Aston Martin DBS Superleggera, filling the massive shoes laid out in front of it with a tire-shredding V-12.
It has now dropped the Superleggera from the model name but remains a super-lightweight beast with over 700 horsepower of take-your-breath-away acceleration and dignitary-worthy comfort. The 770 Ultimate Volante is the premium Aston Martin convertible that's certain to turn heads as it slips by.
| | |
| --- | --- |
| Price: | Starting at $333,700 |
| Release year: | 2018 (3rd gen.) |
| Engine: | 5.2L bi-turbo V-12 |
| Top speed: | 211 mph – 340 km/h |
| 0-60 mph: | 3.4 sec |
| Power: | 760 to 715 hp |
| Torque: | 664 lb-ft |
Aston Martin DB11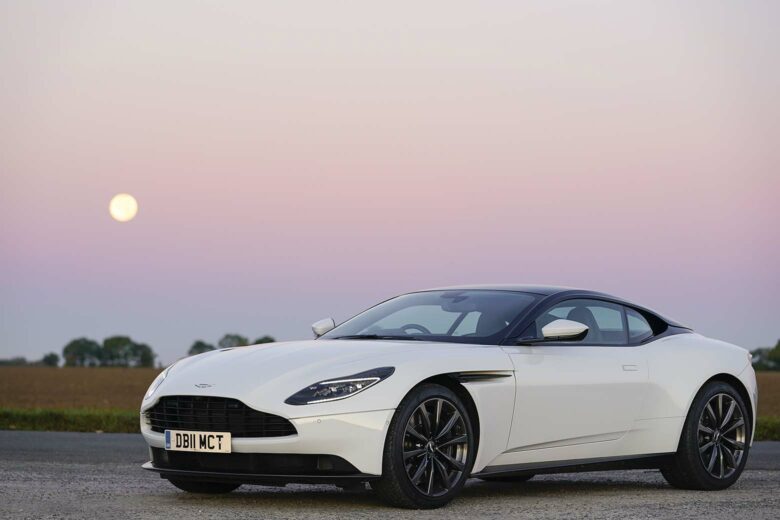 When you need a car to match your impeccable fashion, the Aston Martin DB11 is the right choice. It's yet another timeless and elegant Aston Martin coupe that steals the show as a rolling sculpture tailored by the world's finest craftsmen.
The Aston Martin DB11 Volante provides the choice between feeling an airy flow and the sun's glow, or encapsulating yourself in a private sanctuary with eight layers of insulation. For that extra spark of joy, fall head-first into the V12 DB11 and its 630 horsepower.
Although some Ferrari models might beat it in a straight line, the DB11 pierces deep into the soul with an elegant finish inside and out.
| | |
| --- | --- |
| Price: | Starting at $217,000 |
| Release year: | 2017 |
| Engine: | 5.2L bi-turbo V-12, 4.0L twin-turbo V-8 |
| Top speed: | 208 mph – 335 km/h |
| 0-60 mph: | 3.5 to 4.0 sec |
| Power: | 630 to 528 hp |
| Torque: | 516 to 513 lb-ft |
Aston Martin Vantage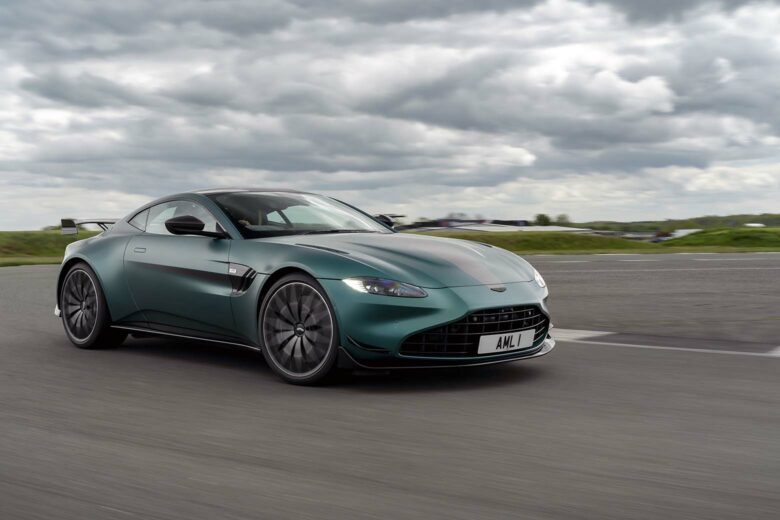 First seen on the David Brown models from the 1950s, the Aston Martin DB2 Vantage was a high-performance variant of the legendary grand tourer. The DB era continued forward with the Aston Martin DB4, DB5, and DB6 as a badge of honor, before the V8 Vantage became a unique model in 1977.
Today's Vantage retains the high-performance focus of those from the past, now available with a powerful V-8 and the heart-piercing V-12 Vantage, both as a coupe or convertible. The Aston Martin F1 Vantage takes the official FIA Safety Car to the streets as the most powerful V8 option.
Regardless of your choice, the Vantage is an agile, high-performance dream that uses lightweight materials to deliver superb handling. It's similar to the Audi R8 performance paired with luxury surpassing most Cadillac models.
| | |
| --- | --- |
| Price: | Starting at $147,000 |
| Release year: | 2018 (current gen.) |
| Engine: | 5.2L bi-turbo V-12, 4.0L twin-turbo V-8 |
| Top speed: | 200 mph – 322 km/h |
| 0-60 mph: | 3.2 to 3.7 sec |
| Power: | 690 to 503 hp |
| Torque: | 542 to 505 lb-ft |
Aston Martin Valkyrie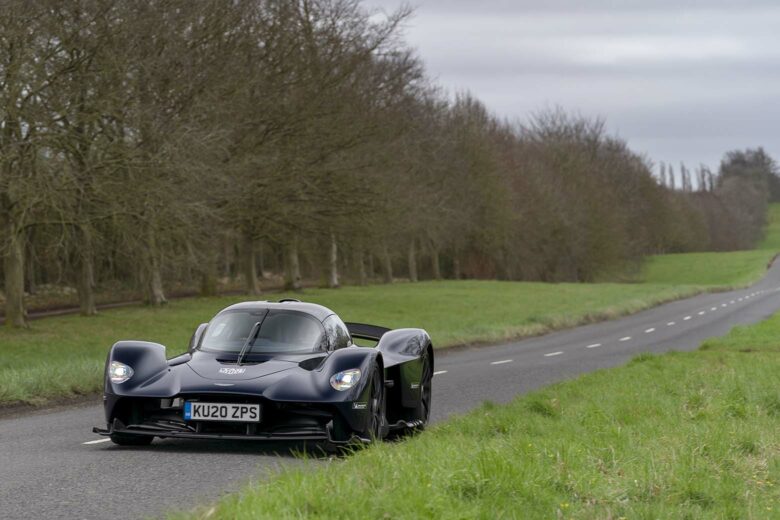 While Aston models veer away from Lamborghini-style raw power, the Aston Martin Red Bull collaboration led to the British automaker's first-ever street-legal hypercar, the Aston Martin Valkyrie.
Hypercars exist on a separate plane, one with performance above all else, combining the ultimate lightweight construction with bleeding-edge propulsion systems. The Valkyrie fuses Rimac electric technology with one of the world's most powerful naturally-aspirated engines to produce a whopping 1,160 horsepower.
But there is a catch. The Aston Martin Valkyrie price is now an estimated $3 million, making it onto our list of the world's most expensive cars. Worse yet, all 150 units have been called for, as have the 25 units of the track-only Valkyrie AMR Pro.
| | |
| --- | --- |
| Price: | Starting at $3,000,000 (est.) |
| Release year: | 2022 |
| Engine: | 6.5L naturally-aspirated V-12 hybrid |
| Top speed: | 250 mph – 402 km/h |
| 0-60 mph: | 2.5 sec |
| Power: | 1,160 hp |
| Torque: | 663 lb-ft |
Aston Martin Valhalla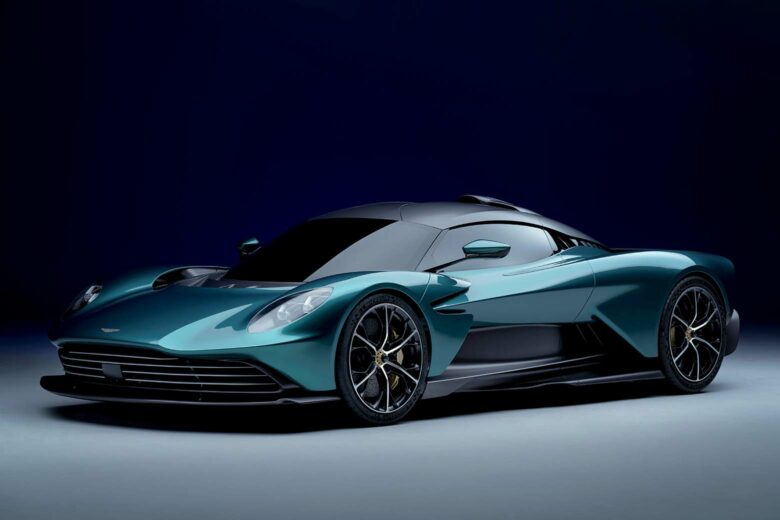 After getting a taste for hypercars and building on the Aston Martin Red Bull Formula 1 relationship, a successor is in line to pick up where the Valkyrie left off.
The Aston Martin Valhalla will pair a Mercedes-Benz V-8 with an electric boost on a carbon-fiber structure, allowing it to race up to 62 mph in just 2.5 seconds.
Keeping up with the luxury brand's ethos, the Valhalla also steps up the exterior design with characteristics worthy of another James Bond car. Bringing together exemplary appeal with Formula 1 style performance, the 999 units of the Aston Martin Valhalla will have it all.
| | |
| --- | --- |
| Price: | Starting at $800,000 (est.) |
| Release year: | 2024 |
| Engine: | 4.0L twin-turbo V-8 hybrid |
| Top speed: | 217 mph – 350 km/h |
| 0-60 mph: | 2.5 sec |
| Power: | 937 hp |
| Torque: | Not yet available |
Aston Martin Vanquish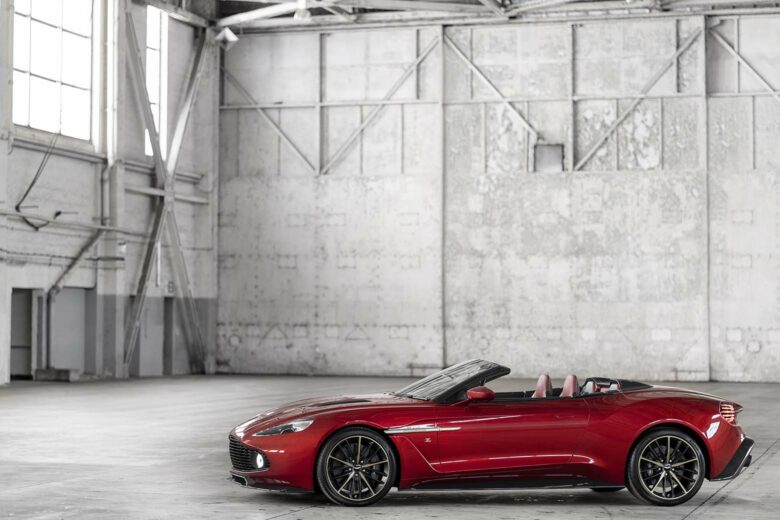 As another model name that's been used sporadically through Aston Martin development, the Vanquish is an iconic two-door grand tourer that is worthy of attention.
The modified first-generation Aston Martin V-12 Vanquish was featured in the 2002 James Bond film Die Another Day, while the second generation, released in 2012, eventually built up to the insane performance of the 2017 Vanquish S, hitting nearly 600 horsepower.
And we've pulled out the crystal ball to let you know that the third generation is around the corner, leveraging some of the technology ironed out in the Valhalla model, but on a more accessible platform. 
The expected starting price for an Aston Martin Vanquish of around $300,000 hits right around Rolls-Royce prices and is a steal compared to the Bugatti price list.
| | |
| --- | --- |
| Price: | Starting at $300,000 (3rd gen. est.) |
| Release year: | 2025 (3rd gen. est.) |
| Engine: | 5.9L V-12 (1st & 2nd gen.), 4.0L twin-turbo V-8 (3rd gen. est.) |
| Top speed: | 201 mph – 324 km/h (2nd gen.) |
| 0-60 mph: | 3.5 sec (2nd gen.) |
| Power: | 594 hp (2nd gen.) |
| Torque: | 465 lb-ft (2nd gen.) |
Aston Martin DB5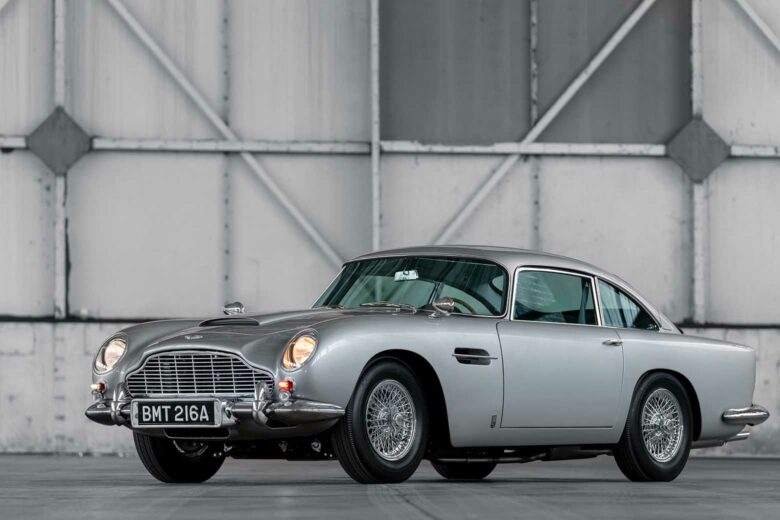 Spearheading our list of the best classic cars, the Aston Martin DB5 is the epitome of grand tourer luxury wrapped in an elegant shell. The fanfare is enough to make other luxury automakers like BMW and Land Rover drool over the enthusiasm.
The brilliant model is a film icon, first seen as the James Bond Aston Martin DB5 in Goldfinger, then in multiple Pierce-Brosnan-era Bond films including Golden Eye, stretching into Daniel Craig's Bond films.
Fully-authentic reproductions started in 2020 to star as the No Time To Die Aston Martin. 25 units are planned, using as many of the original manufacturers as possible, over 50 years later.
| | |
| --- | --- |
| Price: | Starting at ~$3.4 million (2020) |
| Release year: | 1963, 2020 |
| Engine: | 4.0L straight-6 |
| Top speed: | 145 mph – 233 km/h (2020) |
| 0-60 mph: | 7.1 sec (2020) |
| Power: | 290 hp (2020) |
| Torque: | 288 lb-ft (2020) |
Aston Martin One-77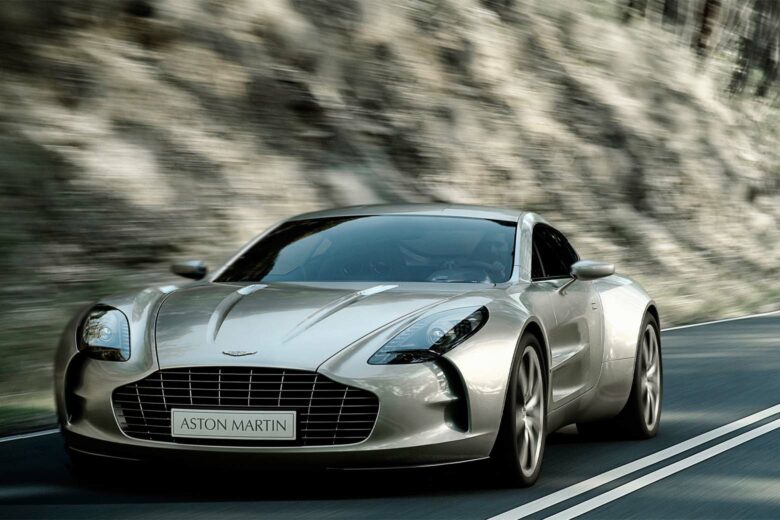 The world is usually in for a treat when carmakers let the designers and engineers go wild, and for the 2011 Aston Martin One-77, the constraints were off and the team let loose.
The first unveiling at the 2009 Geneva Motor Show riled up the crowds, and all 77 units flew off the shelves. Although it doesn't make our list of the fastest cars in the world, it is one of the quickest and most expensive Aston Martins ever produced, using a gargantuan 7.3L V-12 engine with 750 horsepower.
Prices haven't crept upward quite yet, but as electric cars sweep the industry, this model will soon be part of a forbidden bunch.
| | |
| --- | --- |
| Price: | Starting at $1.85 million (original est. MSRP) |
| Release year: | 2011 |
| Engine: | 7.3L V-12 |
| Top speed: | 220 mph – 354 km/h |
| 0-60 mph: | 3.5 sec |
| Power: | 750 hp |
| Torque: | 553 lb-ft |
Aston Martin Rapide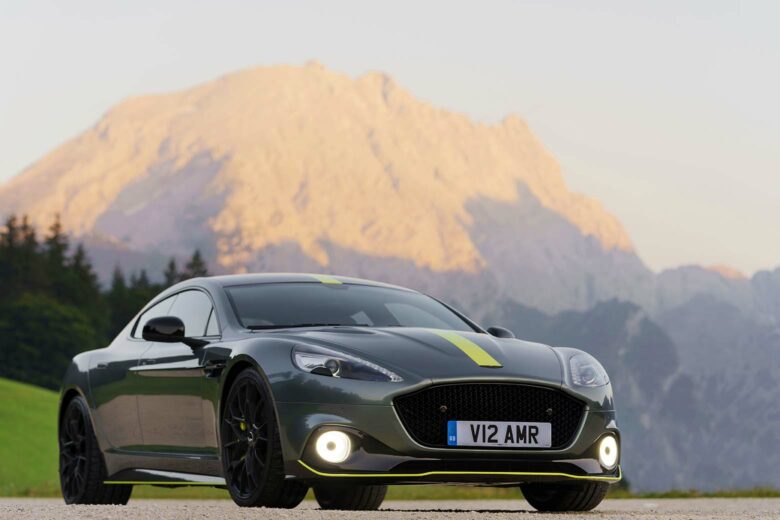 Before the DBX SUV hit the streets, the Rapide was another four-door model with the Aston Martin logo. The low-slung, stretched-out beauty was a unique example, yet still featured the lovely design elements known across the luxury brand.
The Aston Martin Rapide S was the high-performance variant from 2013 to 2018, before being topped by the Rapide AMR with nearly 600 horsepower in the final two years of production.
In an attempt to compete with the Porsche Taycan and Tesla Model S Plaid, an electric Aston Martin Rapide E was unveiled in 2019. But plans changed abruptly in 2020 when the Rapide E was cut from production, leaving the industry to speculate as to why.
Perhaps someday soon Aston Martin will grace us with one of the best electric vehicles in the world, likely surpassing most value-focused Polestar models, a brand closely related to Volvo.
| | |
| --- | --- |
| Price: | Starting at $241,800 (2019 MSRP) |
| Release year: | 2010 |
| Engine: | 5.9L V-12 |
| Top speed: | 205 mph – 330 km/h |
| 0-60 mph: | 4.4 sec |
| Power: | 595 to 470 hp |
| Torque: | 465 to 443 lb-ft |
Aston Martin DB9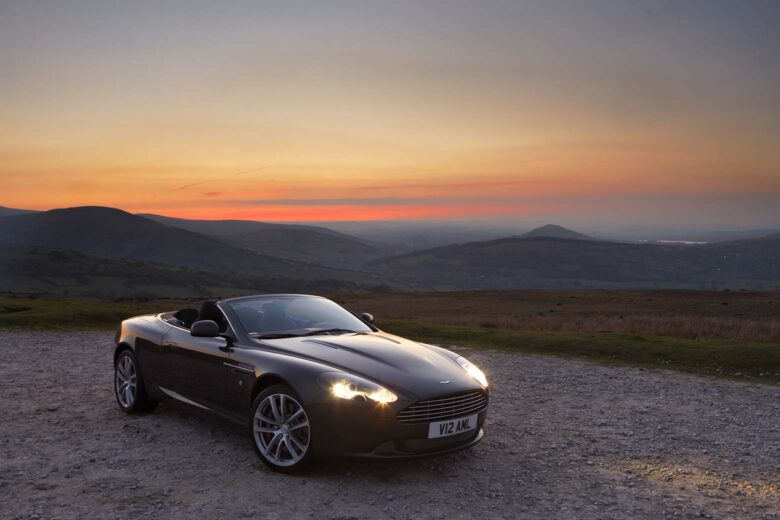 Complacency doesn't generate brilliance. So after a decade of production, the Aston Martin DB7 came due for an update. And that's when the luxury automaker released one of its most ground-breaking models ever, the Aston Martin DB9.
The DB9 was the first vehicle produced at the plant in Gaydon, Warwickshire, the first to use the VH platform, and was wholly designed from the ground up, with over a million test miles beneath its tires before release.
Despite some performance figures not living up to rivals, many experts said they preferred the regal DB9 almost universally over other similar models. The Aston Martin DB9 price hovered around $200,000, overshadowing most Lexus and Jaguar prices.
| | |
| --- | --- |
| Price: | Starting at ~$185,000 (original MSRP) |
| Release year: | 2003 |
| Engine: | 5.9L V-12 |
| Top speed: | 183 mph – 295 km/h |
| 0-60 mph: | 4.4 sec |
| Power: | 510 hp |
| Torque: | 457 lb-ft |
Aston Martin customer service number
For answers to more questions, you can call the Aston Martin customer service number at 1-866-278-6661 or send a message through the Contact Us page.
Aston Martin social media profiles
To stay informed about the latest news and updates, follow the official Aston Martin social media profiles:
Frequently asked questions about Aston Martin
Who makes Aston Martin cars?
Aston Martin cars are made in the United Kingdom by Aston Martin Lagonda Global Holdings PLC. Large stakeholders include Canadian billionaire Lawrence Stroll, Saudi Arabia's PIF sovereign wealth fund, and Mercedes-Benz.
How much do Aston Martins cost?
New Aston Martins cost anywhere from $147,000 for the Aston Martin Vantage coupe to $3,000,000 for the Aston Martin Valkyrie hypercar. The flagship DBS has an estimated starting price of $333,700, and the new SUV Aston Martin DBX is priced at $188,900 and up.
Is Aston Martin a luxury brand?
Yes, Aston Martin is a luxury brand that focuses on two-door grand tourer vehicles with an elegant design paired with a powerful, capable platform. The interiors utilize premium materials and advanced technology to provide a luxurious experience.
How much is the cheapest Aston Martin?
The cheapest Aston Martin car is the Vantage two-door coupe or convertible, starting at $147,000. The Aston Martin DBX SUV is one of the lower-priced models, starting at around $189,000. The DBS is the company's flagship coupe and starts at $333,700.
What car does James Bond drive?
James Bond drives many cars from automakers such as Aston Martin, Lotus, Jaguar, and BMW. Many see the Aston Martin DB5 as the most iconic model, which first appeared in 1964's Goldfinger and was officially reproduced in 2020 for No Time To Die.