Welcome to The Weekender, Coveteur's travel series where seasoned globetrotters share their insider guides to top destinations across the world. Read on for the best spots to eat, stay, and enjoy.
I've come to learn that many Sicilians think of themselves as being at the center of the universe—and they're not far off. Situated smack dab in the middle of the mediterranean, Sicily was a place that's long been on my list but for one reason or another have always skirted around it. Last summer, however, I beelined directly for this elusive island and I'm so glad I did.
While you could easily spend weeks on the island (I admittedly spent ten days exploring in a trusty little Fiat), if you have time for just one city it would have to be Taormina. Sitting high up on jagged cliffs and overlooking the Mediterranean Sea, the town is chock-full of ancient history and has a charm that was thousands of years in the making. And while the Amalfi Coast will always hold its appeal, this island has that bit of rustic magic and a shabby-chicness that's hard to beat. From scenic beaches to a hotel that rivals even the best of Italy's summer spots, I've outlined the ins and outs of a visit to Taormina.
Where to Stay
Grand Timeo Hotel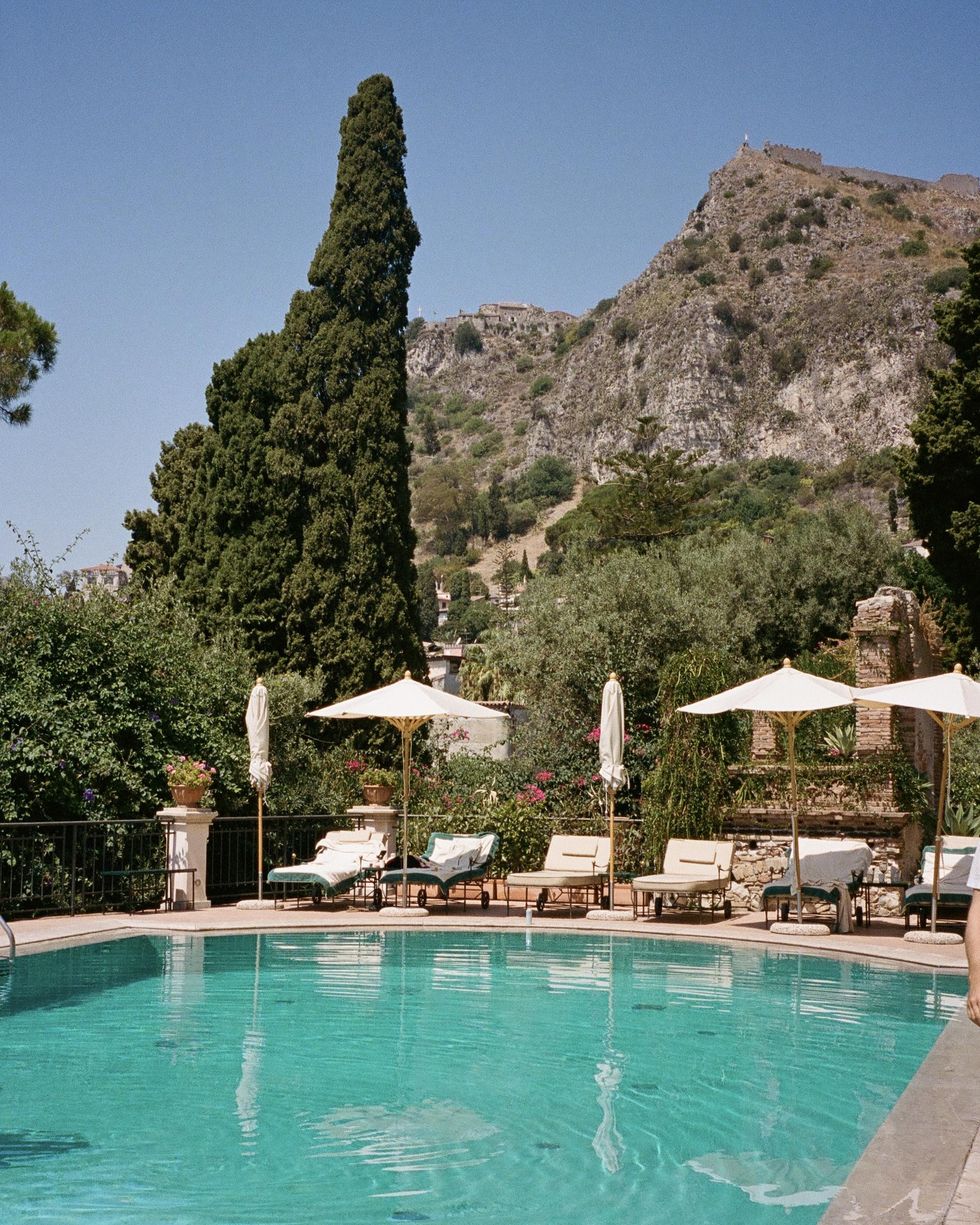 Sit poolside at the Grand Timeo Hotel to soak in the sun
Photos: Courtesy of Porter Simmons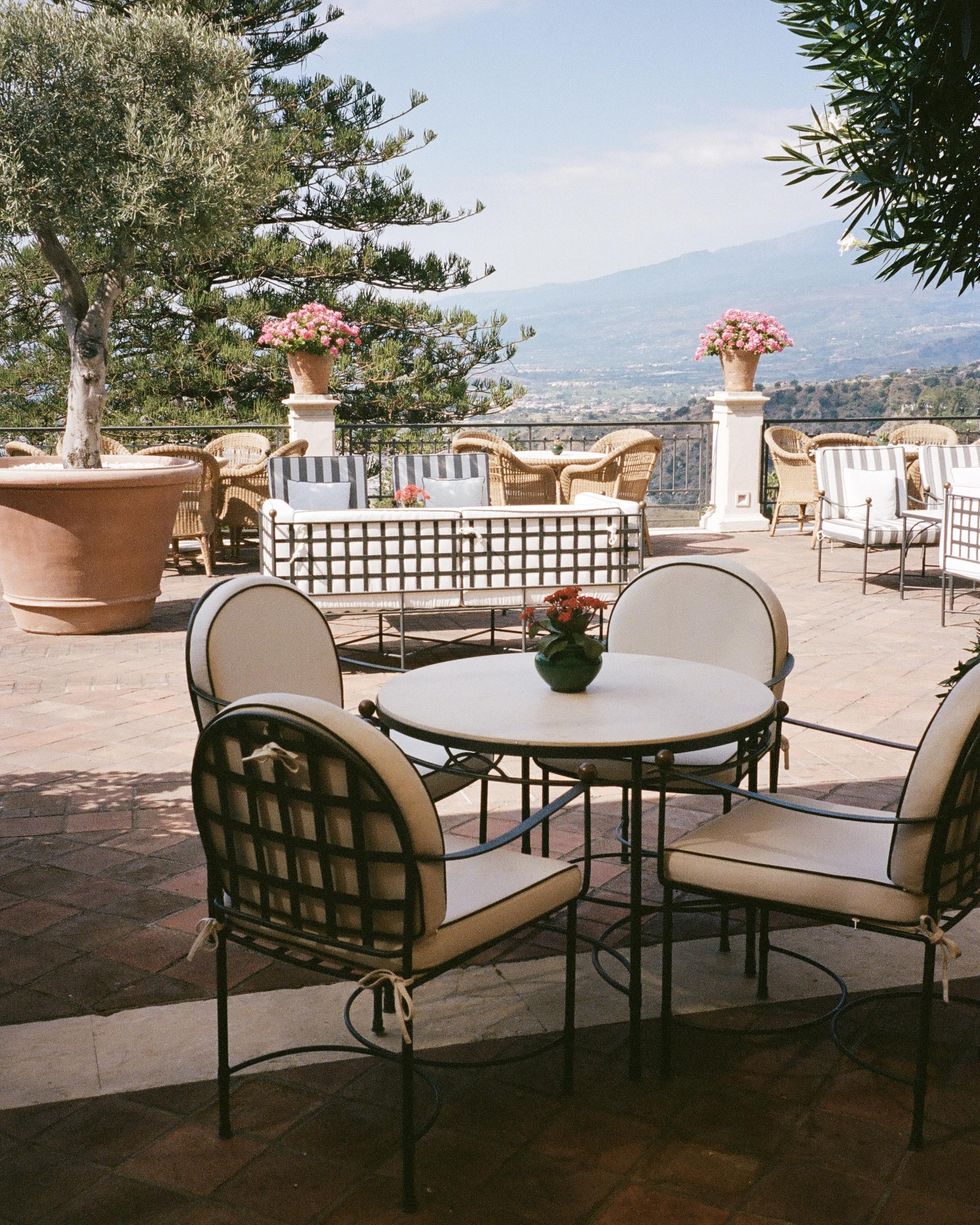 The terrace at the hotel overlooks Mount Etna and the Mediterranean Sea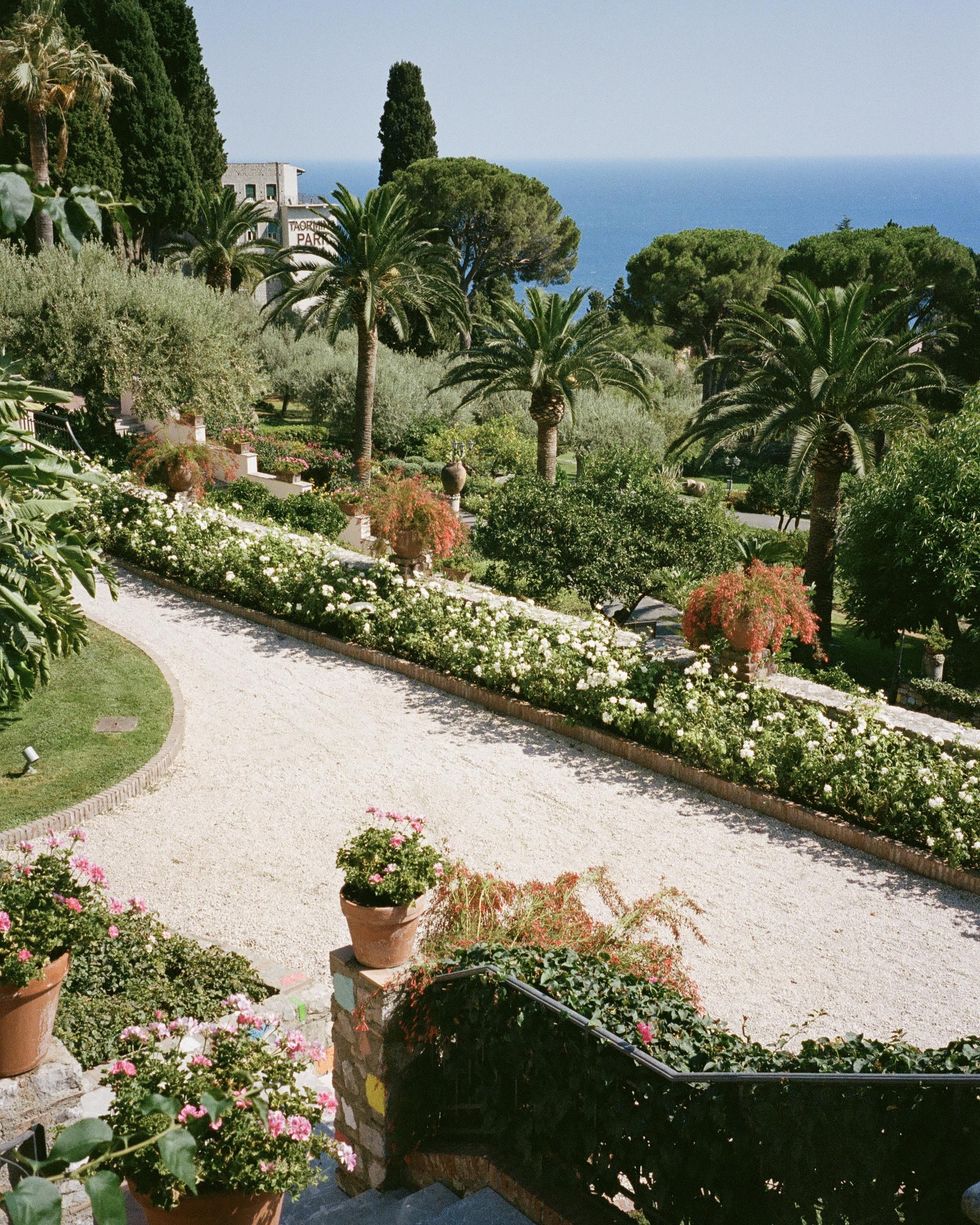 A view of the gardens on the property, which were once part of the town's impressive botanic gardens
It surprisingly wasn't until I started looking into a trip to Sicily that I'd heard of Taormina—as it turns out, I'm extremely late to the party. The town has been a long-time favorite for lavish Europeans, and Hotel Grand Timeo has been one of their most coveted summer spots for over a century (the hotel was built in 1873). And it doesn't take much to see why. Situated above the town's public botanical gardens and overlooking an equally impressive garden of its own (the term 'garden' is a stretch—think: a perfectly manicured Italian forest), the hotel has that je ne sais quoi that makes you never want to leave. And if that's not enough, they were displaying an exhibit, 'Coloring the World' by artist Pascale Marthine Tayou. Complete with quirky glass sculptures intended to bridge the gap between Italy and Africa, a rainbow of colors was painted onto the stone walls around the property's gardens. The hotel pool is definitely not a bad spot to be…and if that's not enough for you, private shuttles await to take you down to their beachfront sister property.
Villa Sant'Andrea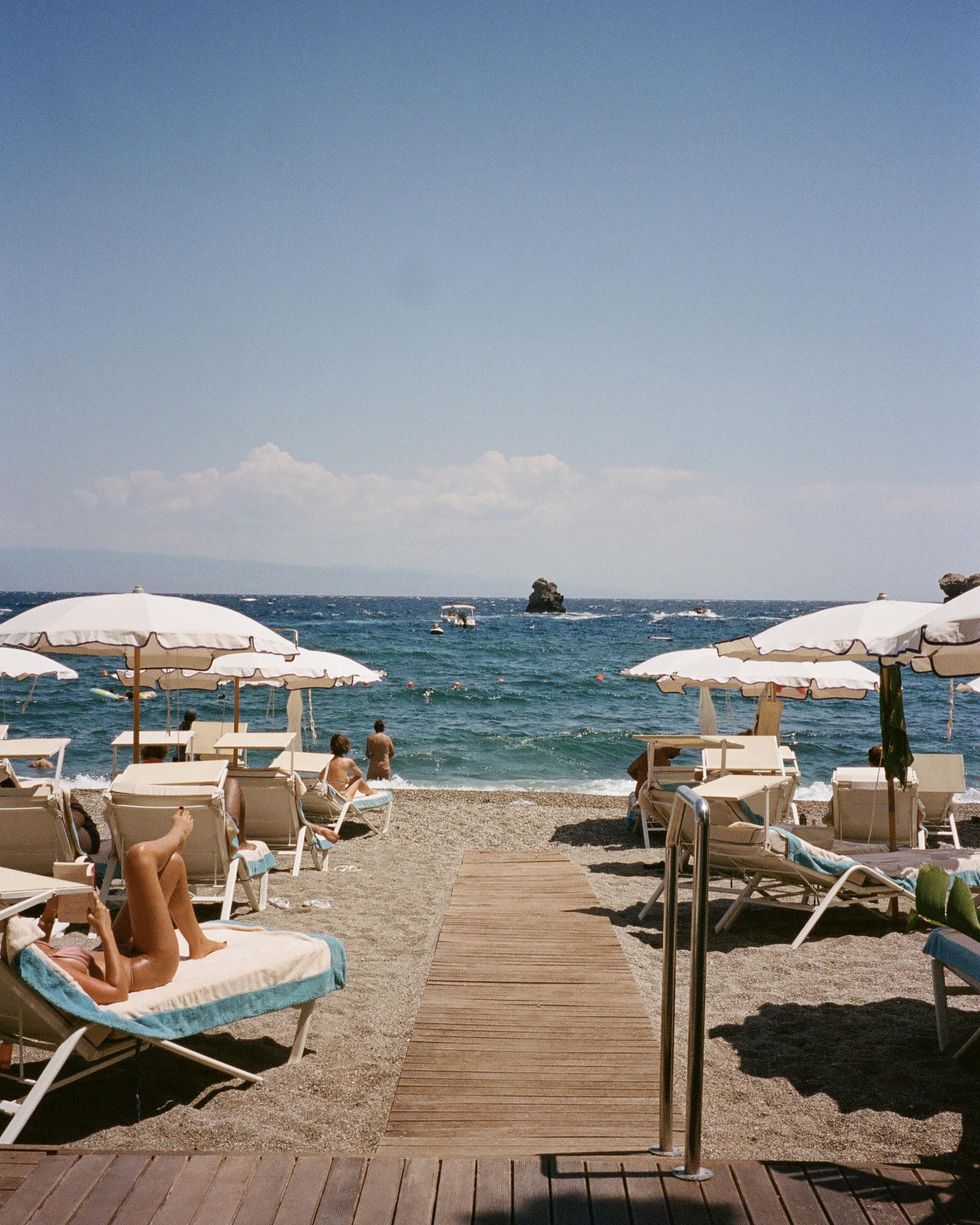 Seaside at Villa Sant'Andrea, where easy access to the Mediterranean Sea makes for a perfect way to cool off
Photos: Courtesy of Porter Simmons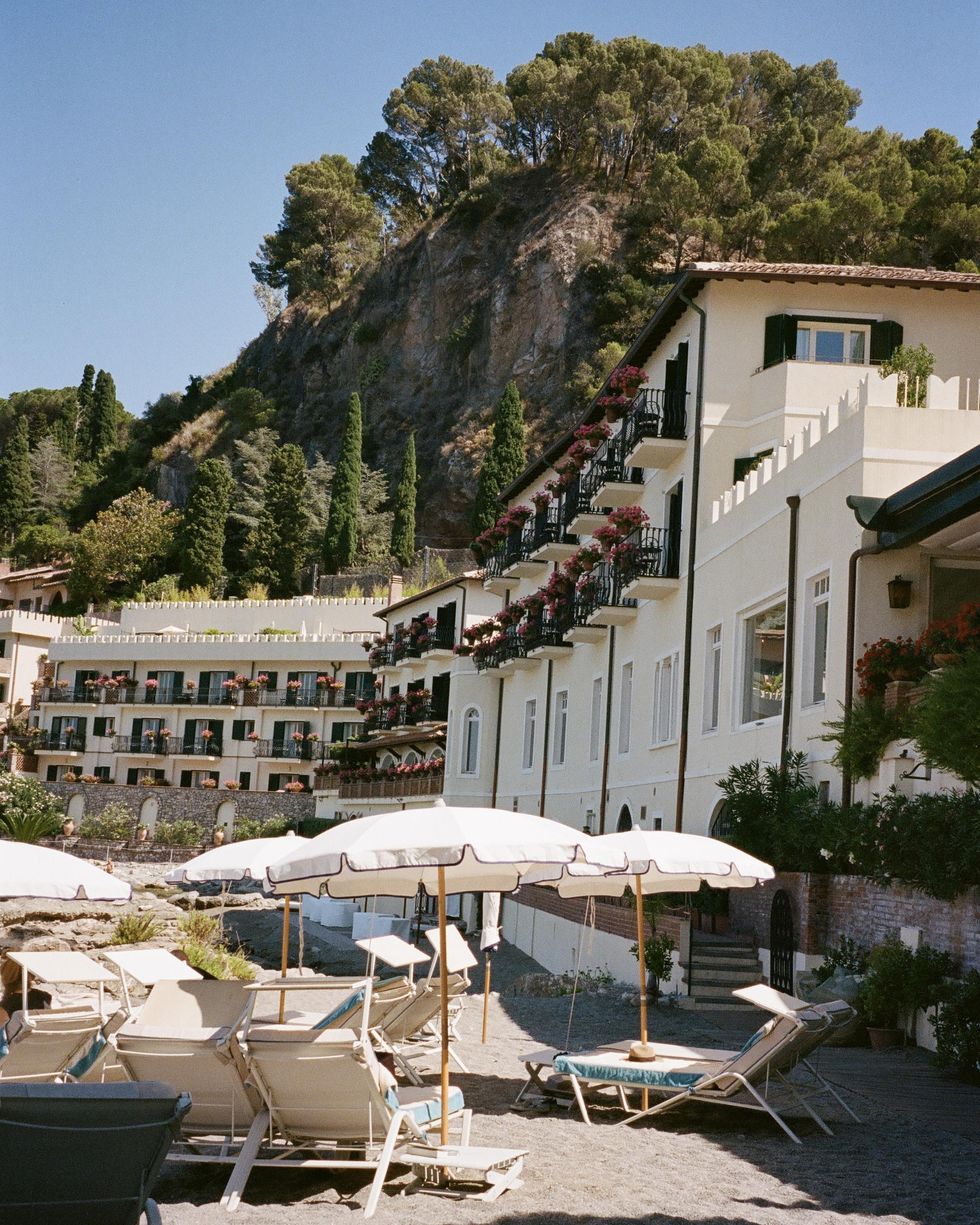 A view of Villa Sant'Andrea overlooking the sea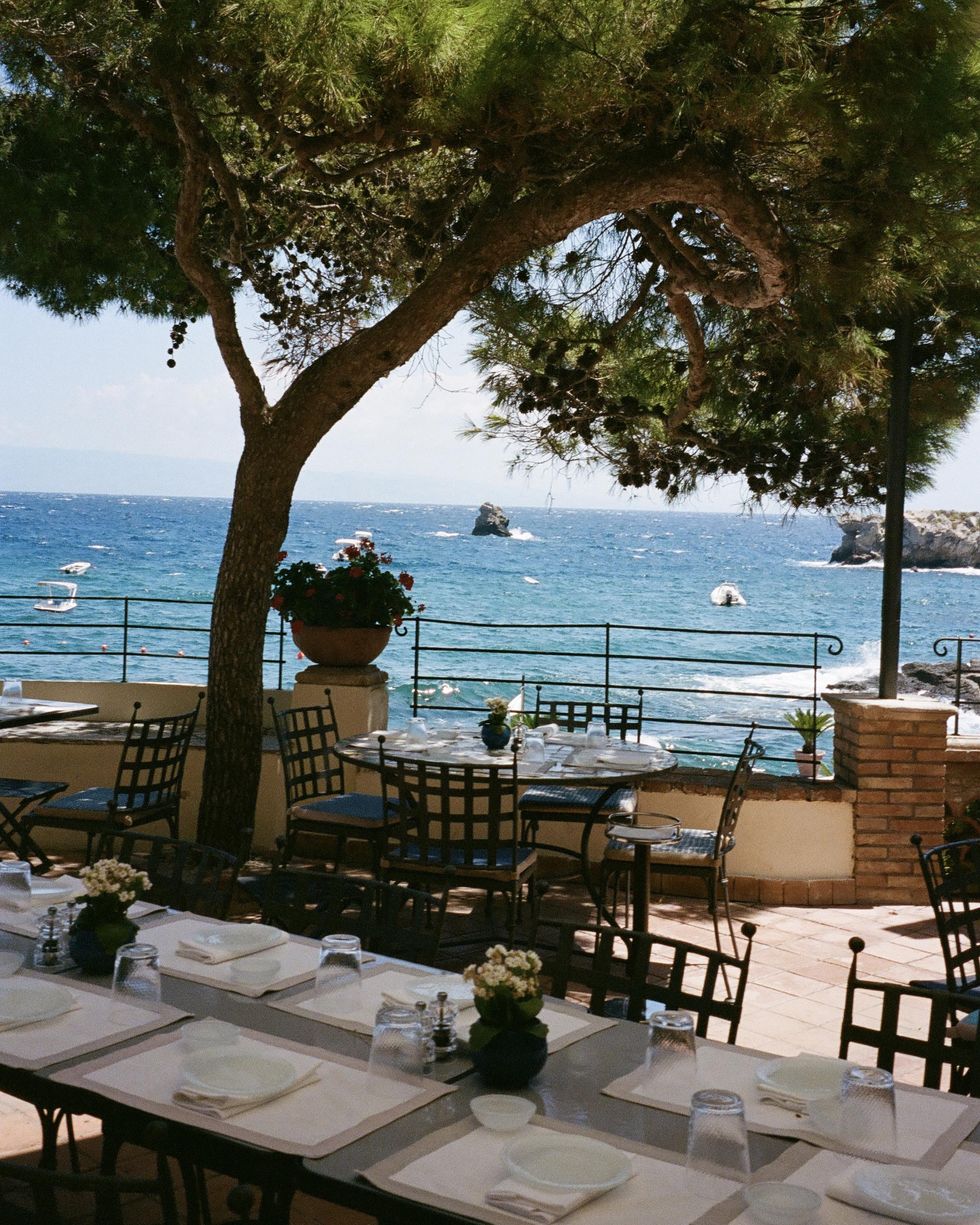 Have lunch on the terrace for great food with a side of breathtaking views
I couldn't mention Hotel Grand Timeo's sister property without getting into the thick of it, as it's equally stunning and situated right on the ocean and just a short drive down the hill. Originally built as a private home in 1830 and converted to a hotel in the 1950s, Villa Sant'Andrea is the dream Italian vacation brought to life. If you're looking for easy access to the seaside, this place is hard to beat.
Where to Eat and Drink
Laboratorio Pasticceria Roberto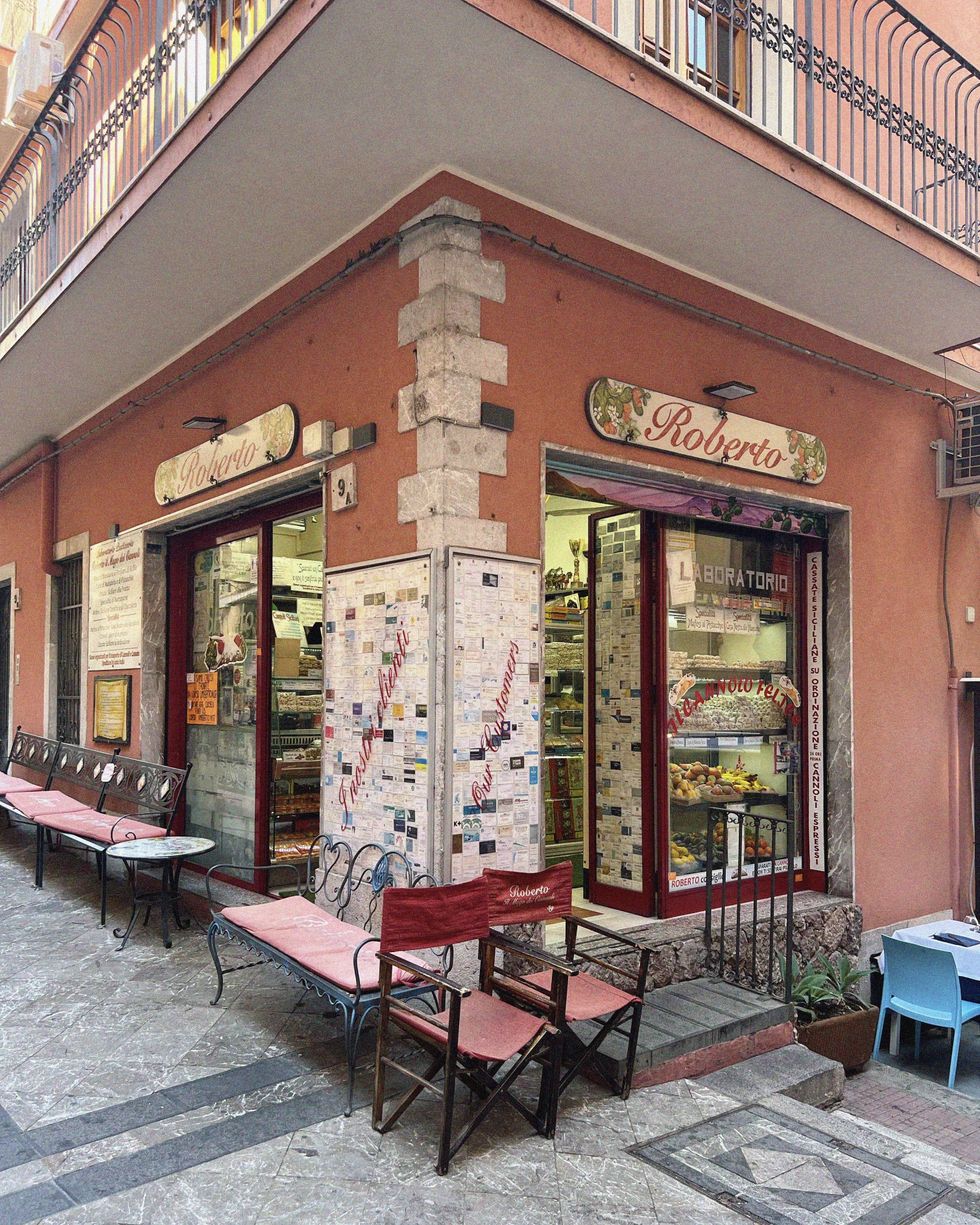 The exterior of Laboratorio Pasticceria Roberto
Photos: Courtesy of Porter Simmons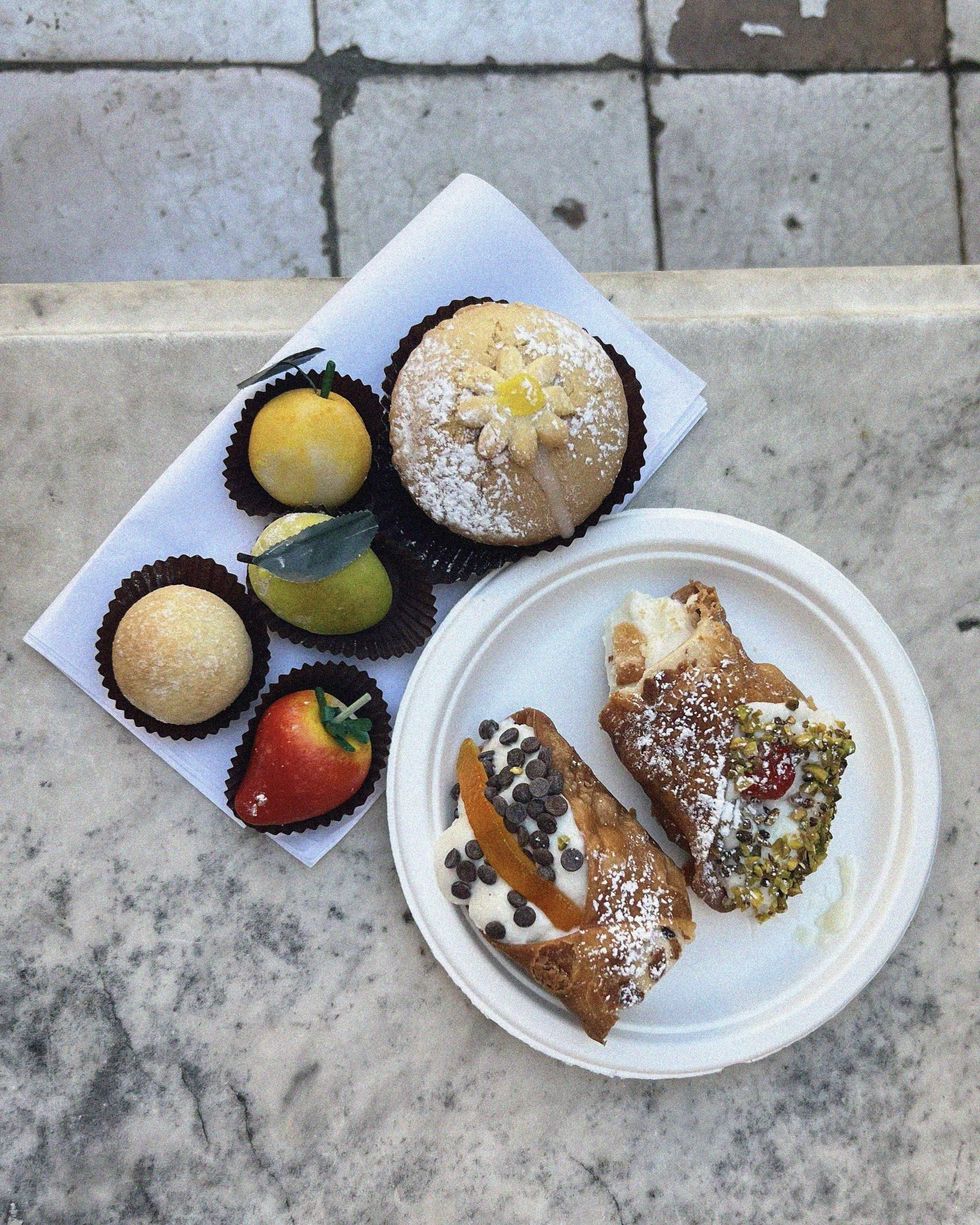 Sicily is known for canolis and marzipan fruits, so make sure to try both while you're there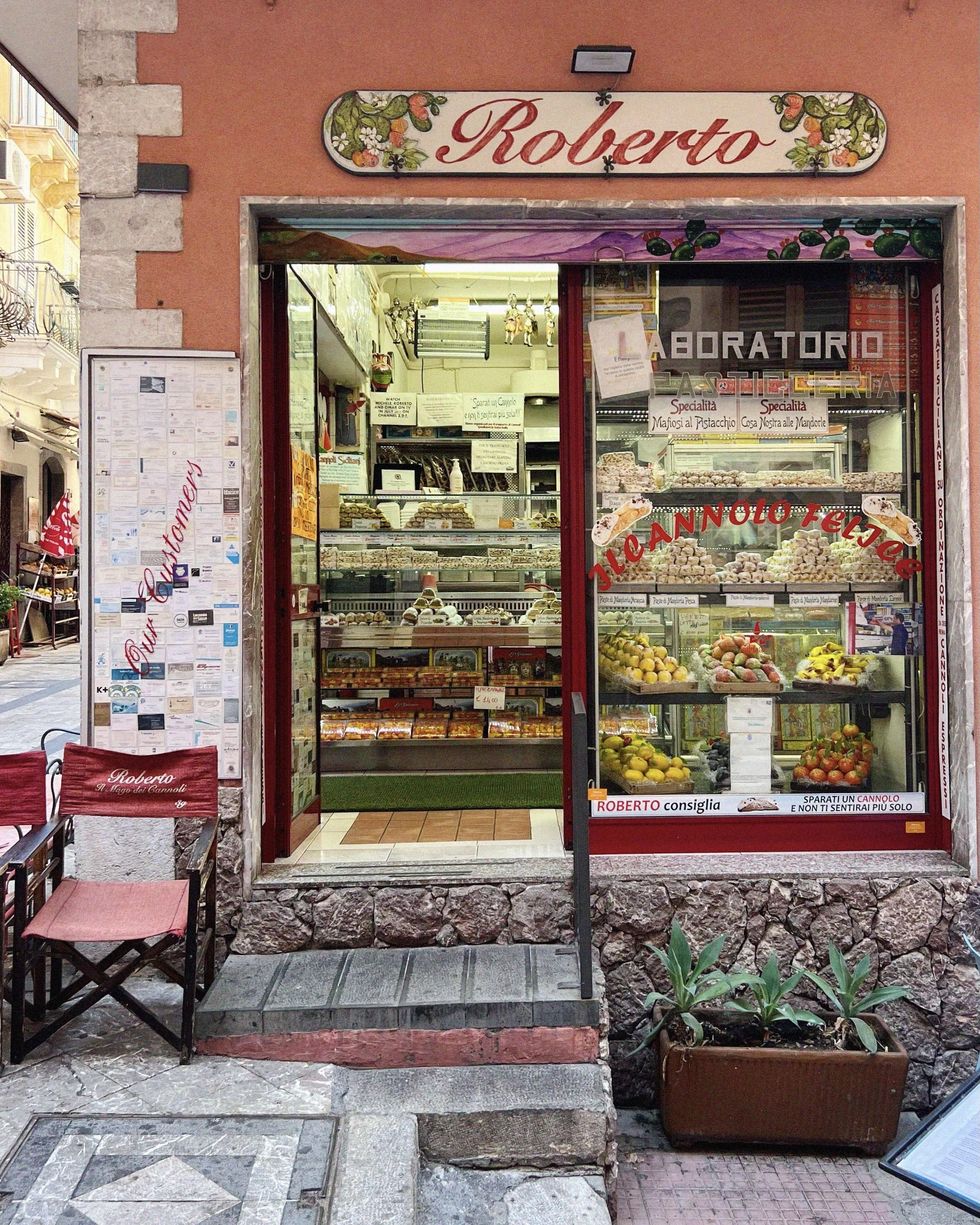 The plethora of sweets makes it hard to choose at Roberto's
You can't come to Sicily without trying a canoli, and if you're going to try a canoli it might as well be from Roberto. With mouth-watering window displays that rival any bakeshop, this authentic hole in the wall was one of my favorite accidental finds of the trip. Definitely stop in.
Ristorante Timeo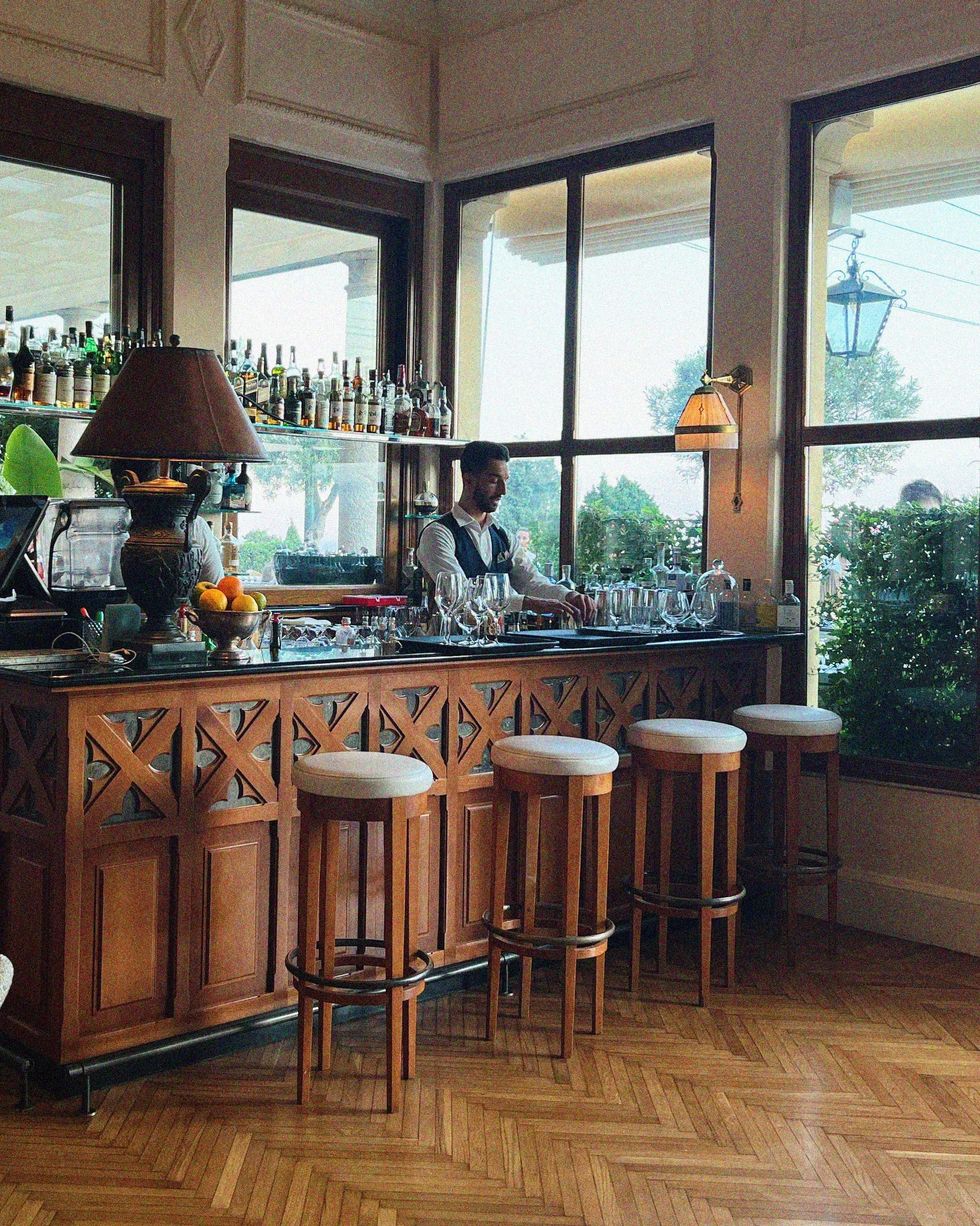 The bar inside the Grand Timeo Hotel, where you can have a drink before eating dinner on the terrace
Photos: Courtesy of Porter Simmons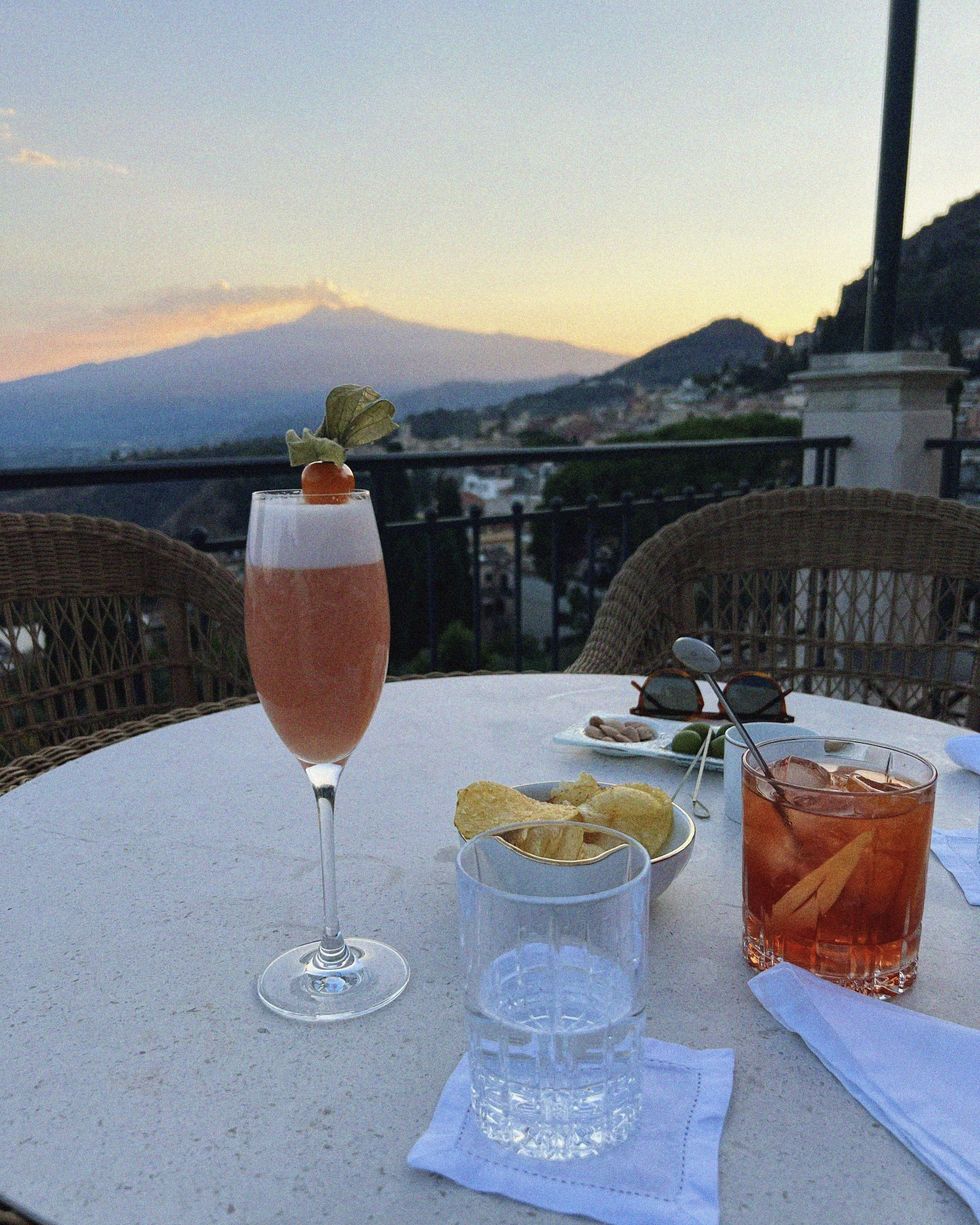 The views of Mount Etna smoking are hard to beat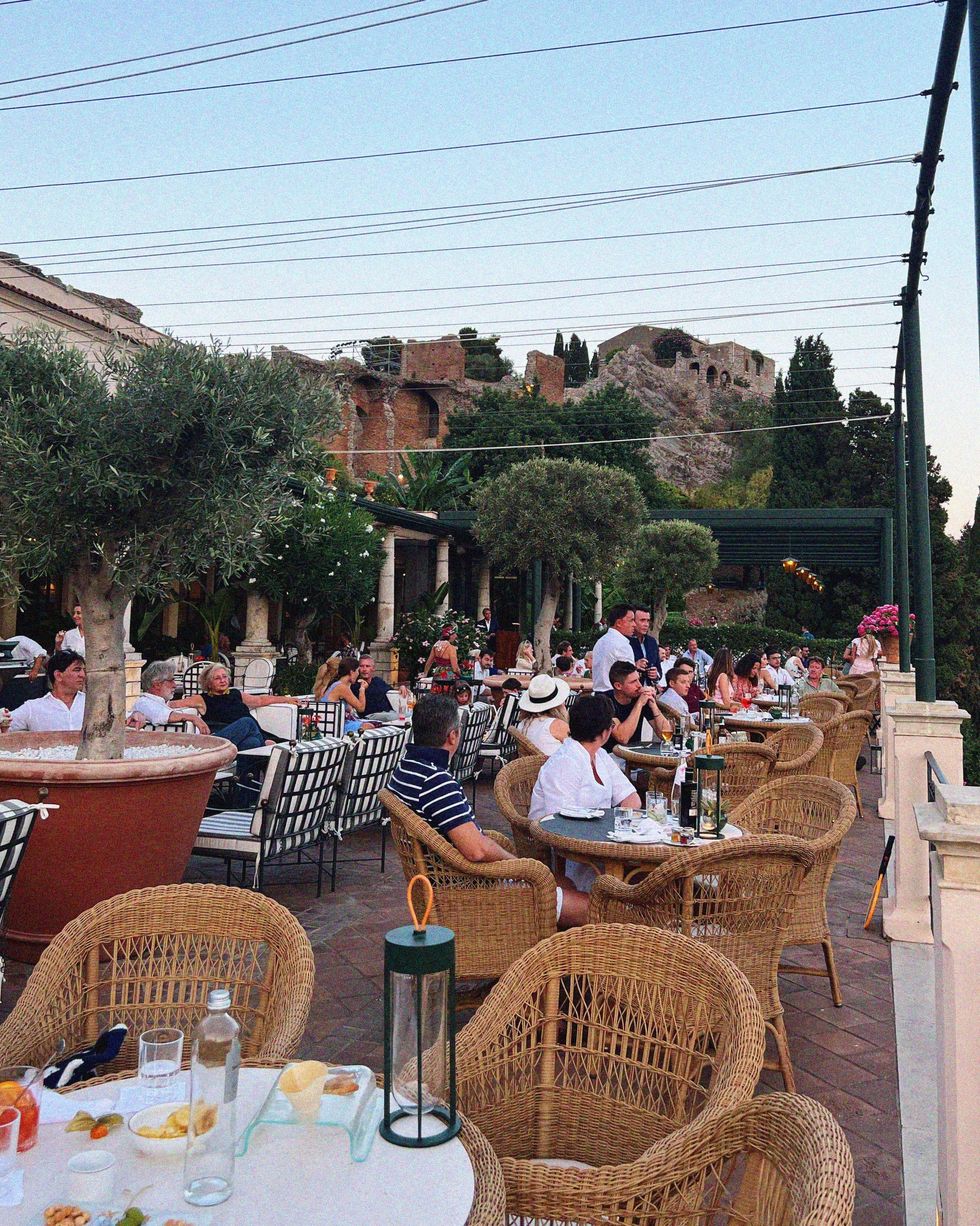 Live music plays on the terrace to accompany your dinner at Ristorante Timeo
If you're not staying at Hotel Grand Timeo, the restaurant on their terrace is a great consolation. Overlooking the famed Mount Etna (if you're lucky, she'll be smoking), it's hard to know what to look at—the drinks, the view, the terrace itself—all come together to create the quintessential Italian evening.
Have a Picnic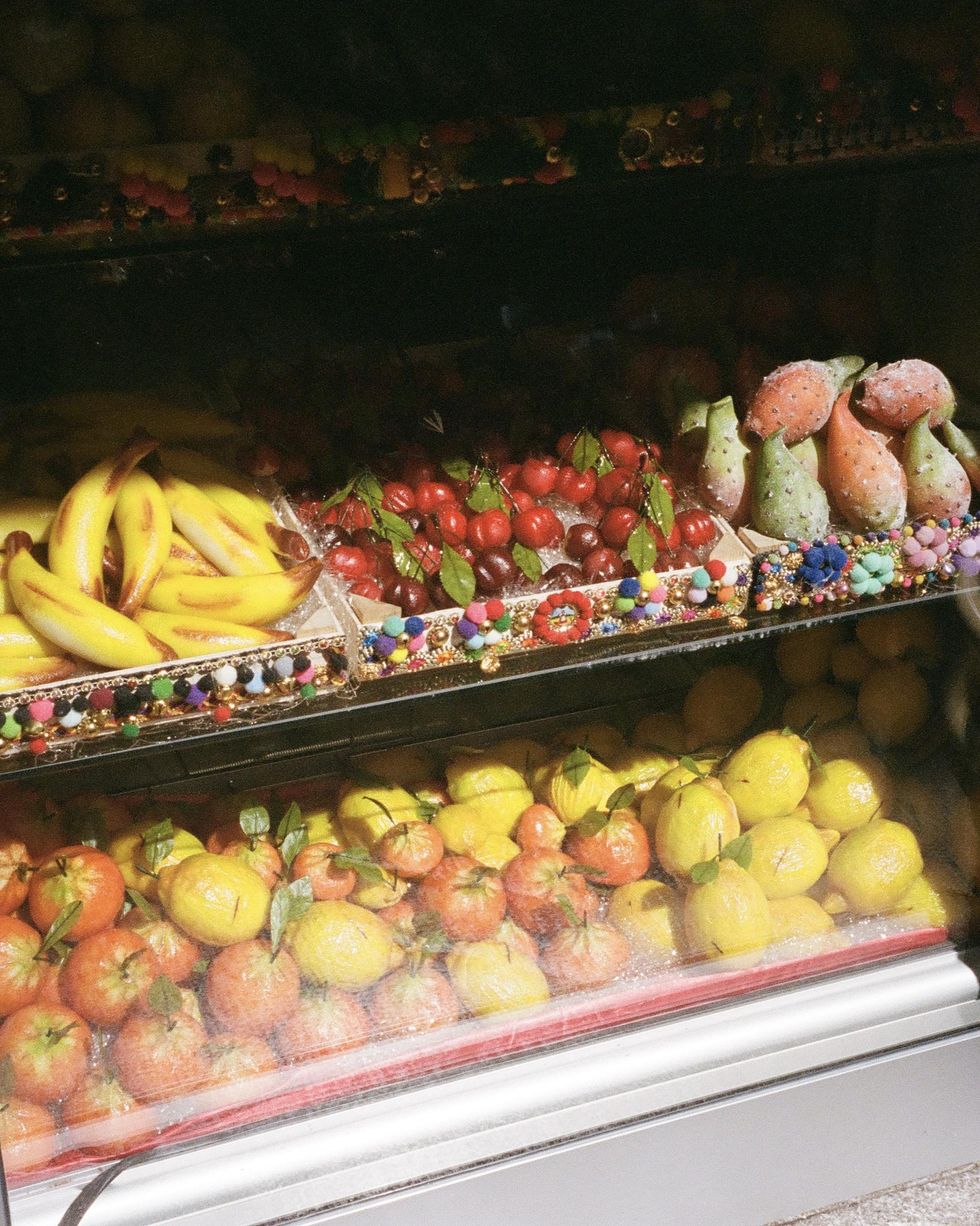 A selection of marzipan fruits at a specialty shop
Photos: Courtesy of Porter Simmons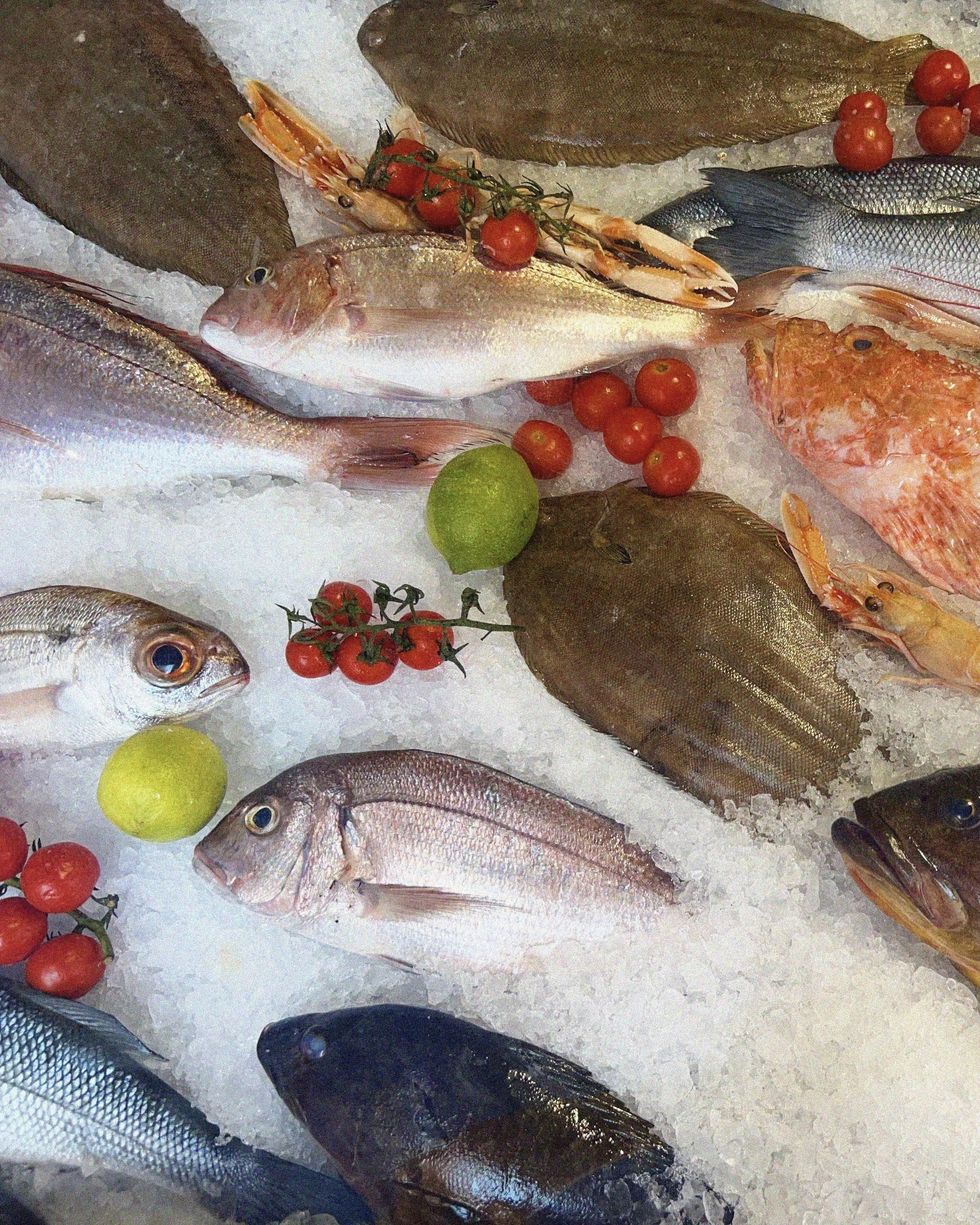 Fresh catches of the day make for a hard dinner choice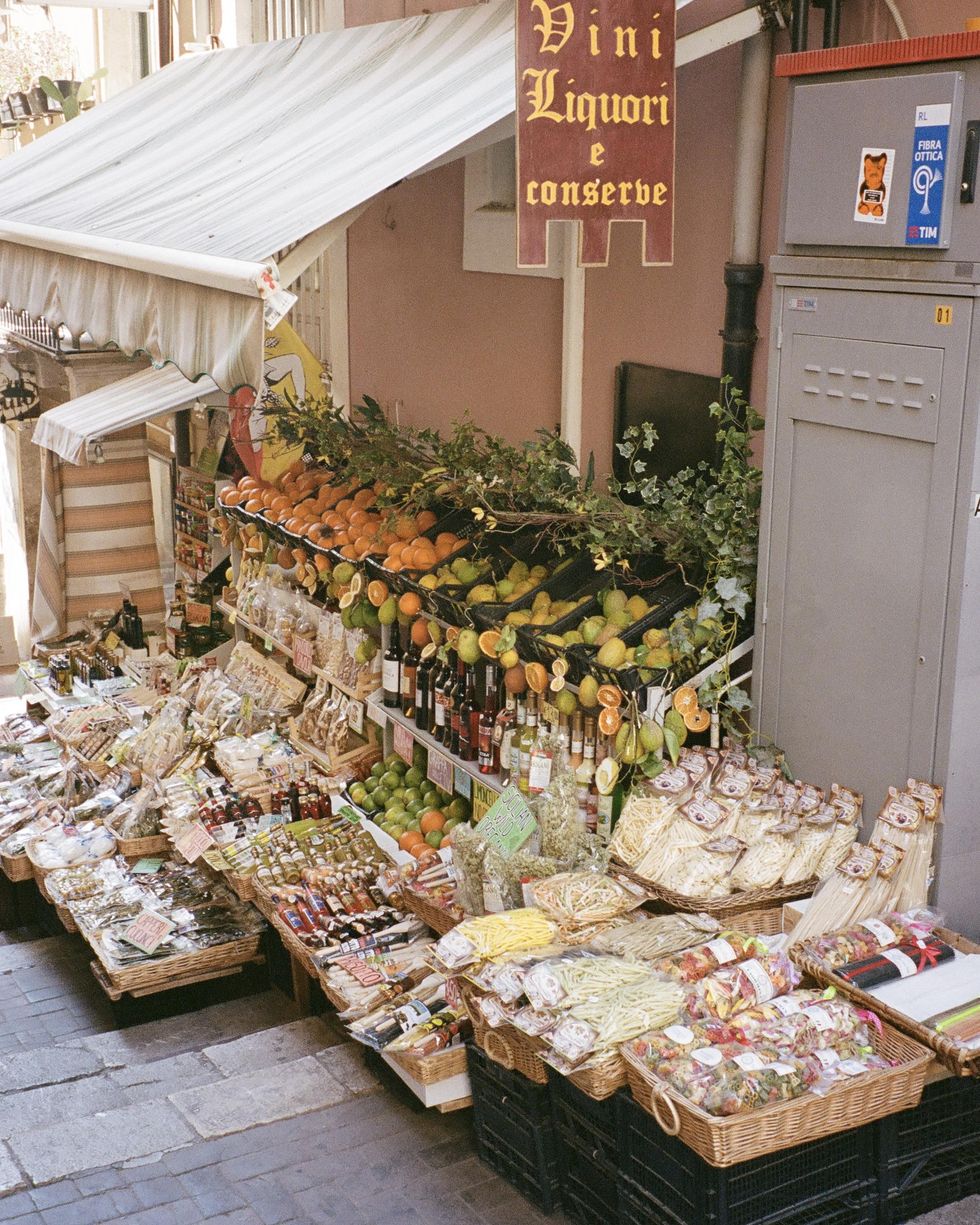 All the ingredients needed for a picture-perfect picnic, right at your fingertips
This may sound ambiguous at first, but hear me out—with such an incredible setting and an abundance of specialty food shop, *not* having a picnic almost seems like a crime. Walking down the main drag of town you'll spot so many shops selling cheese, bread, produce, the works—so choose your favorites, pack a bag, and head to the rocky shorelines or the town square for a good old fashioned picnic.
What to Do
Shop Around Town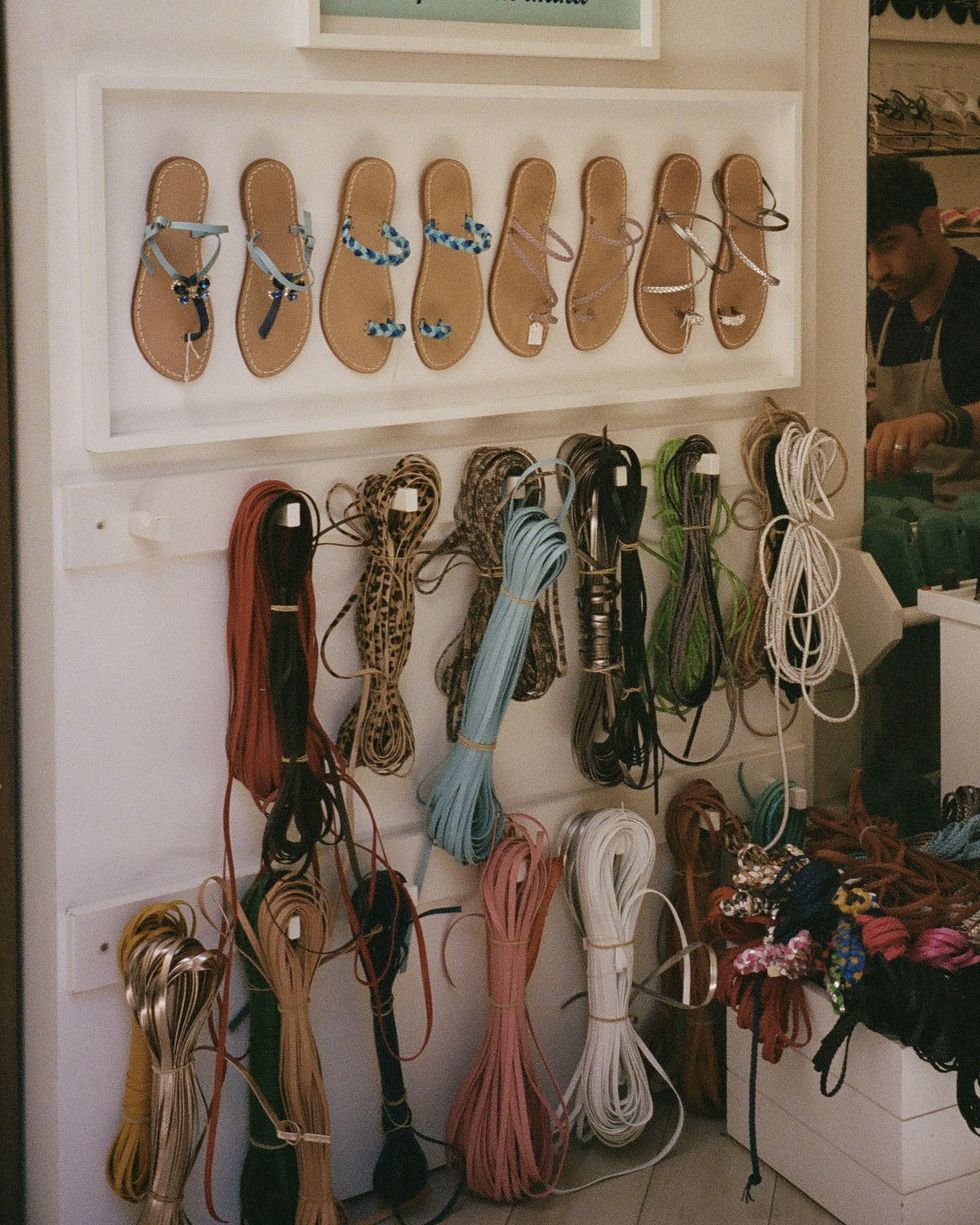 A selection of leathers at Il Sandalo Caprese make for a hard choice
Photos: Courtesy of Porter Simmons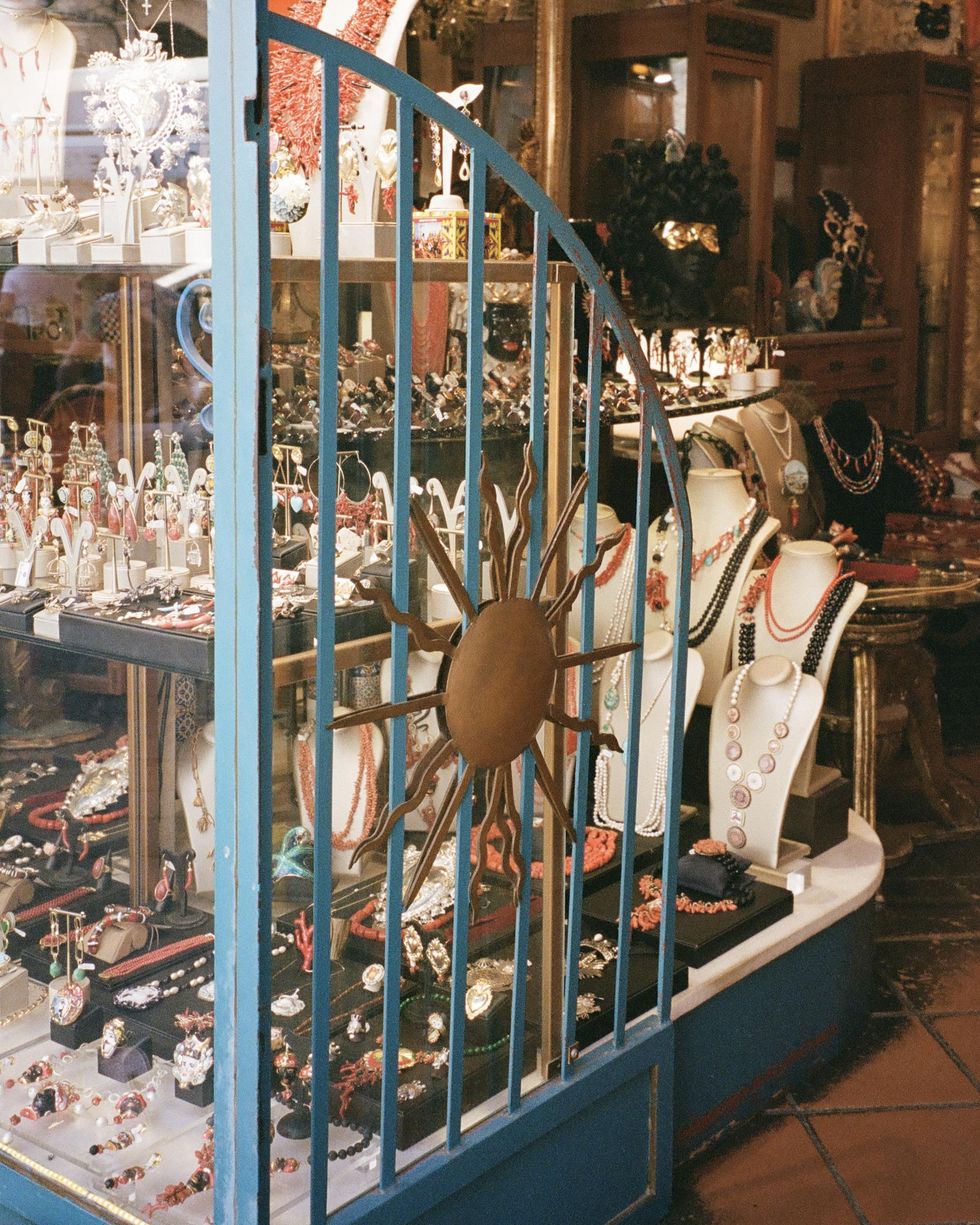 Jewelry made from red coral by Antonio Lo Turco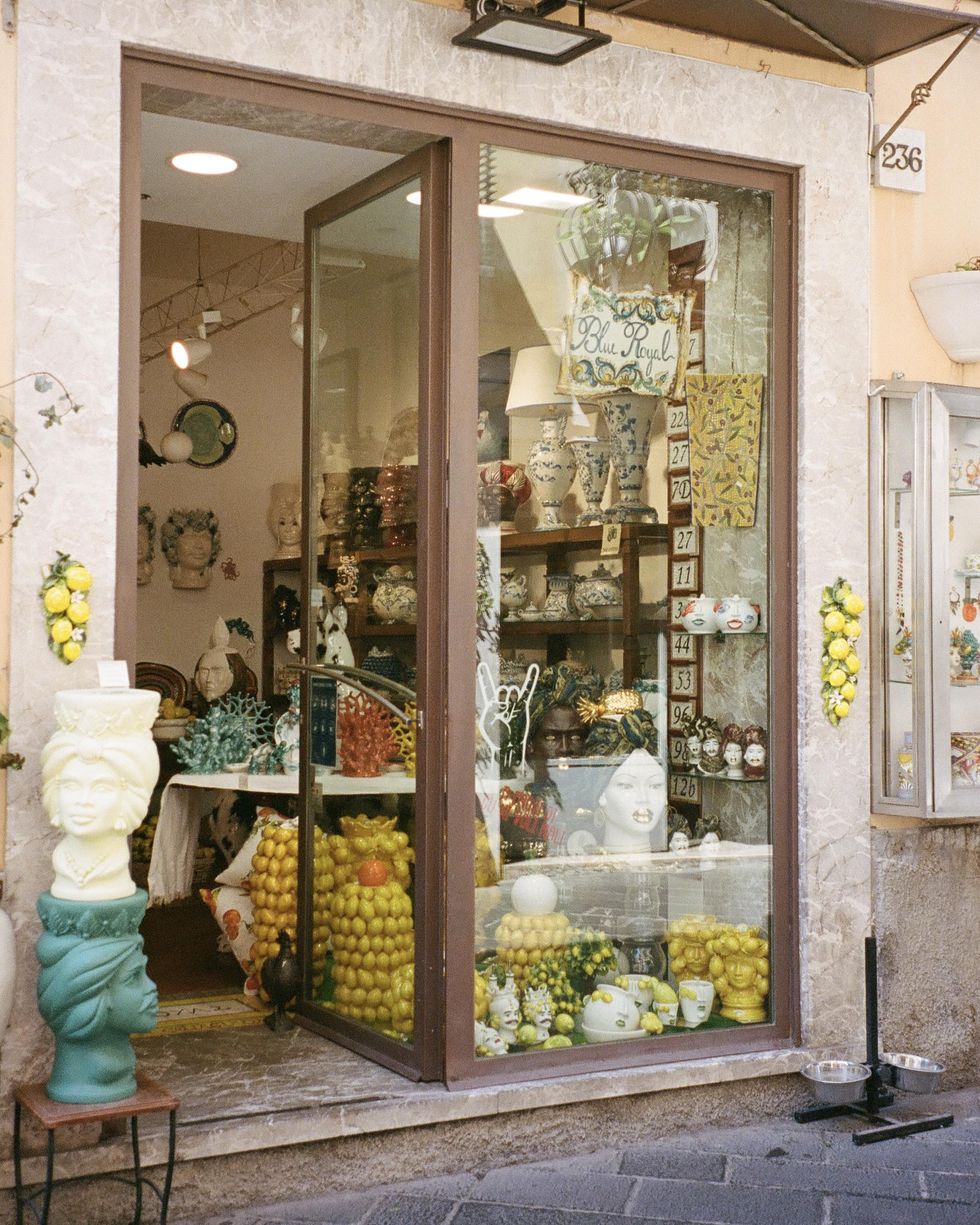 The ceramics at Blue Royal make for the perfect Italian addition to any home
No trip to Italy is complete without a little bit of retail therapy, and Taormina has a lot to offer when it comes to shopping. While there are inevitably a few classic Sicilian souvenir shops, there are also shops specializing in local goods that you won't find anywhere else. Sicily is known for its red coral, a material that jewelers have capitalized on. You'll spot a handful of shops selling everything from earrings to statement necklaces in bright red hues. While many of the stores are selling the same styles, Antonio Lo Turco sets itself apart from the rest with unique designs that would be hard to go un-noticed with every wear. Brace yourself for a pit stop in Il Sandalo Caprese, where you can create custom leather sandals at a great price. Their cobbler measures and makes each pair on site, and with their wide variety of styles and colors, there's a little something for everyone (admittedly I left with four pairs). Lastly, leave some room in your suitcase for spoils from Blue Royal, a ceramics shop selling dinnerware, vases and figurines—the perfect Sicilian addition to your place back home.
Visit Isola Bella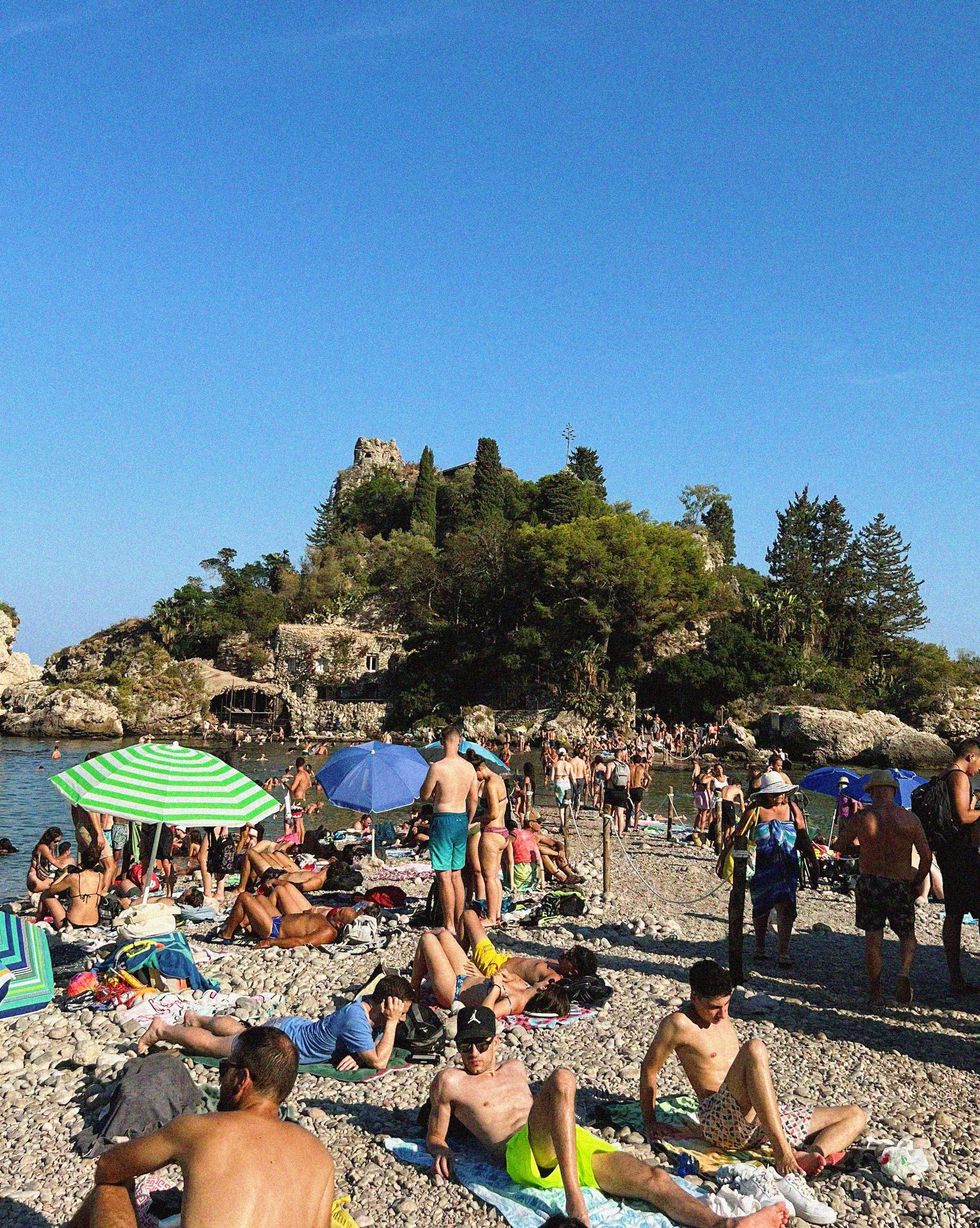 A view of the crowds on the rocky beaches of Isola Bella
Photos: Courtesy of Porter Simmons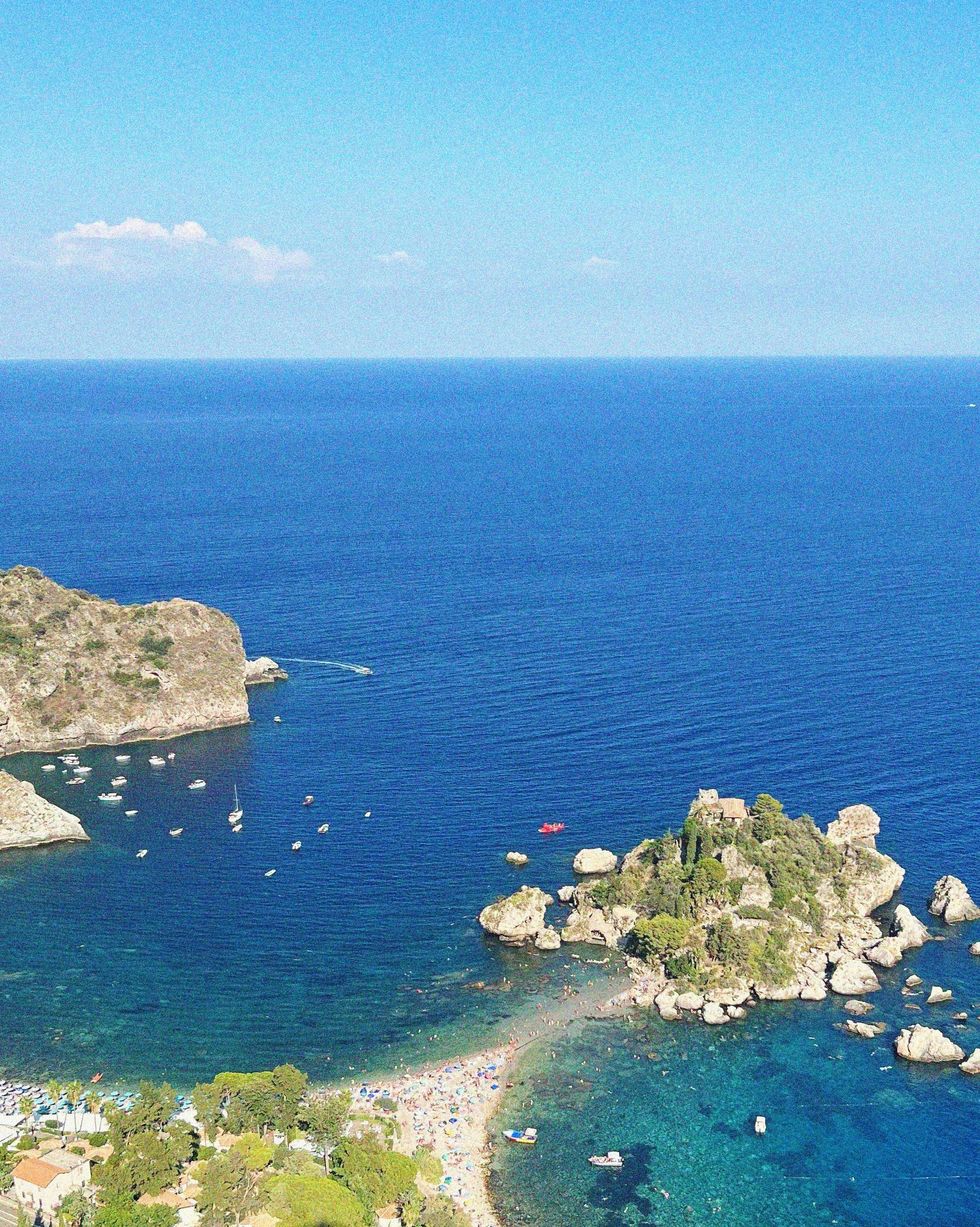 A bird's eye view of the island, which you can easily walk to at low tide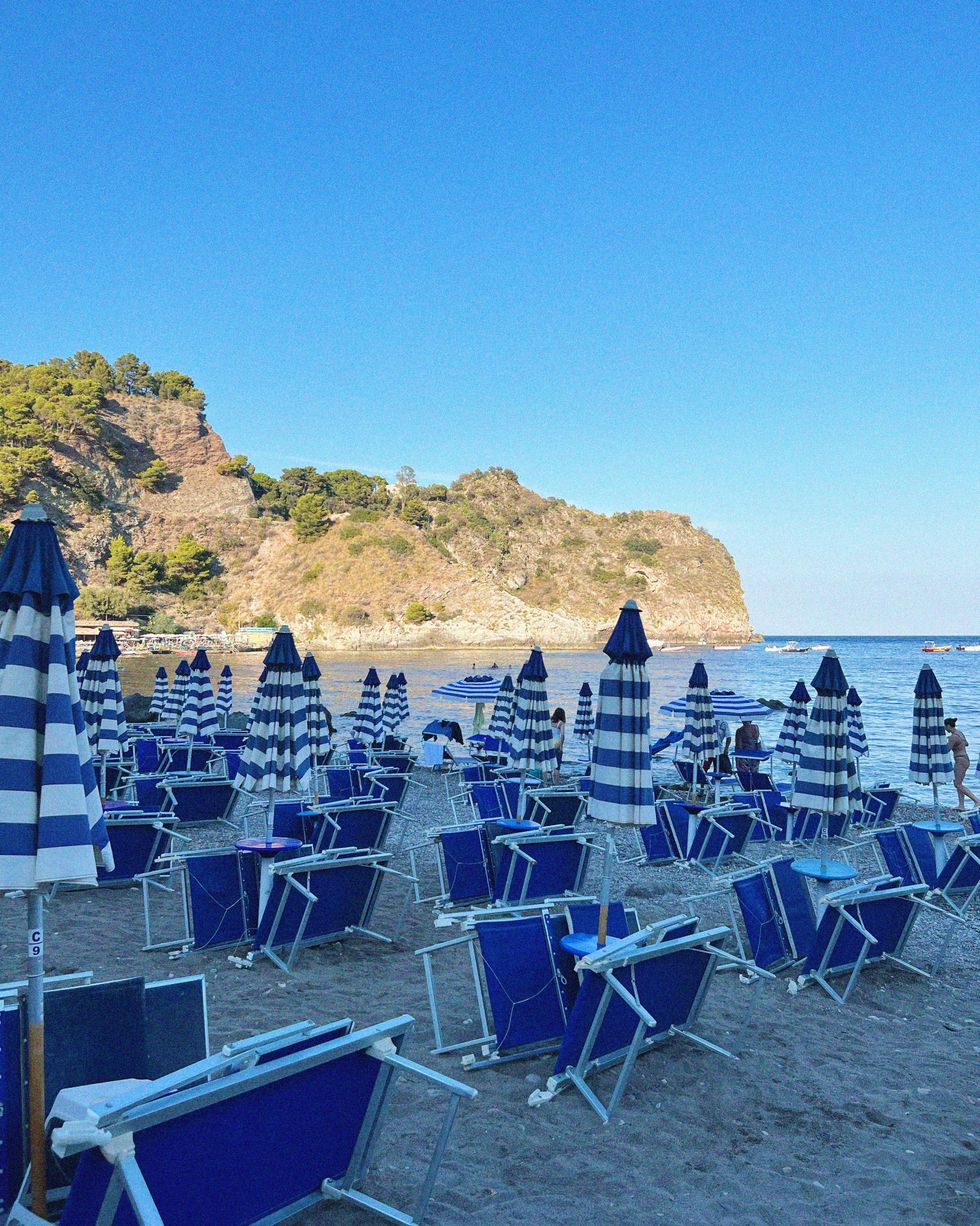 Reserve a chair and umbrella at one of the many beach clubs along the shores
Once a private island, Isola Bella is a tiny island off the coast of Taormina that was purchased by the Region of Sicily and turned into a nature reserve. A small stretch of sand attaches it to the beach on the mainland, so you can walk there (though you may have to wade through shallow water depending on the tides). While you need to purchase a ticket to explore the full island, the view of it from the beach is quite breathtaking—brace yourself for eclectic European crowds, but they only add to the experience. There are plenty of beach clubs and restaurants dotted across the shoreline, so it's the perfect place for lunch or for a late afternoon cocktail.
Walk Through the Botanic Gardens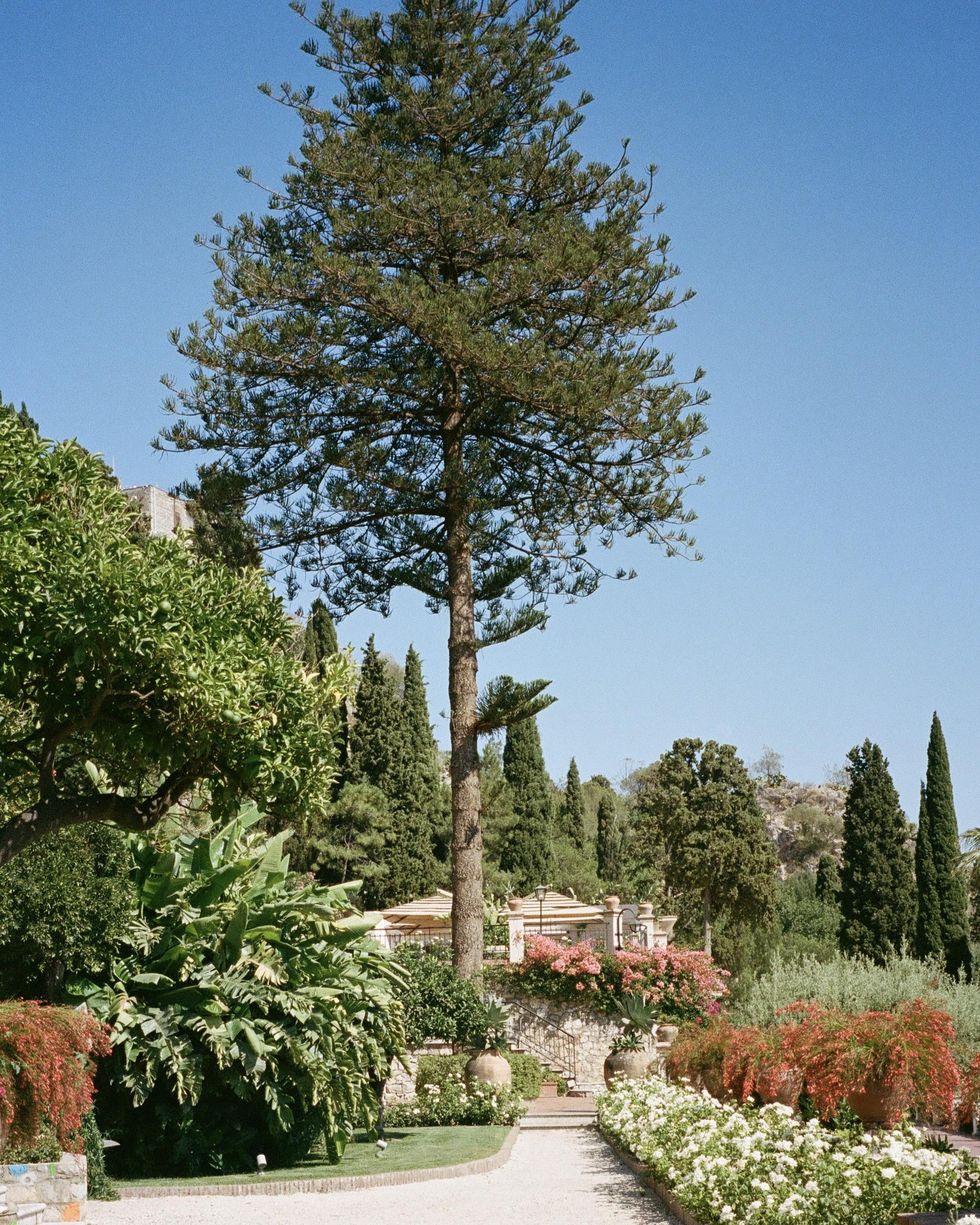 A path in the botanic gardens
Photos: Courtesy of Porter Simmons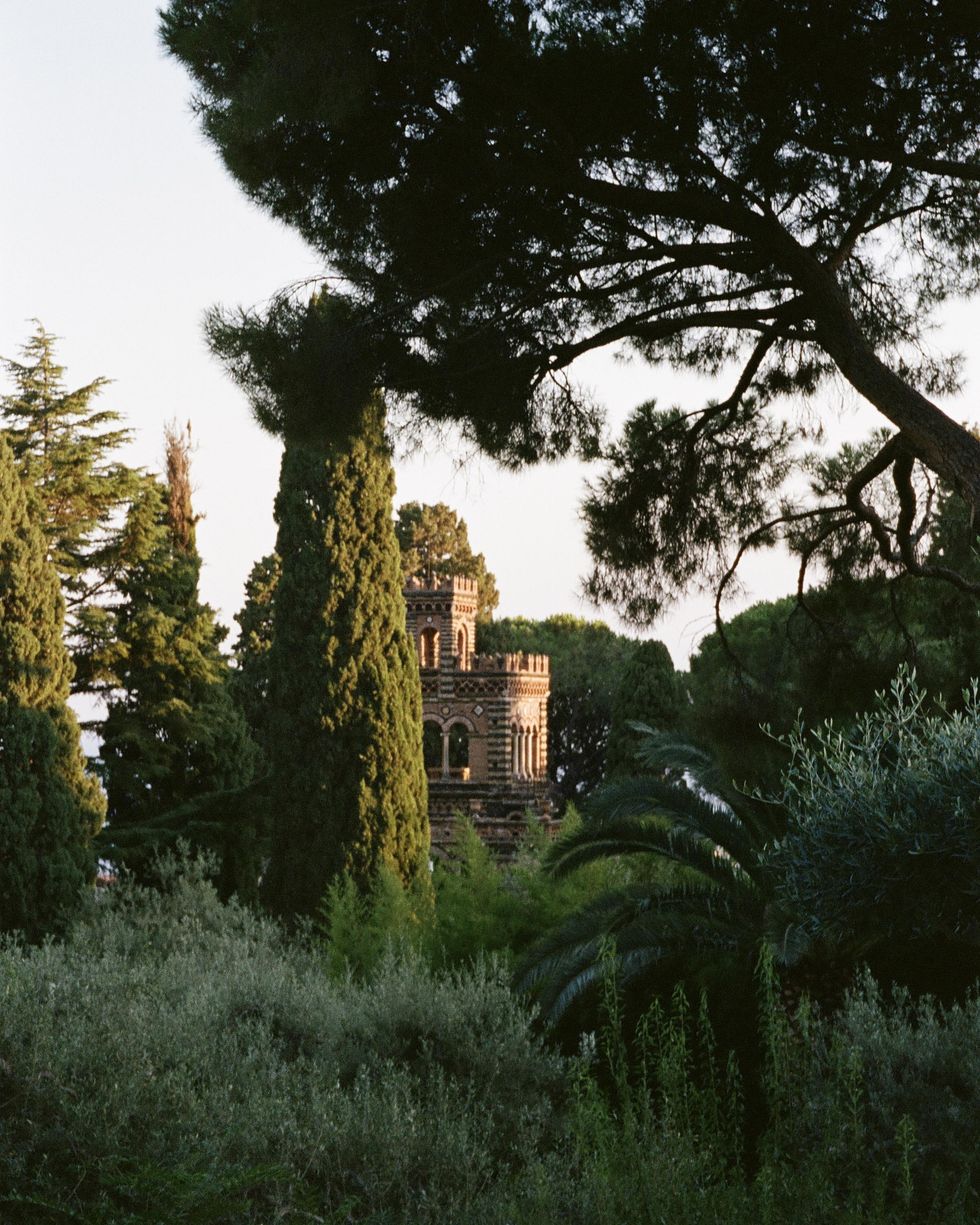 A building in the botanic gardens that was built using ancient bricks from the ampitheater nearby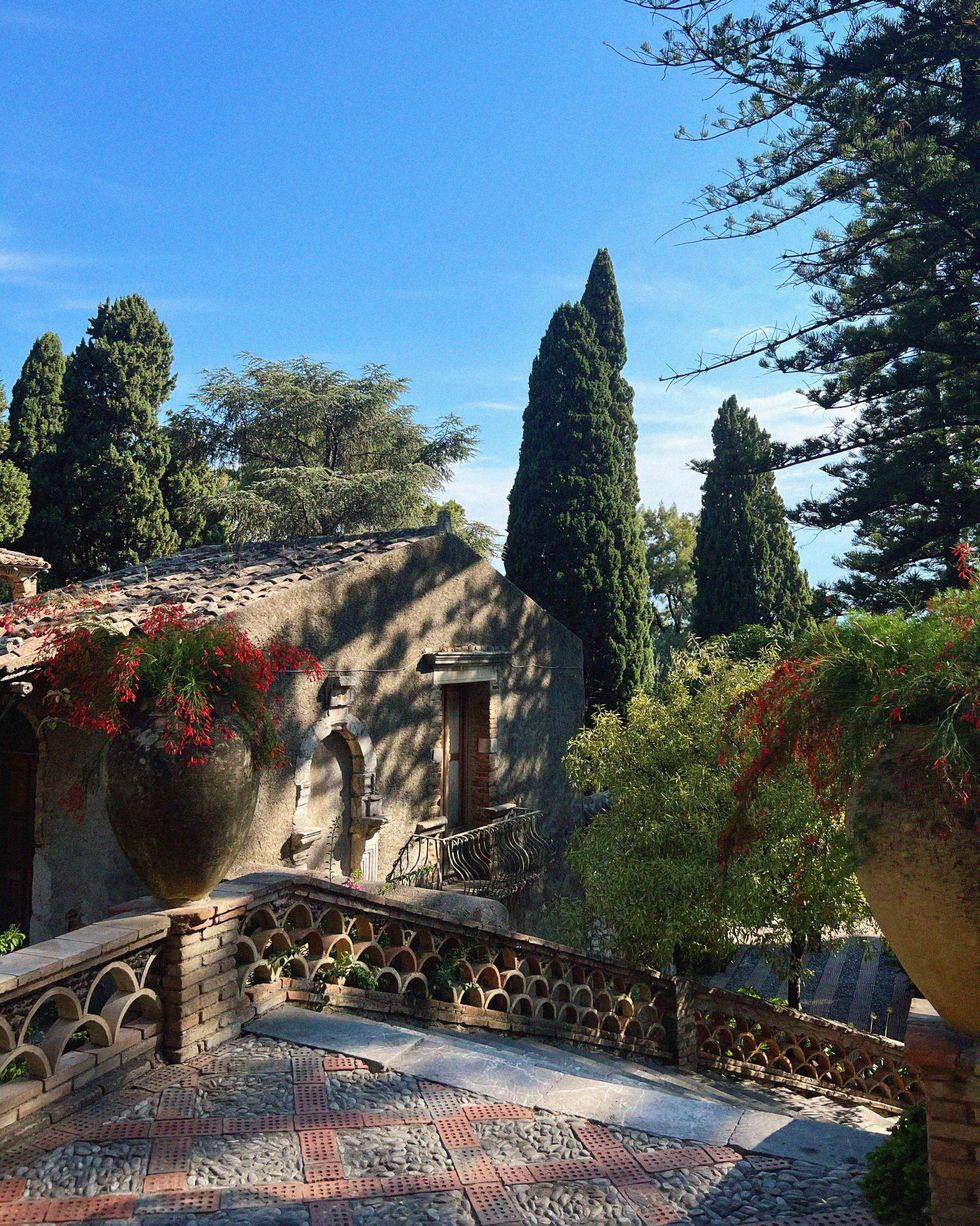 A wide variety of greenery in the botanic gardens
The botanic gardens in Taormina were once privately owned, which likely accounts for the feeling of intimacy and attention to detail that is so present as you walk through them. Walk the paths surrounded by magnolias, hibiscus and bougainvillea for a quiet break from the busier streets of the town. The peaceful setting also makes for a great picnic spot, so grab some provisions from the shops in town and find your perfect spot amongst the greenery.
Shop Taormina Packing Essentials: