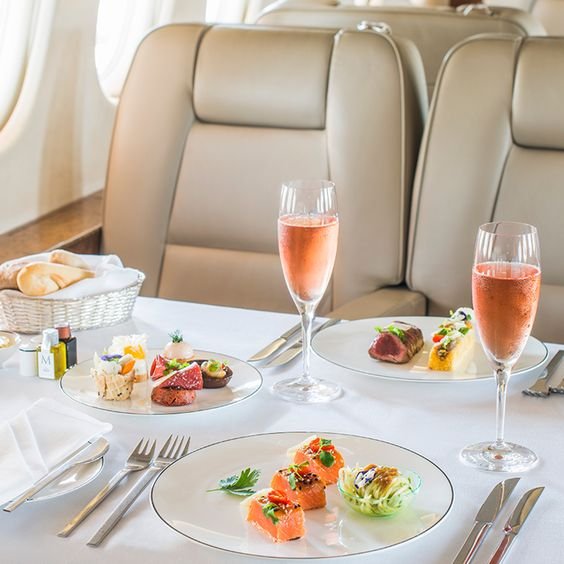 When you're flying private with SHY, the sky's the limit. We ensure every detail is tailored to your needs and that your flight experience is smooth and enjoyable. The food is no exception. You run the show, so you get to make the call, but there are some established norms. 
Most private charters have at least a small kitchen and catering team. For shorter flights, they are delighted to provide lighter fare such as cold platters of fresh fruit, sandwiches, charcuterie, sushi and other small, delicious snacks.
We can arrange food for all your desires, from snacks on short trips to having a full sit-down meal. When you travel with SHY in a private jet, catering has endless options.
What food can I have at the FBO?
The food available at the FBO will depend on the FBO itself. Each airport will have its catering facilities and restaurants, but you can expect the food at the leading FBOs to be of a high standard with plenty of options available.
Is there a set menu, or can I have anything I want while flying?
We can arrange anything you like. However, we are aware that some of our clients don't have time to think about their meal ahead of time. That's why most private jet menus include various options to cater to all tastes, including vegetarian and vegan menus and religious dietary requirements. Any choice you decide to go for will be of high quality regardless. 
You can even choose food from your favourite caterer or restaurant. If you crave simple takeaway food or a Michelin star dining experience, there is no limit while flying in a private jet; anything is possible.
Can I have a gluten-free meal options?
SHY can provide any meal on board. Special dietary requirements can be catered for effortlessly on a private jet, meaning gluten-free, lactose-free, pescatarian, vegetarian, vegan and religious preferences can all be catered for, as well as menus clear of any other allergens.
If you have dietary requirements, We ask that you give your dietary restrictions and food allergies ahead of time. This will allow us to inform the crew and ensure you are taken care of.
Do I have to plan my meals in advance?
When you fly with SHY, you get to pick your menu. However, we know that clients have busy schedules and sometimes don't get around to it, so most of our flights come with a variety of delicious food and drink options as standard.
Do the food options vary depending on which aircraft I fly?
Meal options may change depending on the size of the kitchen in the aircraft. This mostly has to do with the quantity of food being able to be produced.
Short flights are more likely to offer small bites such as cold platters of fruit, meat, cheese, sushi, sandwiches, salads, and snacks. However, it can also be easily arranged if you require a full meal on a short flight. On the other hand, on larger jets and longer flights, you can expect small bites, a full meal, and the ability to cook homestyle meals for multiple guests.
What kind of drinks are available onboard?
There will always be tea, coffee and soft drinks available on any flight, regardless of duration or the time of day. Alcohol is also served on most flights, although this is not possible in certain circumstances within the Middle East. Drinks such as champagne are available as standard on many aircraft.
Can I request to have a chef on board?
There is little point to hiring a chef for your private jet charter flight because they're not allowed to cook on board. However, there are a few instances where you may want to hire a chef. For example, if you have special dietary requirements and want a chef you know and trust, or if you need the chef's services at your destination.
Can I celebrate my special day onboard?
A tasteful experience on a private charter plane can always be tailored to your specific event or celebration. SHY will take great care, and pleasure in ensuring your celebration is executed flawlessly.
Engagement soirees, birthday parties, and other catered events all routinely occur at 35,000 feet these days. If you want your wedding reception to be unique, an intimate party or elegant dinner, drifting high above the clouds as you cut the cake, SHY will ensure all your wishes will be fulfilled. 
OUR SHY AVIATION EXPERTS ARE AVAILABLE 24/7 FOR YOUR PRIVATE FLIGHTS. DO NOT HESITATE TO VISIT OUR ONLINE QUOTE TO OBTAIN A PRICE ESTIMATE FOR YOUR NEXT JOURNEY.