The very first watches appeared in the early 1500s, and ever since then, they have become an essential part of our everyday lives. While the popularity of watches has waxed and waned over the years, they have never lost their classic touch. The Panerai Submersible 42mm watch is arguably one of the best watches on the market right now.
But why? What makes this watch unique compared to any other watch out there? Keep reading and learn more about this Panerai diving watch and why it can make for a seriously worthwhile investment.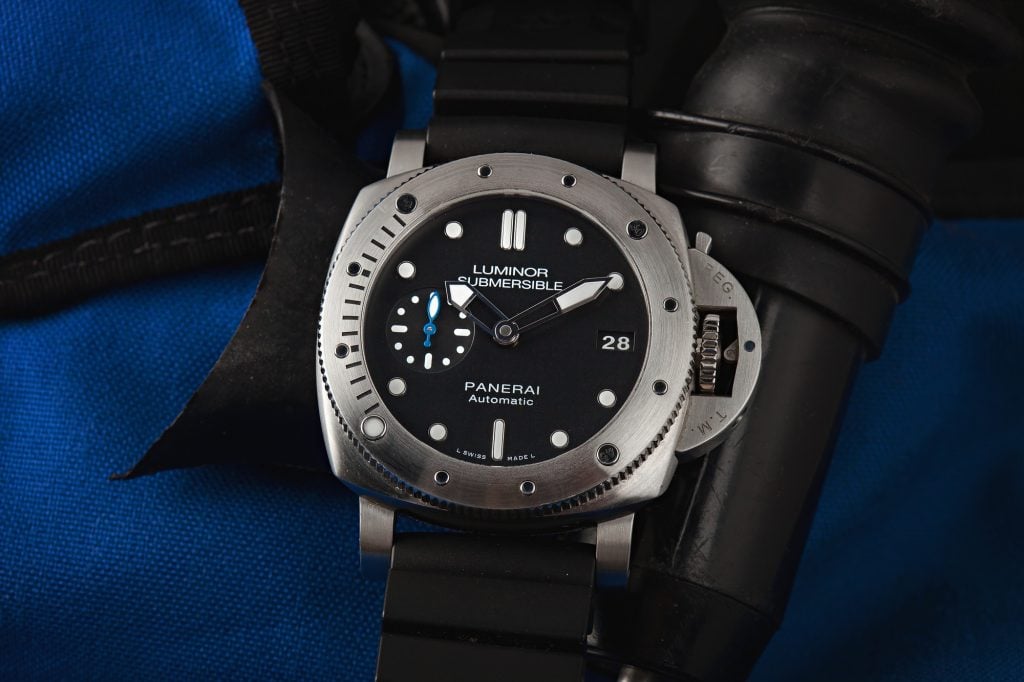 What You Need to Know About the Panerai Submersible 42MM Watch
You may already know that most watches are not waterproof and are not designed to be submerged in water. This is true for even very high-quality and expensive models. If you try to take your favorite watch underwater, you will most likely ruin it forever and it will never work again.
Many people have the problem of accidentally forgetting that they have a watch on before they go swimming or take a bath. As a result, their watch ends up getting ruined which, of course, is a big waste of money. Fortunately, there are some watch models that are resistant to water or even waterproof so you won't have to worry about these problems.
In particular, the Panerai Luminor Submersible 42mm watch is designed to go under the water without sustaining any damage. This watch isn't just water resistant but instead entirely waterproof. This is important because water resistant watches aren't able to be submerged safely.
Rather, they can sustain a bit of splashing or raindrops, but not much more than that before they get ruined. A watch that is waterproof, on the other hand, should be able to handle all sorts of water exposure. You can even take a bath or a shower with such a watch or jump into a pool with it.
The Details
The thing about this Panerai watch in particular is that it was designed for diving and other water spots in mind. A Panerai watch for diving is exactly what it sounds like. You can take it with you even when you're swimming to deep depths in a body of water, whether it be salt water or fresh water.
This submersible watch is part of the Luminor collection and it does have many visual features that make it clear that it is part of that collection. However, it is slightly separated from the entire Luminor collection since not all the watches in that collection are submersible. In fact, the submersible watch is one of the most unique Panerai watches out there for that feature alone.
Once you put on this watch, you won't want to take it off. It simply oozes luxury like few other watches are able to do. Whether you want to buy this watch to replace an old one or whether you want to add it to a huge watch collection, you surely won't regret buying this model.
But what exactly does this watch look like, what features does it have, and how can you know if it's the right choice for you and your lifestyle?
The Appearance of the Panerai Submersible 42MM Watch
As mentioned before, because this watch is part of the Luminor collection, it does share many similarities with other Luminor watches. However, it also has some unique characteristics of its own that are sure to stand out and catch your attention. This is not to mention that there are a couple of variations in appearance that you can choose from if you are intent on buying this watch.
To start, it has a bezel that rotates in one direction that catches the eye of anyone who wears it. It also has a crown guard that is, of course, designed in the Luminor style. You also can't forget about the cushion case which adds an extra layer of luxury to this model.
The thing about luxury watches is that they are usually designed to look good rather than anything else (although, of course, they function very precisely as well). The Panerai Submersible watch, on the other hand, prizes functionality just as much as esthetics. You can see this in how effective its submersible nature is.
You can bring this watch underwater as far down as 300 feet. This is certainly not a feat that most other watches are able to accomplish. Again, this watch was not only designed to be waterproof but instead, it was designed with divers in mind.
The submersible watch is a bit bulkier than the other Panerai watch models. Many of its usual models are quite thin and sleek because, overall, that is the type of look that is popular at the moment. This thinner look tends to go well with more refined types of clothes such as tailored suits.
This is not to say that oversized Panerai watches are bulky and ugly.
What You Need to Know
On the contrary, it is important to remember that even these submersible watches are still crafted by Swiss watchmakers with only the finest and most careful touches. There is still a balance of form and size with these watches that makes them very stylish, even if they aren't as thin and sleek as other Panerai models.
There are two main color variations you can get when choosing this watch. One contains a ceramic bezel that is a very fine, sky-blue shade along with a smoky gray dial. This make is known as the PAM00959. The other model has a black dial and a black ceramic bezel.
That model is known as the PAM00683. Both models are extremely classic, but the black-on-black one may be even more so. After all, black is such a sleek and timeless color that it is hard to go wrong with it.
On the other hand, the gray and blue model does add a certain modern vibe to the entire watch. This is not to mention that it will more easily stand out from the rest of your appearance, unlike the black watch which will be more likely to blend in. Besides that, the gray dial actually has a texture with little bumps on it which adds a bit more character to the watch as a whole.
For both models, the dial is never cluttered by the text that rests upon it. Instead, everything is perfectly spaced out so that the watch is easy to read and yet still easy on the eyes. The visuals on the dial are also easy to read even when you're swimming several feet underwater.
Is the Watch Comfortable to Wear?
Now that you know that this watch, especially the face, is very classy and attractive, you might be wondering about the comfort that this watch has to offer.
Some people get so caught up in the appearance of the watch that they forget all about the factor of comfort. This is not a smart thing to do because while you might love the appearance of a watch, the last thing you want to do is to be constantly readjusting your watch because you find it heavy, itchy, or otherwise uncomfortable.
Fortunately, you shouldn't have to worry about any of those problems when you wear a Panerai Submersible watch. This is because, as with all Panerai watches, it is built not only for style and functionality but also for comfort. Panerai Submersible watches come in a variety of sizes, but at the moment, the 42mm version is the smallest that you can buy.
This is not to say that this watch is at all dainty. As mentioned before, it is a bit on the bulkier side compared to other non-submersible Panerai watches. The overall size of the watch is very average in the world of watches.
It isn't too small and thin and it isn't too large and boxy either. Instead, it is essentially the Goldilocks of watch sizes. For that reason, you won't have to worry about this watch getting in the way or snagging on the sleeve of your shirt.
What to Know
Instead, it will blend into your wrist quite well and you might even forget that you're wearing it sometimes. If the watch was a touch larger, it would be a bit irritating to handle, and if it was a touch smaller, it would be too dainty and hard to read.
As for the wrist straps, they are made out of very flexible yet durable rubber. If you got the gray and blue watch, then those straps will be the same shade of blue. On the other hand, if you got the all-black watch, then those straps will be black as well to match with the rest of the watch.
You might not be too thrilled about the rubber straps. Although they look good and fit the overall appearance of the watch, they can sometimes cheapen the feel of a watch. Despite the comfort they have to offer and the fact that they are waterproof, you can always change out the straps if you really want something that looks and feels different.
For example, you could easily switch out the rubber straps for straps made of leather or a similar material. Plus, it is easy to change out the straps since the watch has an easy-release feature for exactly this purpose. Just remember that if you use a watch strap that is made of a more delicate material like suede, the strap may get ruined if you decide to take it underwater.
Other Features of the Panerai Submersible Watch
By now, you should be aware of the majority of the features that this watch has to offer. However, there are a few more characteristics that you should know about. For example, what about the price?
The price of this watch is $9,800. This price will stay the same no matter the color combination you decide to get. This may seem like quite a high price for a watch.
After all, the previous Panerai model was only around $8,700. So, these new submersible watches have increased by more than $1,000 which is not an insignificant sum of money. However, you do have to consider a variety of factors that have caused the price to increase.
What Else Should You Know?
For one, this watch is crafted in a very particular way to allow it to reach depths of 300 feet underwater. This is certainly not something that most watches can do. To be able to do that, this watch has been made to be especially durable and waterproof.
This extra attention to care and details has naturally affected the price of the watch. And, besides that, the artisan touch and style that this watch has is always going to be on the more expensive side. Remember that this is a luxury watch.
If the watch was any cheaper, there is a chance that the quality wouldn't be as good. Besides the price, the watch is overall a great all-purpose watch. You can take it with you on a diving trip or you could simply pair it with your newest suit before you go out on the town.
What else could you want from a watch like that?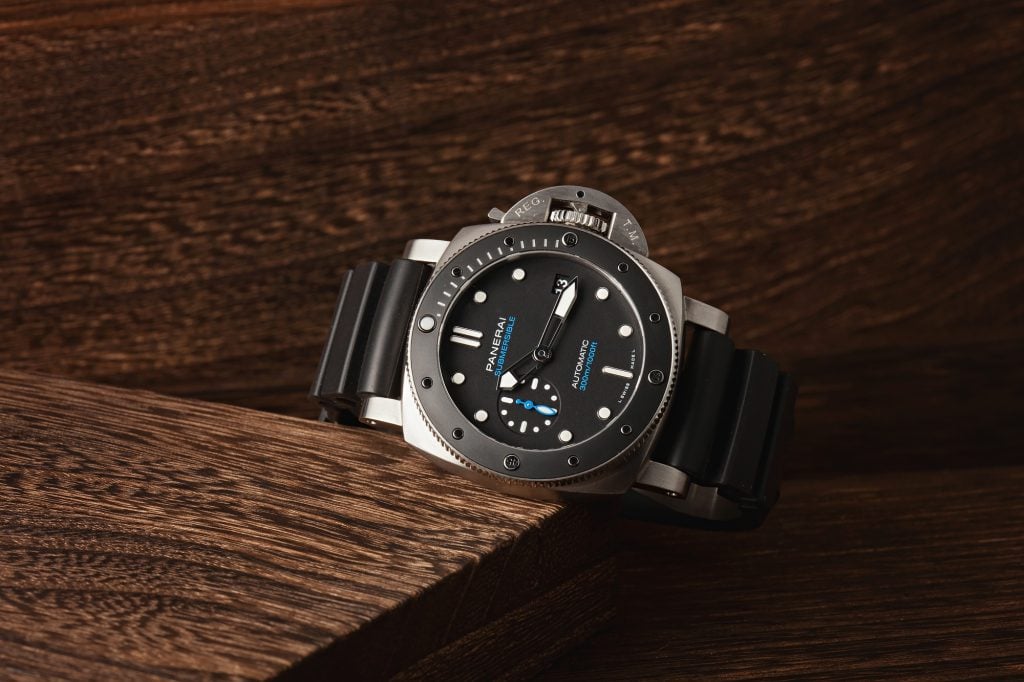 All About the Panerai Submersible 42MM Watch
The Panerai Submersible 42mm watch is arguably one of the best and most durable Panerai watches on the market. Not only is it able to go underwater up to 300 feet, but it is also very stylish and comfortable.