My Baked Italian Meatball Recipe makes the best homemade meatballs that are easy to make and oh-so-delicious with marinara sauce over pasta or on a hoagie roll.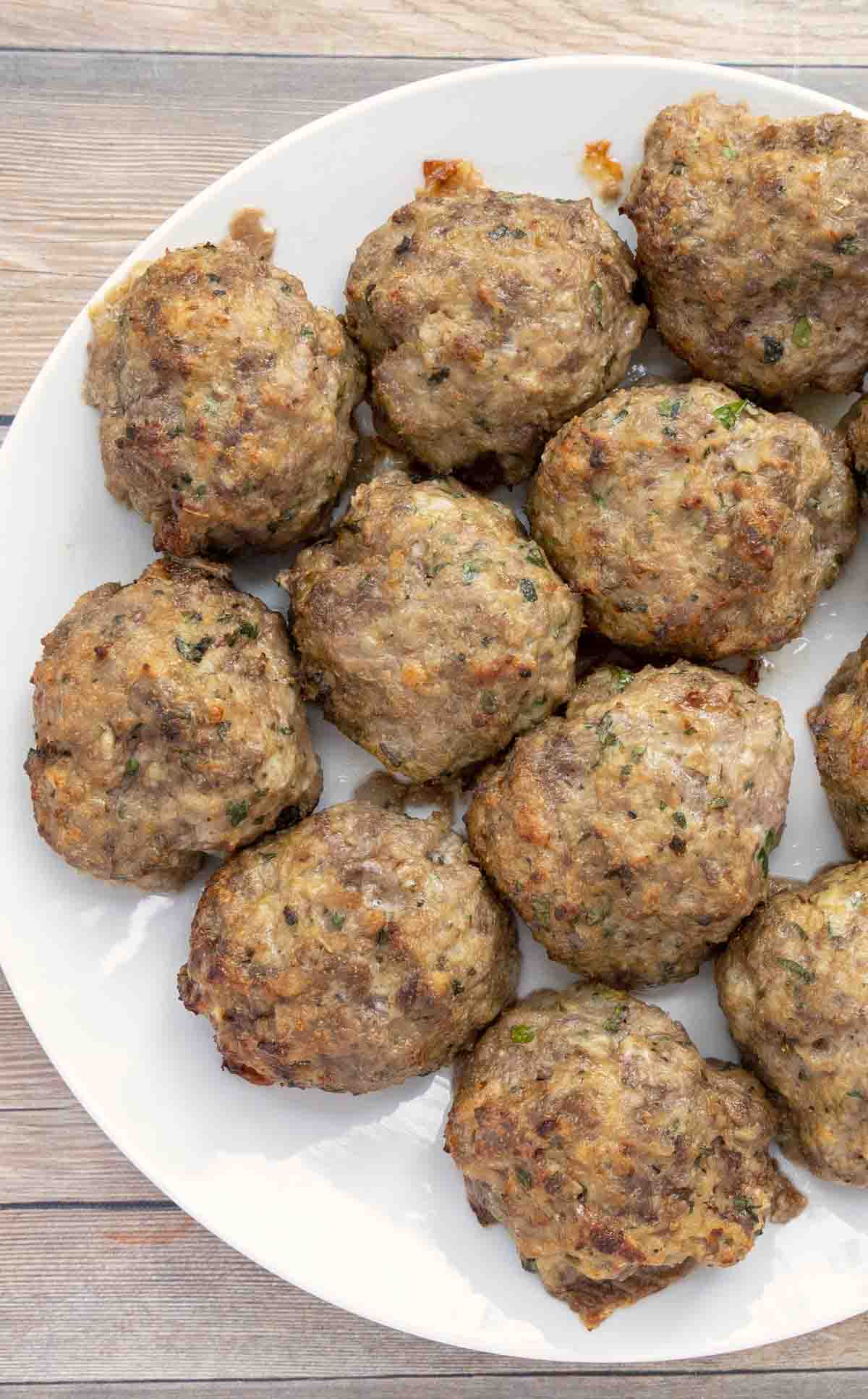 When it comes to Italian-American cuisine, meatballs are a staple dish that has been enjoyed for generations. However, the secret to making truly delicious Italian meatballs lies in the preparation and ingredients.
I've made a lot of meatballs during my career as a chef, and this is by far the best meatball recipe I've ever made. The perfect blend of seasonings and other ingredients makes my delicious Baked Italian Meatballs crispy on the outside yet moist, tender, and juicy on the inside.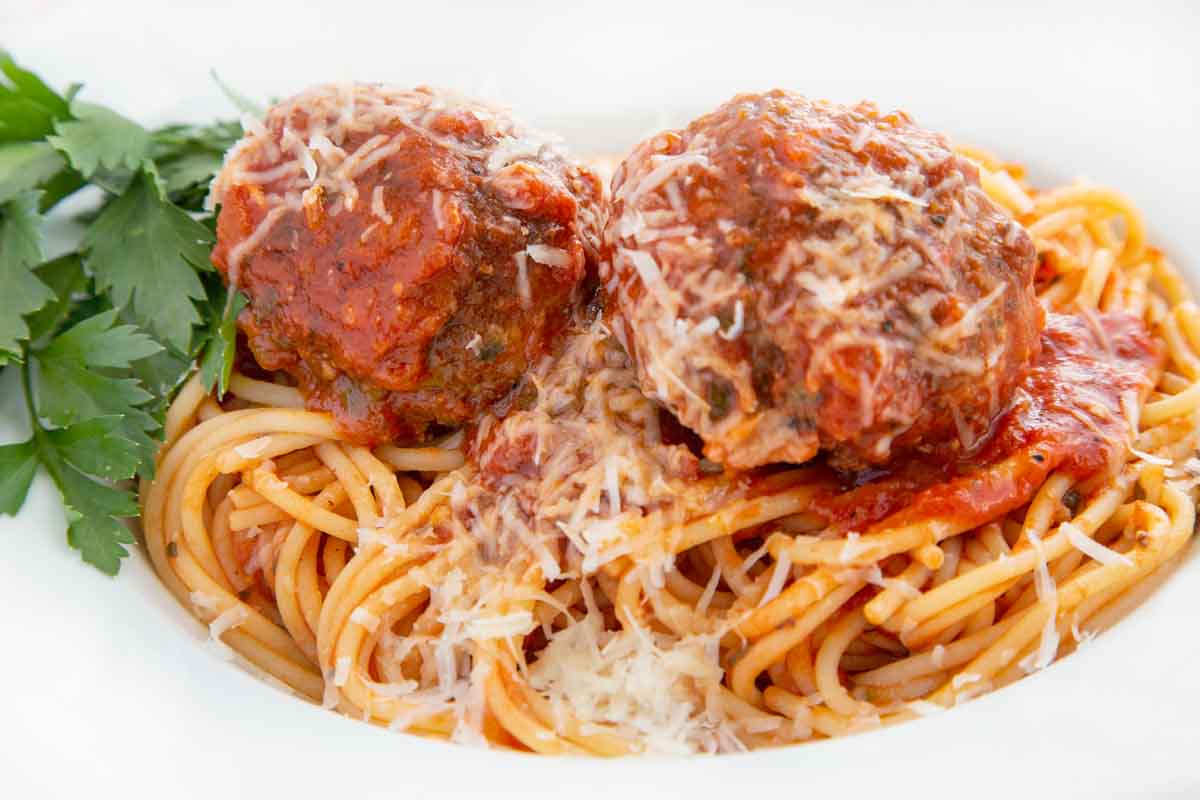 For the perfect weeknight dinner or your next pasta night, use my homemade marinara recipe or your favorite pasta sauce to make spaghetti and meatballs for dinner. Your family will be glad you did!
Ingredients to make Baked Italian Meatballs
Let's start by gathering the ingredients we need to make the Best Italian Meatballs. In Chef Speak, this is called the "Mise en Place," which translates to "Everything in its Place."
Not only does setting up your ingredients ahead of time speed up the cooking process, it also helps ensure you have everything you need to make the dish.
Italian meatballs can be customized to your taste preference. If you prefer a spicier meatball, add red pepper flakes or hot sauce to the mixture. If you prefer a milder flavor, cut back on the seasonings.
You can make leave out the pork and make the meatballs with all beef if you prefer. You can also use ground turkey or ground chicken to make this recipe.
How to make Baked Italian Meatballs
Line a baking sheet with parchment paper or aluminum foil.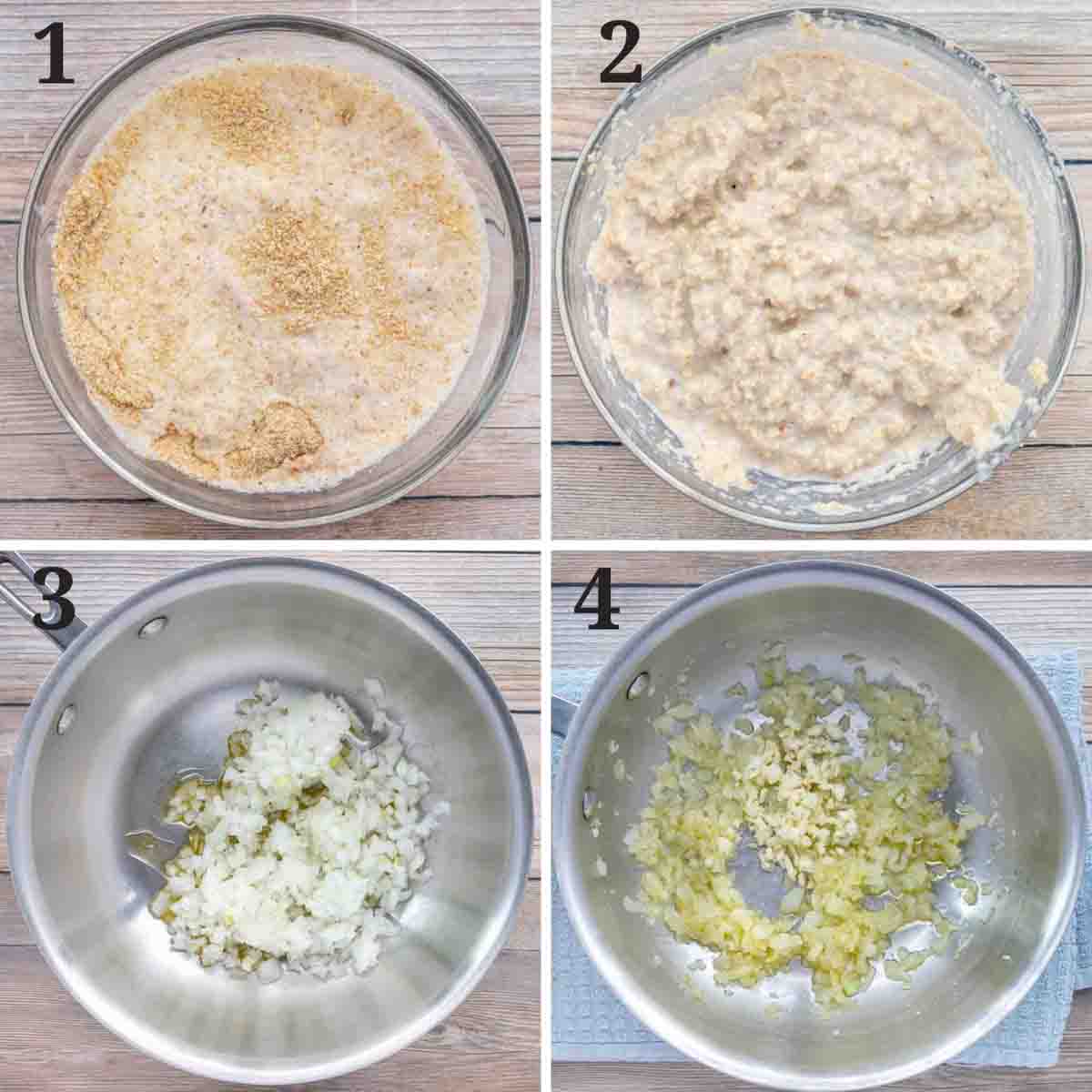 Add the bread crumbs to a small bowl and add the milk.
Let the breadcrumbs soak for 20 minutes.
Add olive oil to a skillet over medium heat. Then add the chopped onion and cook for 6-8 minutes until the onions have softened. Stir as needed so the onions don't burn.
Add the chopped garlic and continue to cook for 1-2 minutes.
*Use gluten-free bread crumbs to keep the meatballs gluten-free.
Preheat the oven to 400 degrees F.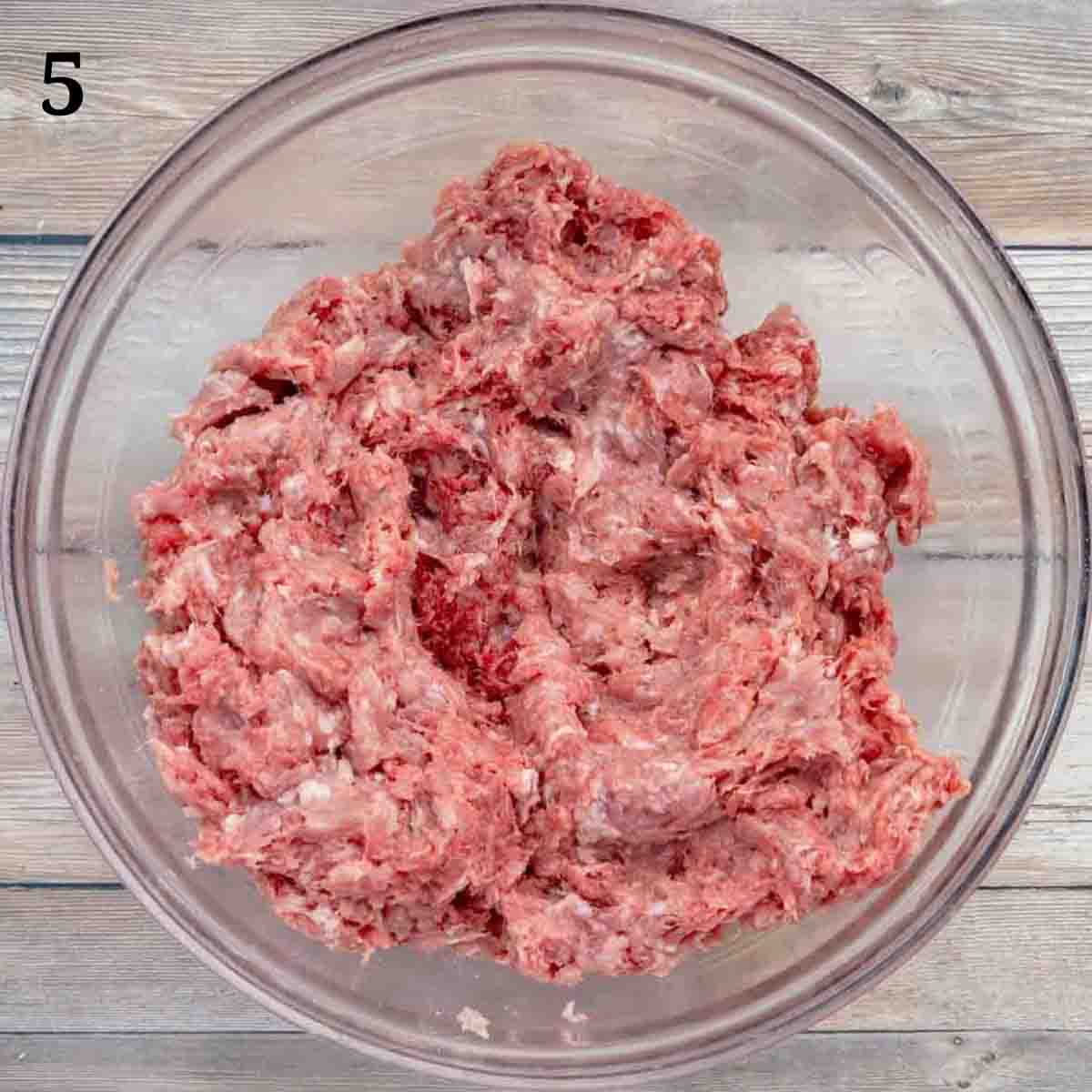 Add the lean ground beef and pork to a large bowl and mix until blended together.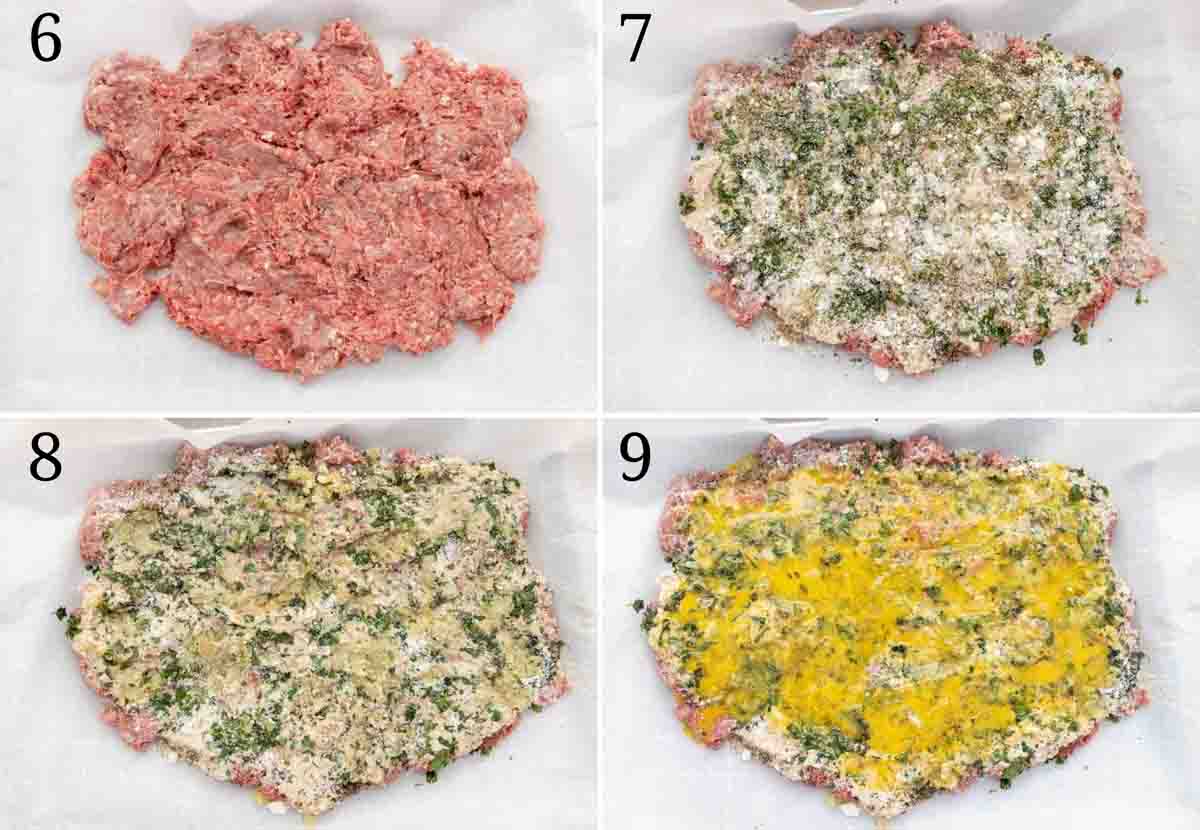 Line a sheet pan or baking sheet with parchment paper and spread the ground meat mixture out on the baking sheet.
Add the cooked onions and garlic, bread crumb mixture, parmesan cheese (or Romano cheese), fresh parsley, salt, and black pepper.
Press the seasonings and other ingredients into the meat.
Pour the lightly beaten eggs over the mixture.
Feel free to add your favorite Italian seasoning to the mixture. You can also use onion powder and garlic powder instead of fresh onions and garlic.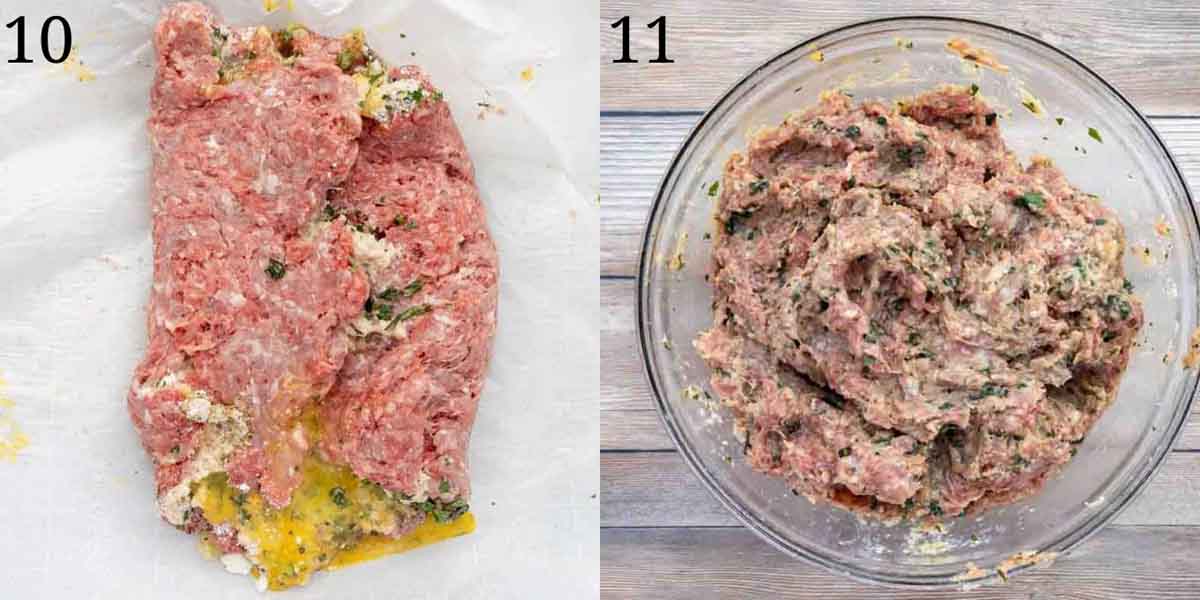 Lifting the parchment paper by the sides, fold the meat over on top of itself.
Place the mixture back into the large bowl and finish mixing the ingredients together. Be careful not to over-mix, or the meatballs will be tough.
I use this method of spreading out the meat to help distribute the seasonings and other ingredients without over-mixing. You can, of course, just mix everything together in a large bowl.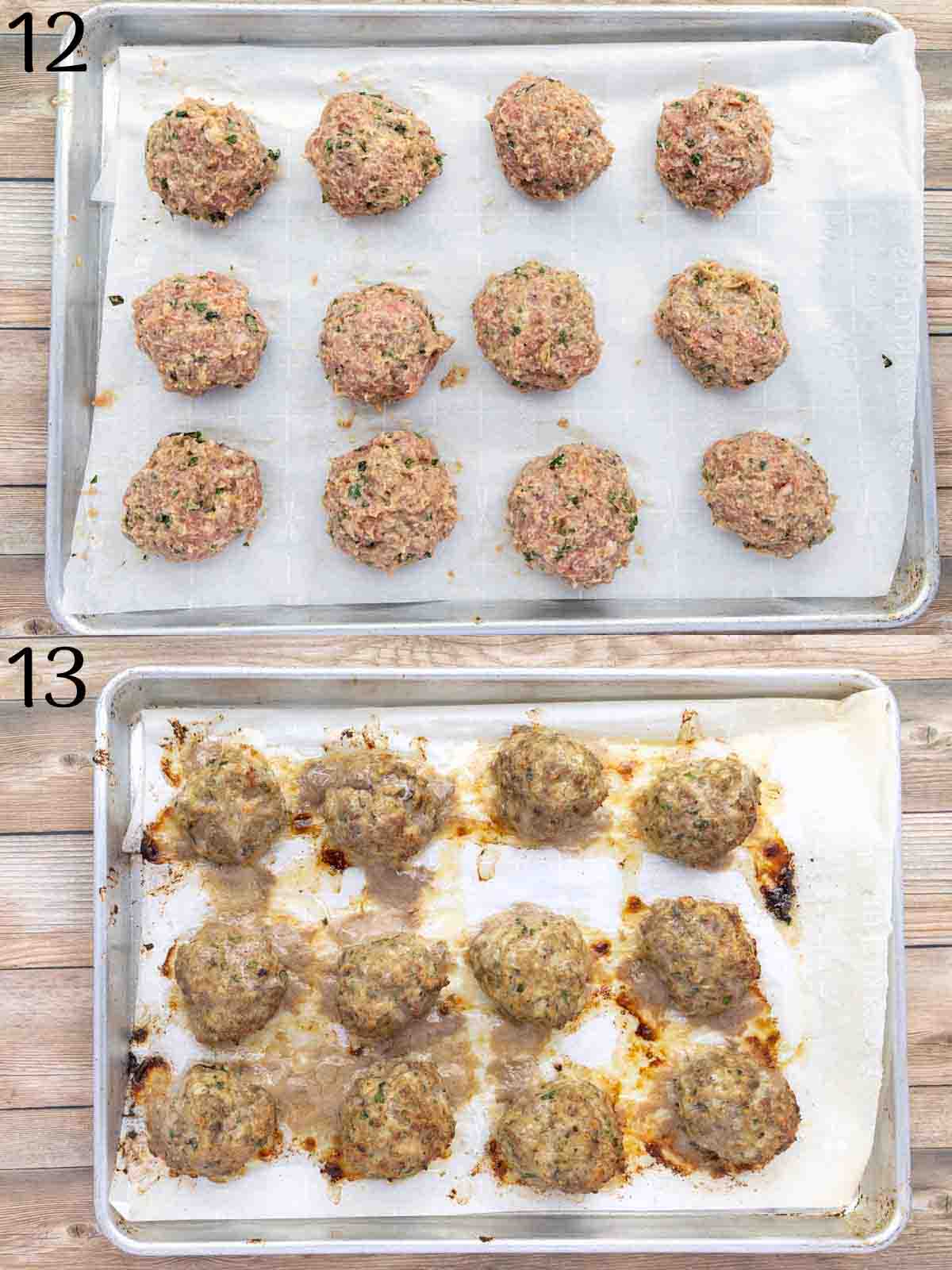 Form the meatball mixture into balls about 1 ½ inches in diameter. Place the raw, formed meatballs in a single layer on the prepared baking sheet.
Place the baking sheet on the center rack of the preheated oven and bake meatballs for 15-20 minutes or until an internal temperature of 165 degrees F. has been reached.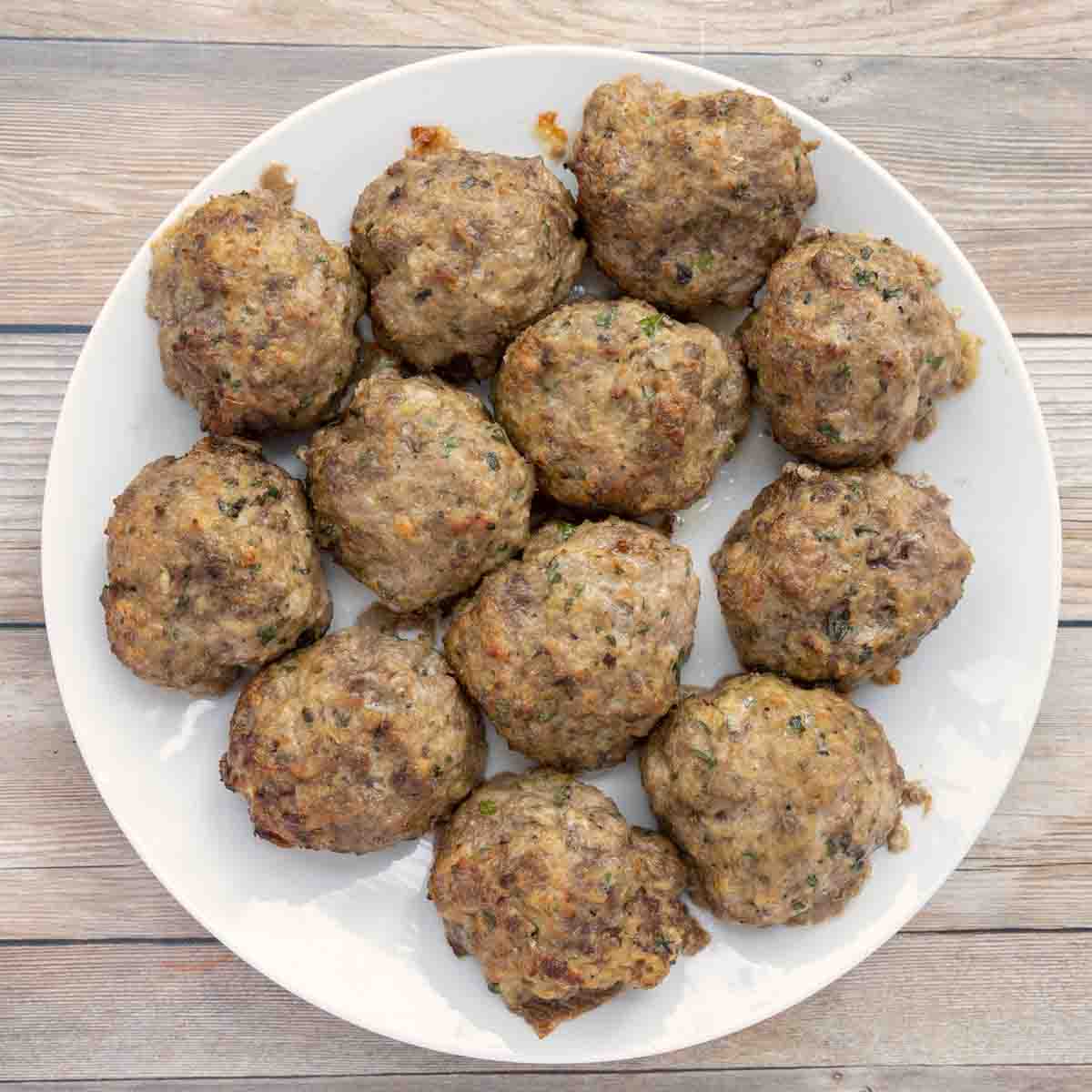 My baked meatballs are so flavorful that I know they're going to become a family favorite.
Baked Italian meatballs can be served on their own as a main dish. They can be added to pasta dishes and make amazing meatball subs. Or you can make mini-meatballs and serve them as an appetizer with tomato sauce or demi-glace.
Recipe FAQ's
Do I have to use pork to make Italian Meatballs?
No, you don't. You can use all beef or any combination of beef, veal, and pork to make your meatballs. You can also make this recipe using ground chicken or ground turkey.
More Recipes You'll Love!