What do mythical monsters and jeans-destroying horses have in common? They're both concealed in well-known clothing logos.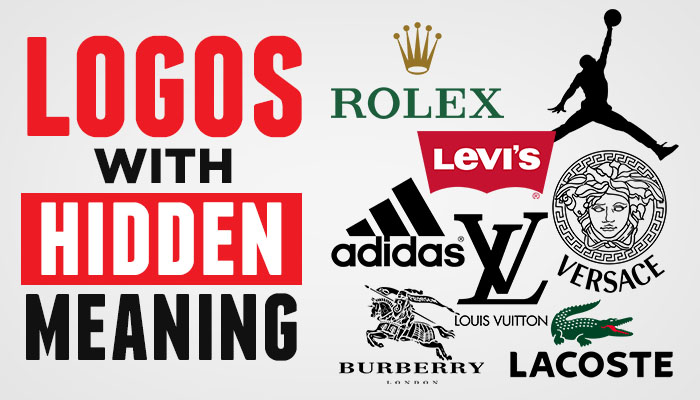 Read on to learn about the stories behind ten iconic images of luxury. (And let us know what you think in the YouTube comments. Did we miss any?)
10. Clothing Logos With Hidden Meanings – Burberry
This British company is best known for the famous "Burberry Plaid" which lines its signature gabardine raincoats.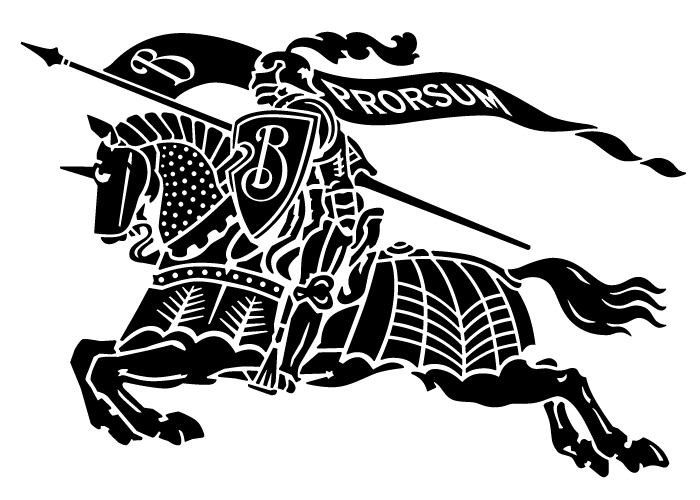 But it was the raincoats themselves that were revolutionary when they were introduced in the late 19th century. At that time, they were among the most weather-resistant winter jackets on the market.
The original Burberry logo was designed in 1901 and nicknamed the "Equestrian Knight." If you look closely, you can see that the knight is riding a unicorn – an emblem of the Burberry family.
The knight carries a banner emblazoned with the Latin word "Prorsum" meaning "forwards." This, along with the knight's armor, is a symbol of the company's pioneering strides in outerwear.
As of 2018, Burberry removed the knight from their logo.
9. Clothing Logos With Hidden Meanings – Rolex
Most people recognize the crown logo of Rolex watches but the slogan it represents – "A Crown For Every Achievement" is less well known.
This slogan refers to the tradition of giving watches as awards or gifts to mark a career milestone – a traditional which was still prevalent when the logo was trademarked in 1925.
The colors are also symbolic. Rolex founders Wilsdorf & Davis wanted gold to symbolize excellence in watchmaking and green to symbolize prosperity.
Click here for my ultimate guide to buying a Rolex watch.
8. Clothing Logos With Hidden Meanings – Adidas
The 3 stripes we associate with Adidas have been around since 1949 and were created by company founder Adi Dassler. The company's first slogan was literally "the brand with the 3 stripes".

In 1972, Adidas branched out into apparel and created a new logo incorporating the 3 stripes – known as the trefoil. Its intersecting shapes signify the diversity and potential of the Adidas brand.
Today, the stripes are only used on certain Adidas products but it's still one of the most recognized clothing logos because of the popularity of Adidas track-wear in the 1980s.
In the 90s, Adidas introduced a new logo design in which the 3 stripes were slanted to look like a mountain. This represents the "climb" of reaching your personal and athletic goals.
7. Clothing Logos With Hidden Meanings – Lacoste
Lacoste is known for their luxury casual wear and especially polo shirts with a crocodile icon. The brand was founded by tennis star and style icon Rene Lacoste, whose nickname on the court was "the crocodile."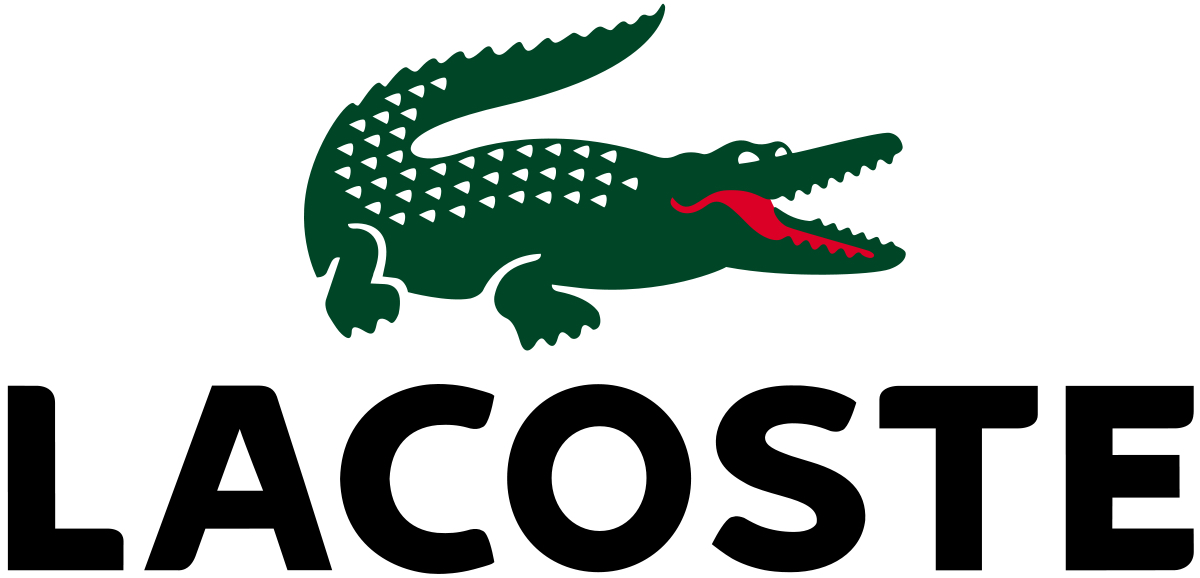 There's an interesting story behind "the crocodile". Apparently it came from a bet Lacoste made with the captain of the French Davis Cup team. The captain said he'd give Lacoste a crocodile skin suitcase if he won that match.
Lacoste didn't win the suitcase but he did get a nickname out of it – referencing both the distinctive flair of his dressing and his fierceness as a competitor.
When Lacoste launched his apparel brand, he made the logo a crocodile so it would be recognizable to his fans.
Lacoste is now even more synonymous with his style than his sport.
Click here to discover the 5 ways to wear a polo shirt.
6. Hermes Logo Meaning
Hermes is known for accessories and high-end leather goods. They've been around for over a hundred and eighty years but their horse-and-carriage logo has only been around since the 1950s.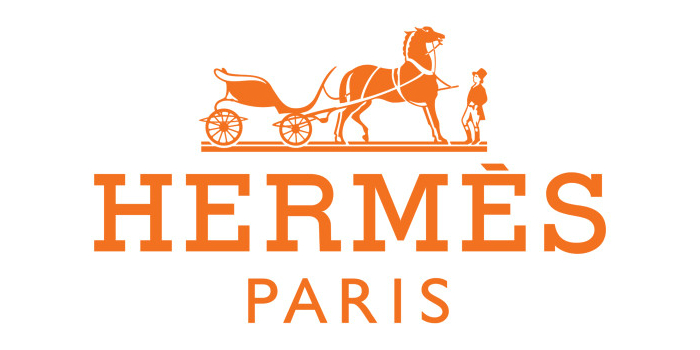 At the brand's founding in the early 19th century, their leather offerings included bridles, reins, and other implements for high-class gentlemen's carriages and they created a logo that referenced this heritage.
Do you want to know how to tell high quality leather from cheaper alternatives? Click here.
5. Versace Logo Meaning
Gianni Versace was fascinated by Greek mythology – his hometown of Reggio Calabria in Italy is home to important ancient Greek historical sites and as a child, Versace actually played among the ruins.
This was the genesis of one of the most stunning clothing logos with hidden meaning.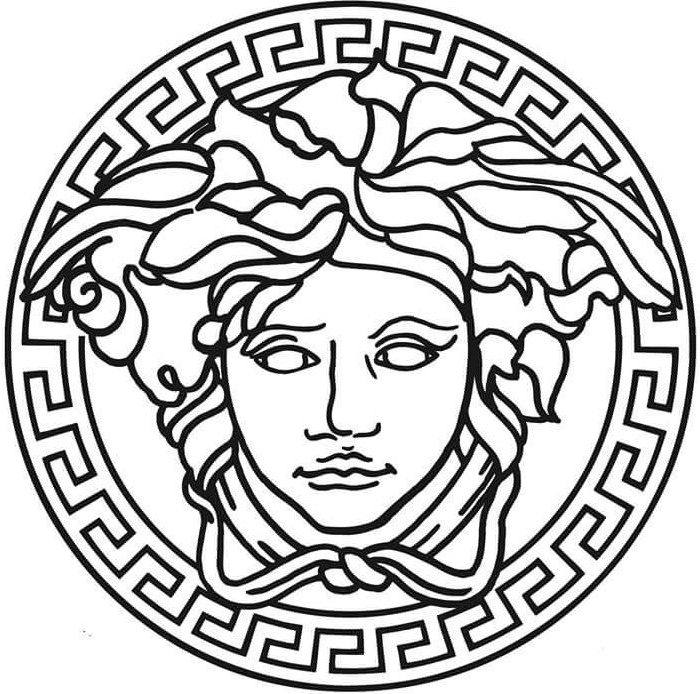 Inspired by one mosaic in particular, he created the Versace logo with its portrait of Medusa – the mythical snake-haired monster. Medusa's gaze turns any man who sees her to stone!
Versace felt this related to what he hoped to do with his business – he created clothes so beautiful they stopped people in their tracks.
Versace makes some of the best colognes for men – click here for my reviews.
4. Levi Strauss Logo Meaning
Levi Strauss & Co. has two clothing logos and both have hidden meanings. Levis actually labeled their men's jeans "The Two Horse Brand" until 1928.
This slogan is referenced in the company's very first logo.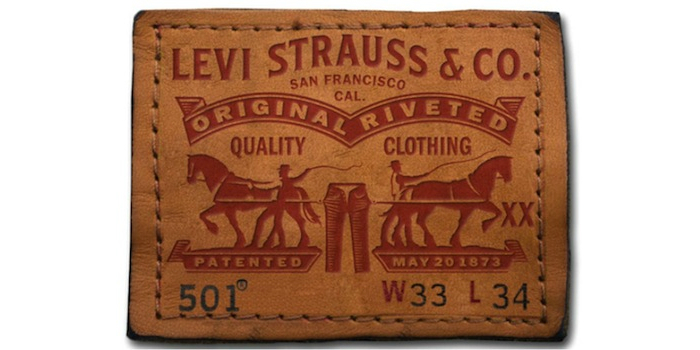 In 1873 Levi's patented the process of securing "points of strain" in the seams of clothes with rivets so they'd last longer.
They illustrated the strength of their product with a tag showing 2 horses trying and failing to pull a pair of blue jeans apart.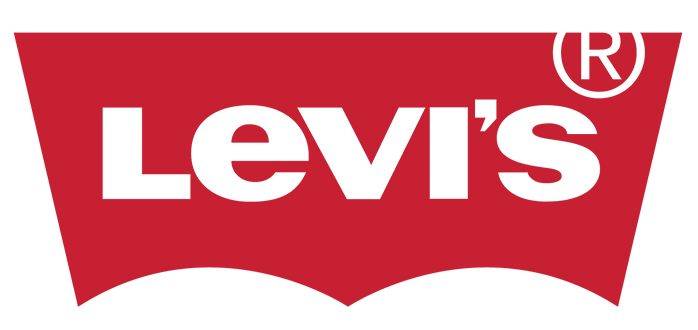 Today, the most recognized bit of Levi's branding is their the red and white nameplate. This integrates the "batwing" shape found on the back pockets of a pair of Levis. The official name of this shape is the "Arcuate".
Click here to discover the best types of jeans for your body type.
3. Patek Phillippe Logo Meaning
The world-renowned watchmaker's logo is a cross made of four fleurs-de-lis. This is the symbol of an order known as the Knights of Calatrava.
They fought in the crusades during the 12th century, taking vows to wear their armor at all times so they would be constantly battle-ready.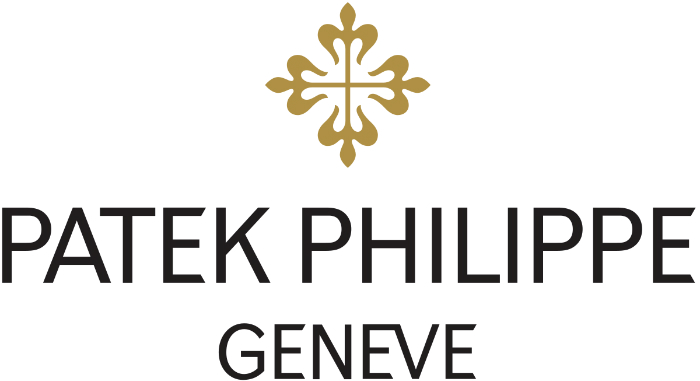 For Patek founder Antoine Norbert de Patek, the cross was a symbol of his Catholic faith and his efforts to re-establish Catholic rule in his homeland of Poland.
He saw the constant readiness of historic crusaders as a model for his loyalty to God and his country.
Patek himself was knighted in 1865 for his service to the Holy See. He often engraved the symbol by hand on the watches he sold.
2. Acqua di Parma Logo Meaning
This fragrance maker's logo is the coat of arms of Marie Louise (Duchess of Parma) – who ruled from 1816-1847. She was Napoleon's second wife.
The Duchess also gave her name to the Parma violet – which she made her personal symbol, even substituting a drawing of one for her signature on her letters.
The perfume derived from it, Violetta di Parma, was originally formulated especially for her by a local monastery.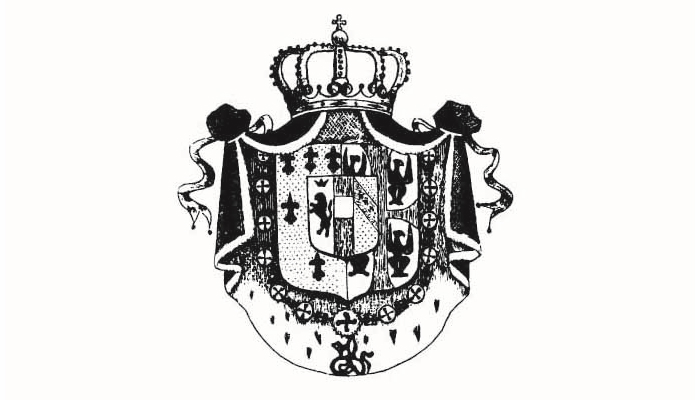 She poured funding into the monks' research on perfume formulation, eventually becoming a major contributor to the development of the fragrance industry in Parma.
Acqua di Parma isn't directly connected to her or to the monastery, however they use the coat of arms to honor her contributions to the field of perfume.
Did you know Acqua di Parma make some of the best beard oil as well as cologne? Click to see!
1. Louis Vuitton Logo Meaning
The "LV" monogram on Louis Vuitton luggage is one of the best-known clothing logos. It was designed by Louis's son George and hasn't changed since the 1890s.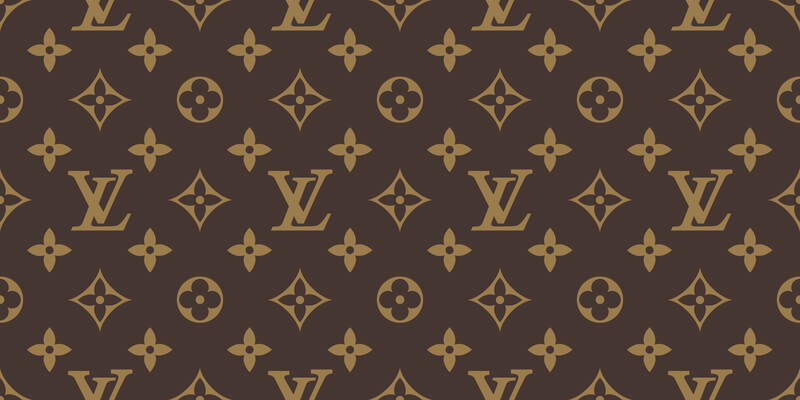 The small flower-like designs that decorate their products were also established very early in the company's existence. They were inspired by Japanese cherry blossom patterns.
Louis Vuitton was famously interested in protecting his reputation and the authenticity of his products. Both the monogram and the symbols were intended as seals of quality (to prevent forgeries) and this is why they're still iconic today.
Bonus 1: Tommy Hilfiger Logo Meaning
In keeping with its preppy style and nautical theme, Tommy Hilfiger's logo is inspired by semaphore flag symbols. The red and white part of the logo is the symbol for "H" – which of course is Hilfiger's initial.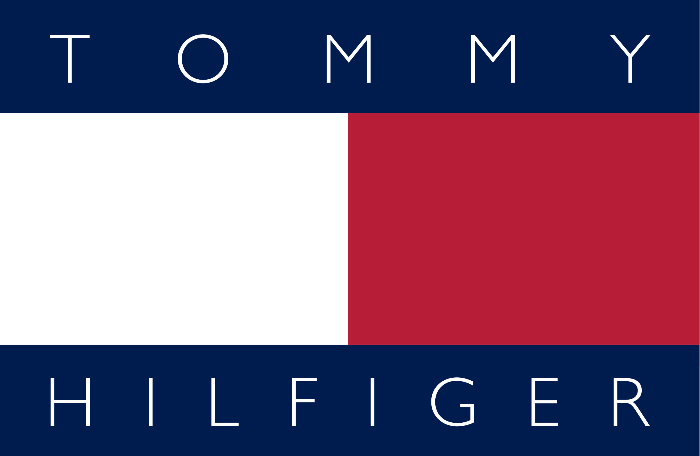 (H is also a shorthand for "There is a pilot on board," which is less relevant.)
The blue, red and white colors hark back to both Tommy Hilfiger's preppy maritime style and his all-American spirit.
For more on preppy style, click here to check out 10 Types Of Stylish Man.
Bonus 2: TAG Heuer Logo Meaning
TAG Heuer was created in 1985 when the TAG Group bought Swiss watch company Heuer – founded in 1860. The logo is a merger of their logos. It stands out for being much more colorful than other watch manufacturer's logos.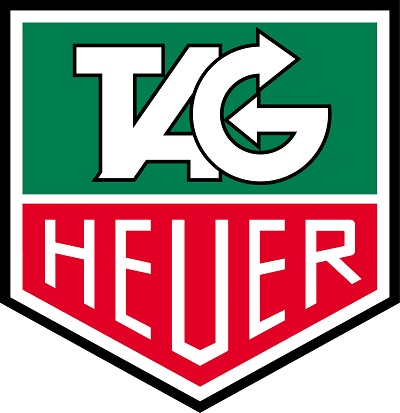 The Heuer logo is a shield based on the family's coat of arms. The TAG section originally used a font with arrows at the ends of each letter. In 2015 it was updated to a simple sans-serif font that's more similar to the Heuer font.
Tag's motto: 'Swiss Avant-Garde since 1860' also refers to both Heuer and TAG, which is short for 'Techniques d'Avant-Garde'.
If a company makes a product in a way you really like, it's a pleasure to buy from them when you need something new. If you can find a brand that fits in all the right ways without much need for alterations, clothes shopping is a lot more relaxing (and easier on the wallet – no need for tailoring).
But how do you find a brand that's right for you? Click here to read my article – How To Find Your Clothing Brand.
Click Here To Watch The Video – 10 Famous Clothing Logos With Hidden Meaning